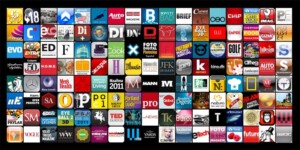 There is no shortage of options for digital publishing, so many in fact that companies are finally starting to specialize in the content the rework. GoodeReaderreached out to two different companies who, while possibly lesser known compared to the household names in the business, have a lot more to offer their clients than many publishers know about.
GoodeReader spoke with Mik Stroyberg, Director of Consumer Engagement and U.S. Sales at Issuu, last week about some of the features that make seeking out other companies worth the effort. Unlike other larger platforms, Issuu caters to both major magazine publishers with titles like Maxim and The Nation, as well as individuals who simply need dynamic digitization of their content into tablet-ready apps, with over 52 million uploads to its credit so far. Unlike some other publishing options, Issuu focuses on discoverability of the content and has a multi-award winning user-friendly website for upload, complete with customer support.
According to Stroyberg, "it's also monetizing and improving your issue so it becomes perfect to the publishers audience…we have a vast network and are more like a discovery than a publishing platform alone."
Another option that is gaining traction is the South African and London-based offices of Snapplify, who launched at last year's Frankfurt Book Fair. As an international digital publisher that focuses on app development of user content, Snapplify is also equipped to digitize everything from college journals and glossy magazines to individually published material. Snapplify's CEO Wesley Lynch, recently published an original opinion piece on how this level of digital publishing could actually save the publishing industry, despite claims for the past two years that this would lead to publishing's downfall.
"At Snapplify, we wanted to make that process easy, so that any print publication could simply take the high-res PDFs they would normally send to the printer and we'd 'snapplify' them, enabling magazines and newspapers to publish instantly to mobile."
"We are currently experiencing a transition phase for publishing. Most publications already have an online element, and this will extend to smart devices such as tablets as they become cheaper and more accessible. Now that we can mimic the tactile and aesthetic pleasure of print magazines with tablet and mobile apps, at a lower cost, with the immediacy and archival capability of online, there is no reason to fear the decline of the publishing industry. Instead, we can look forward to the evolution thereof."

Mercy Pilkington is a Senior Editor for Good e-Reader. She is also the CEO and founder of a hybrid publishing and consulting company.