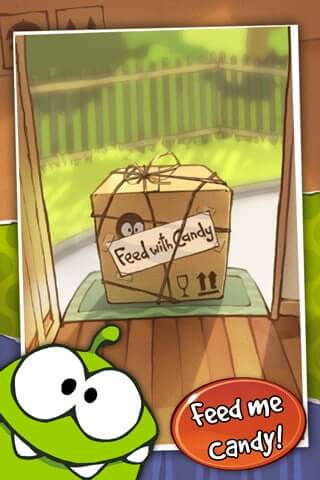 With the improvements to digital reading that came about with the widespread development of full-color tablets, interactive children's book apps and digital comics apps have taken off. GoodEReader recently reported on the Pocket God comics that grew out of the popular game of the same name, and now the creators of the multi-million-download Cut The Rope is releasing its own back story to the game.
"With millions of fans around the world playing Cut the Rope, the new comic series provides the first glimpse into the story of Om Nom," said Semyon Voinov co-founder, ZeptoLab in a press release today. "Ape Entertainment shared our vision for extending the brand into the comic world and the result is a compelling story for all Cut the Rope fans to enjoy."
GoodEReader interviewed Ape Entertainment CEO David Hedgecock about the development of the comic and how this level of entertainment grows out of something like a game now that the technology to support high-quality digital comics and graphic novels is out there.
"I approached the Cut The Rope comic project much like I approached Pocket God," said Hedgecock. "I sat down with my five-year-old nephew and played games on the iPad, and the games that we liked were ones that I thought about more intensely. The popularity of the game and the fact that it reached out to a lot of different ages made it appealing. The curiosity factor of the game compelled us more than anything to try it out."
And that popularity wasn't limited to a small handful of device users. There have been over 13 million downloads of the paid version of the Cut The Rope game, and over 40 million downloads of the free version. The game has spent a fair amount of time in the top five for games on iTunes, and the top ten for all apps.
"We think the comic is going to be the number one book on iTunes when it releases," said Hedgecock. "The comic book will be free when it launches and it will include the first issue, with the next two issues available for purchase right there. Future issues will be $1.99 and we'll be updating them monthly starting in January. We're going to do some other fun stuff with it, too, adding some fun extras in the game app and in the comic book app as well."
ZeptoLab and Ape Entertainment are at work on interactive book apps from major DreamWorks movies like Kung Fu Panda, Penguins of Madagascar, and Megamind, which will include new storylines with the beloved children's characters.
Mercy Pilkington is a Senior Editor for Good e-Reader. She is also the CEO and founder of a hybrid publishing and consulting company.