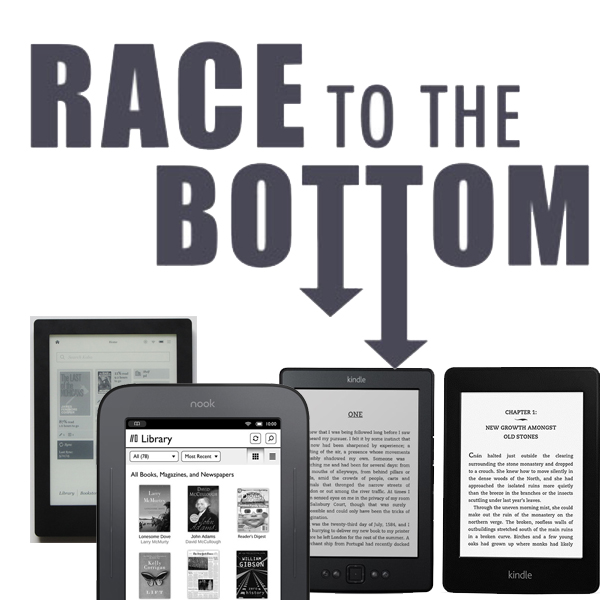 When Sony and Amazon first got into the e-reader business, they were considered a new breed of luxury items. The first generation Kindle retailed for $399 and the PRS-500 was $349. Needless to say, only the most hardcore of readers were buying into the new way to consume digital books. In the last few years, you can pick up a ultra modern device for $79. Whats changed?
Amazon, Barnes and Noble, and Kobo are in the race to the bottom. They are forgoing a number of critical features to be able to compete against each other in the lucrative US and UK market. Overall build quality is suffering, internet browsing has never improved and the lack of audio bucks the trend of technological convergence.
In 2011, we started to see e-readers come down in price. The Kindle Keyboard was massively discounted from $189 to $99. Barnes and Noble discounted their Simple Touch Reader to $99 and Kobo did the same. This was the last year that we saw a new reader have speakers and a 3.5mm headphone jack that was capable of playing audiobooks and music files.
The lack of audio in modern e-readers prevent them from being rolled out into schools and institutions of learning. The chief reason is because visually disabled people cannot use the devices and feel excluded. The National Federation of the Blind have been overzealous in this regard and have prevented Amazon from starting pilot projects to get e-readers in schools. They went as far as organizing protests right outside Amazons Seattle headquarters, saying at the time "no student should be left behind."
The e-reader industry as a whole has lost most of its innovative spirit, the vast majority of companies that were around from 2007 to 2011 are not around anymore. There was some truly interesting e-paper technology that could have changed the game, such as Bridgestone e-paper, Liquavista, LG, Mirasol, Pixel QI, and Plastic Logic. The reason why most of these companies abandoned the e-reader space, was because all of the notable players were risk adverse. After bringing the entry level price from $399 to $99 for an e-reader, the price could never dramatically increase again, which limited their options of dealing with new companies, whose technology would be expensive to manufacture at first.
The race to the bottom  has not only limited consumer options, but it has effectively edged out smaller companies that offer alternative e-readers. Icarus, Onyx Boox, Pocketbook and Wexler aren't exactly household names, but have been making e-readers in Eastern Europe, Russia and China for years. All of these guys initially focused on the western market, but they simply couldn't produce enough units, in order to get big discounts at the factory, which effectively relegated them to markets where Amazon and Kobo haven't entered yet.
I have been following the e-reader industry since the first generation Sony and Kindle e-readers. I was at CES in 2010 when e-readers were everywhere, there were literary hundreds of companies wanting to enter the space, looking for strategic partner. In 2011, there were hardly any to be found, as the industry gravitated towards multi-purpose tablets. e-Readers were on the cusp of doing some really amazing things, but now we just have a selection of products that all look the same. Put a Kindle Paperwhite 1  side by side to a Paperwhite 2 and see if anyone could tell the difference.

Michael Kozlowski has written about audiobooks and e-readers for the past twelve years. Newspapers and websites such as the CBC, CNET, Engadget, Huffington Post and the New York Times have picked up his articles. He Lives in Vancouver, British Columbia, Canada.