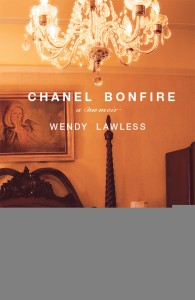 Verdict
: 5 Stars
Reading about the abuse that others have endured, especially abuse that they suffered as children at the hands of a near-evil parent, is rarely an enjoyable voyeuristic pastime. But Wendy Lawless' Chanel Bonfire (Gallery Books) is written with such an eloquence and with such masterful storytelling, that it draws the reader into her childhood and her escape.
As a one-time mid-list actress, Lawless can easily be found through search engines, her career highlights mentioned in passing. It's a good thing that there is mention of her through a basic Google search, as it shows that she survived and triumphed. But her memoir is one that describes a life she almost couldn't overcome. As the child of a divorced theater actor and a dissatisfied housewife, Lawless spent her formative years in a whirlwind of both opulent privilege and horrific neglect. Her memoir describes her mother's sociopathical need for acceptance and attention, especially the attention of a constant parade of wealthy men. Lawless and her younger sister were merely dragged along on her mother's ride, alternately living in posh New York apartments, trendy London town homes, and mid-Western trailer parks, all while suffering through the high and low rages of her mother's mental illness and alcoholism.
When Lawless wasn't pulling the reader along through the mire of her childhood, she was busy regaling her audience with amazing antics that she and her sister and a troupe of celebrity offspring pulled off. Her years spent in London attending the prestigious American school, rubbing shoulders with some of the biggest names in music, film, and literature of the day, are shared with such a nonchalance that it never comes across as desperate name dropping, but rather demonstrates just how little control she had over her life, despite being largely left on her own by her neglectful mother.
Chanel Bonfire will be available this Tuesday from Amazon, Barnes and Noble, and more.
Mercy Pilkington is a Senior Editor for Good e-Reader. She is also the CEO and founder of a hybrid publishing and consulting company.