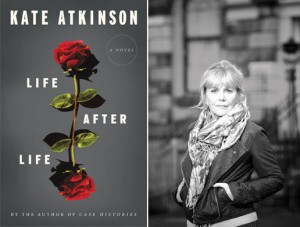 Verdict: 3 Stars
Kate Atkinson's highly-anticipated recent novel, Life After Life (Hachette Book Group), not to be confused with a novel released only the week before with the same title by Jill McCorkle, came out to instant success. Named an Amazon Best Book of the Month pick and with some praise-filled reviews by some very well-known authors, fans of Atkinson's many previous titles were no doubt not disappointed.
The novel opens in 1910 in a very Downton Abbey scene. A young upper middle class family is expecting the arrival of their third child, who is sadly born dead due to complications. The scene reopens, and this time the doctor arrives in time to save the baby, Ursula. What follows is the life story of a person who cannot seem to stay dead. While Ursula is every bit a mortal human being, with every death–and there seem to be more opportunities for death for this character than one would expect in a normal person's lifetime–she is reborn in the current time period.
It was actually very fun that the serene British countryside setting at the beginning lulled the reader into a shocking sense of false security about where the story was heading, with the greatest problems being a young and shamefully unwed mother in the family and whether to break with convention by calling the cook by her actual name rather than her household position. However, it took a while to break into the real tension of the story, namely when Ursula becomes an adult. While the storytelling was flawless, it was very difficult to care about Ursula; who needs to turn the page to keep reading when the worst that can happen to this woman is that she has to go back to the beginning and start fresh?
Life After Life: A Novel is available now at Amazon, Barnes and Noble, Kobo, and more.
Mercy Pilkington is a Senior Editor for Good e-Reader. She is also the CEO and founder of a hybrid publishing and consulting company.