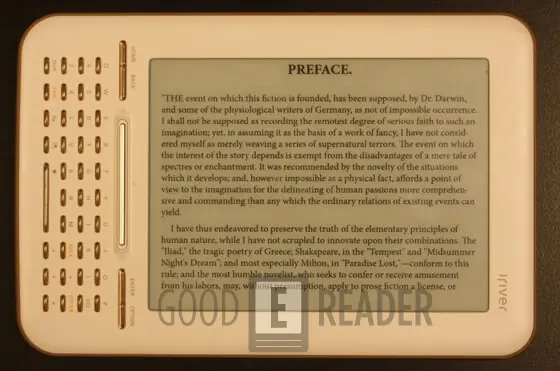 Today we finally got our hands on the Target exclusive iRiver Story HD e-Reader! This is the first e-reader in the world to tap into the Google Books ecosystem for content. How does this new device rate against the competition and what does the HD mean?

Hardware
The iRiver Story HD e-reader features a six inch e-ink display with a tremendous resolution of 1024×768 pixels. It certainly packs a punch and you can see where they fit the HD into the selling point. Pictures and comic books look wonderful and very vibrant in comparison to other e-readers on the marketplace.
The screen itself features the latest generation e-ink PEARL technology and displays 213 DPI. You can see other examples of e-readers that use a PEARL screen, if you go check out the Amazon Kindle 3rd generation, Sony PRS-650, and Nook Simple Touch.
The e-Reader does have a Freescale i.MX508 800 MHZ CPU processor, which should make the device snappy, but sadly it does not. The page turn speeds are on par with the lightning quick Amazon Kindle, but you really notice the lack of speed with this e-reader when you are doing routine tasks. When I clicked on an ebook to open it, it look almost 35 seconds for the book to actually open. I also noticed the lack of speed when opening the bookstore.
There is a 2GB memory to store your ebooks and content, but only 1.5 is really usable. You can further enhance the memory via the SD card up to 32 GB.
Looking at the device physically, it has a full QWERTY keyboard in order to make typing easy and convenient. It bypasses the D-PAD found in most devices and instead uses a slider bar to scroll up/down/right/left. Most e-readers that have a D-Pad or Trackpad make you click in the middle to function as the ENTER button. The Story HD instead has a physical ENTER key on one side and a back key on the other. In order to access numbers and symbols you have to hit the corresponding buttons in order to access them. This makes it tedious if you are entering passwords that require captial letters, numbers, and lowercase letters.
The design of the Story HD is very minimalist. Aside from the keyboard there is only a Mini USB connection and a slider on the back of the device to turn it off and on. There is no audio functions, no headphone jack, or anything else. This e-reader is JUST for reading.
You can connect up to the Google Bookstore to buy your books via the WIFI connection. If your router password has more then 20 characters you are out of luck. The Story HD has a restriction on long WIFI passwords and simply says "Password is too long." We had to disable our WIFI password in order to get this to work.
In all, the design of it is very nice. It is white on the front and an accented brown on the back. It has pseudo gold keys that make it look very solid. I found this device was far too slow in doing any task, other than reading. Whenever you connect to the Google Book Store, even though you are connected via WIFI, it constantly lets you know that it is looking for a WIFI connection. This makes the entire shopping experience an exercise in patience. iRiver has not divulged how much RAM is in the Story HD, but I would guess 64 MB.
Software
The iRiver Story HD uses a Linux based operating system for the basis of its software. It allows for a stable and robust OS and we did not notice any crashes, aside from when the firmware update was pushed to us during the initial setup. This was due to us having a long WIFI password and with the update, a limited the number of max characters.
This is a very basic e-reader with no dedicated picture viewer or anything else. Your sole premise of buying this is to buy books or take advantage of the Secret Web Browser.
The eBook experience with the Story HD is as fast as the Amazon Kindle in terms of page turn speed. Books take forever to initially open, which can be a drag to some people. The device can read plenty of formats, so you can shop with other stores or download them from the internet. It reads PDF, EPUB, TXT, DOC, PPT, XLS, HWP, DJVU, FB2, CBZ, and Adobe Digital Editions EPUB and PDF.
You heard us right! This e-reader reads CBZ books, which means if you are a Manga, Anime, or graphic novel freak this is the device for you! If you are into non-CBZ comics you can easily read them in JPG, BMP, PNG, GIF, and ZIP, but not CBR.
One of the major ways this e-reader falls short is you cannot tailor your book reading experience the way you can on other devices with the same price. You cannot change line spaces, margins, fonts, or anything else that the Kindle, Nook Simple Touch, or Kobo allows. The only thing you can do is increase the size of the default font. Lastly, you can change the orientation from landscape to portrait mode, but only when you're reading books.
The Google Bookstore for non-USA based customers is nonexistent. They sell this device in the USA at Target for a reason. You can only shop and download free or paid books if you reside in the United States. If you live outside you can't even download the free books. Instead you are prompted to visit the Google Book Store on your PC under the same email account you use with your iRiver Story HD. When you purchase books on your PC they can be synced to your Story. I found this entire process rather woeful. Google is trying to compete with other companies on the ebook front and only allow USA customers to partake in book buying on the iRiver e-reader? I hope Google realizes that people do like to read outside of the USA. Terrible.
When I said this e-reader is only good for reading, I meant it. There are no games, picture viewing options, and hardly any general options in the setting menus. This is as bare bones as you can get for an e-reader and considering it is on even par with the Nook Simple Touch, Kobo Touch, and Amazon Kindle, the choice is clear. The software on the iRiver Story HD is lacking to say the least. It offers zero flexibility in crafting your e-reading experience. The only glimmer of hope is that Google sent us an email today saying Google Books is coming to Canada soon. I will believe it when I see it, since Google also promised Google Merchants in Canada for Google Checkout, 3 years ago.
Our Thoughts
If you live inside the USA and want to try out downloading millions of free books via Google this is the right device for you! You also get access to over one million paid titles, mainly modern books by the quintessential bestselling authors. If you live outside of the USA the only hope you have is loading your own books in. Speaking of loading in your own ebooks, it does read graphic novels, which is cool. Sadly it does not do CBR scanned books.
The overall design of the Story HD is elegant. I was quite taken with the gold keyboard, which made me feel like a rich rapper without the grill and gold chain. I really dug the very refined, clean white front color. The keyboard is very easy to use and it's refreshing to see the absence of a D-PAD and the inclusion of a slider.
The Story HD does have a secret web browser that may be refined further and included in a future firmware update. We do have a video in our YOUTUBE channel that teaches you how to access it. Sadly, you can visit websites, but you cannot click on any links within a website!
The Pros
Tremendous resolution
Solid keyboard
Google Books ecosystem (USA based readers)
Can read CBZ comics and graphic novels
Easy to use
Reading books is easy and pages turn fast
The Cons
No functionality outside of the USA
No customization of eBooks other then Font Size
No extended features
Internet experience is slow
Web browser took us 2:31 seconds to find and open up a website
Verdict
If you live in the USA, it is a solid e-reader and taps into millions of free books. This is perfect if you are on a budget, and want classics or open source books delivered right to your device.
If you live outside of the USA, there is no hope! Avoid this e-reader at all costs and flee in the other direction. Considering this costs $139 at Target, the other options—Amazon, Barnes and Noble, Sony and Kobo—do a far better job than the iRiver.
Rating: 4/10
[cincopa AkAAgp6JkTv1]
Michael Kozlowski has been writing about audiobooks and e-readers for the past twelve years. His articles have been picked up by major and local news sources and websites such as the CBC, CNET, Engadget, Huffington Post and the New York Times. He Lives in Vancouver, British Columbia, Canada.