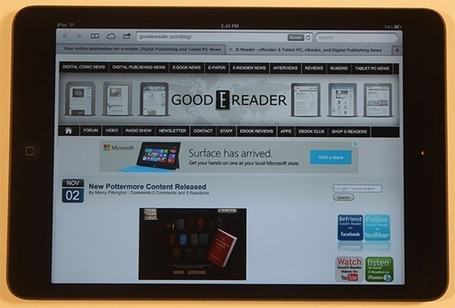 Apple has released its first tablet that is smaller than 9.7 inches and seeks to compete against a torrent of Android devices. It just hit the retail shelves today and we had a few days to really get a sense of what this smaller edition brings to the table. How does it rank up against the iPad 3 and Kindle Fire HD 7?  Is it a viable e-reader and how do books and comics look? We dive deep into these issues to bring you the answers.
Hardware
The iPad Mini features a 7.9 inch 1,024 x 768 IPS LCD touchscreen display with 163 ppi. It is significantly thinner than most Android tablets on the market and is a bit wider than the Kindle Fire HD 7. Underneath the hood is the same 32-nm A5 chip that is found in the iPod Touch 5th generation, and it keeps things rather speedy. In head to head tests against the Kindle Fire HD, magazines and video content tended to load faster.
The iPad Mini measures 200 x 135×7.2 mm compared to the 193 x 137×10.3 mm Kindle Fire HD. Although it has a bit of a larger frame, it only weighs a paltry 308 gm, while the Kindle Fire HD is heavier at 395 gm.
Apple's entire line of iPads, including the iPad Mini, use an aspect ratio of 4:3 for their displays. The other brands like Amazon, Barnes & Noble, and Google use a 16:10 aspect ratio. The recently launched iPhone 5 moved to a 16:9 aspect ratio. In a 4:3 aspect ratio display, HD video content that isn't letterboxed will be displayed with black bands above and below the video. The wider aspect ratio (16:10) improves viewing experience of video and game-based multimedia content, making such displays more suitable for devices meant primarily for the consumption of video content.
One of the most interesting things about the Mini is that it is Apple's first tablet to utilize stereo speakers. The previous iterations of the iPad only had a single mono speaker, which hampered the experience of listening to audiobooks, music, and videos. The new speakers put all prior tablets by the company to shame and the sound quality is very clear. It is not as good as the 4 stereo speakers found in the Kindle Fire HD with Dolby Surround Sound, but it is a step in the right direction.
The main reason the company was able to put two speakers on the bottom of the Mini was because it uses the new Thunderbolt connection, which drastically minimizes the slim profile. This is the same type of connector found on the iPhone 5 and iPod Touch 5. This new connector is incompatible with docking stations made for the old 30 pin connector, but you can simply buy a $40.00 adapter from Apple and connect it to your old docking gear.
There is nothing too strikingly different with the button layout compared to prior releases of the iPad. You have the seminal home button that will call up Siri if you hold it long presses and otherwise will automatically exit all apps to bring you back to the main screen. You can lock the orientation or set it to mute with the function key by the volume switches. The back of the unit is a darker shade of grey, which is a stark contrast to the iPad 3 with Retina Display. The latest Black iPad has a silver back, while the Mini tends to blend the entire scheme a bit more effectively.
There is, of course, dual cameras on the iPad Mini, which should appeal to those of you that use Instagram or Pinterest. The front facing one has 1.2 MP edition, which won't win any awards but is good for Skype. The rear facing camera is a solid 5 MP, which isn't bad for taking pictures. Obviously, in a world where most higher-end phones have 8 to 12 MP cameras, you might feel a bit let down, but who buys a tablet to use as a substitute for a proper SLR or point and shoot?
One of the bright spots on this new tablet is the battery life. You will get around 10 hours of constant use out of it, which makes it perfect for long reading sessions or playing long games. I found when using the iPad 3 to do high performance functions, the battery tended to die in 2 or 3 hours.
This device really feels lightweight and pocket friendly. If you compare it straight up against the Nook Tablet, Kindle Fire HD, or Nexus 7, it is WAY lighter and easier to carry. The smaller size for the Mini's screen really makes a world of difference.  I wish the resolution was a little bit better, as many other competing tablets gave you a bit better experience with comics and magazines. Even videos tended to look a bit better when played on its rivals, but the true distinctions were rather negligible.
I have regularly been using the iPad 3 with Retina display since it first launched and am fairly used to larger sized screens.  Spending a few days with the Mini took some getting used to, as a smaller sized display screen normally made text fairly small. I regularly had to tweak many of the settings to make sure I wasn't always squinting.  In retrospect, the portability factor is a huge allure for most people. Holding the iPad 3 in one hand for more than ten minutes becomes uncomfortable, but the Mini is so small that it basically feels like you're holding a dedicated e-reader.
Software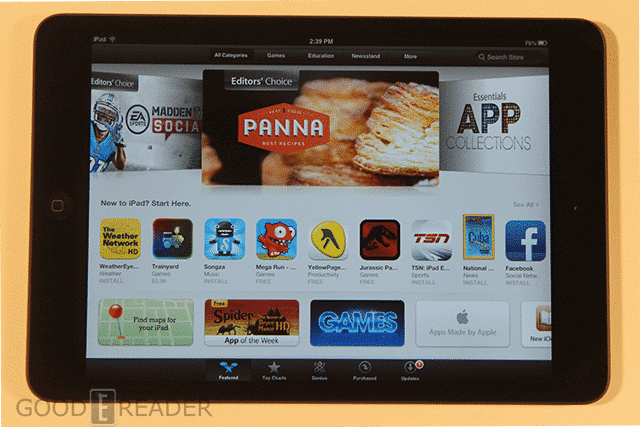 The iPad Mini ships with iOS 6.0 and when you turn it on for the first time, it prompts you to update to the latest firmware update. Apple has moved in a positive direction by allowing people to easily update their units with a simple click of a button. No longer must you connect it up to your computer and use iTunes.
If you are an Android, QNX, Windows 8 user, iOS is a bit of a departure from what you are used to. It doesn't allow much in the way of customization and loading in your own apps, but does make daily life a bit easier.
One of the main draws of the entire Apple ecosystem is the fact so many developers are making first party apps for it. Since iOS is harder to pirate than Android, many companies are making a boatload of money by making their games and content for Apple. Statistically, Apple owners are way more likely to spend money on content than Android, which is why you rarely see apps debut on Amazon's platform. If you look at Instagram, it took almost a full year for the Android version to come out.
If you are heavily invested in the Apple ecosystem, iCloud is your saving grace. Anything you have purchased is available to instantly download from the iTunes or App Store. You can click on Past Purchases and see a huge listing of all the stuff you have downloaded on prior devices and you can download anything in a single click. I regularly buy a ton of comics, magazines, and ebooks. I loved being able to simply download the app and then download all of my content in a few clicks.
If you have used an iPad in the last few years, there are no surprises with the apps that come bundled on the Mini. You have Apple's new maps, Podcasts, iBooks,  Facetime, and much more. If you fancy a slew of content, the App Store and iTunes has more than enough to shake a stick at.
I was rather impressed with the stereo speakers when playing games, movies, audiobooks, and Podcasts. The sound pales in comparison to the Blackberry Playbook, Kindle Fire HD 7, and Kobo Arc, but I am glad they decided to focus on the audio this time around. You might want to use headphones on a regular basis to play games like The Walking Dead or for longer music sessions, but it beats the iPad 3 by a long-shot.
The Mini is full of surprises in terms of how apps and content look on it. You figure with the 7.9 inch screen that most apps would not be optimized. Most developers tend to make content for the 8.9 inch screen or the smaller iPhone. I did not notice any pixelation or a lackluster experience with all of the content we loaded onto it. This included Kindle, Kobo, Zinio, Netflix, Skype, Facebook, Twitter, eBay, and tons more.
So let's talk comparisons. Today we filmed a ton of side-by-sides against the iPad 3, Kindle Fire HD 7, and Blackberry Playbook. The iPad Mini did a fairly good job at matching up against all of the competition. Most Android tablets out there have a dedicated screen size of 7 inches and normally have thicker and more pronounced bezels. The bezel on the Mini is smaller than any of the company's prior models and it handles most common tasks well. It may not have the Retina display like the iPad 3, or the great sound that the Kindle Fire 7 has, but it does a good job at remaining relevant.
Reading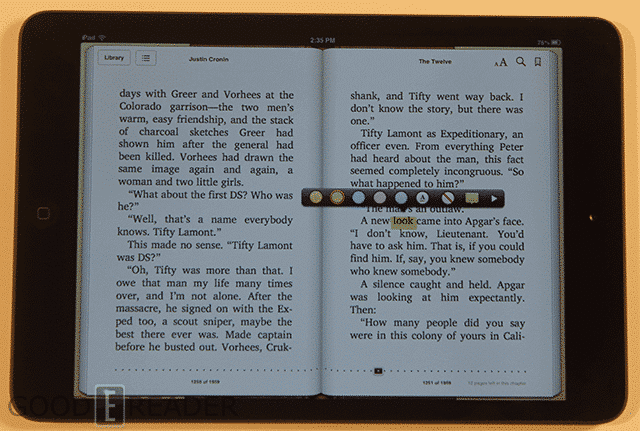 The iPad Mini is, beyond all else, a very good e-reader. Since it weighs significantly less than all the other mainstream tablets on the market, it is easier to hold in your hands during longer reading sessions.
Really, a device is as only as good as the ecosystem that accompanies it.  You can easily download Kindle, Kobo, Nook, Marvel Comics, Comixology, and Zinio from the App Store. You can get reading right away and many of the apps give you unique experiences.
It really seems like the iOS versions of the major apps we have outlined above simply have a better UI than their Android counterparts. Often Amazon and Kobo put a heavy emphasis on updating their Apple apps first, and then it trickles down into their other supported platforms.
One of the drawbacks with not just the Mini, but ALL Apple products, is the lack of ebook content. Last year Apple implemented a policy that all in-app purchases had to be made via iTunes and the App Store. This resulted in Amazon, Kobo, and every other company pulling the ability to buy books from within their apps. Selling millions of books per day certainly puts a ton of money into Apple's coffers, and the big players were not willing to contribute to Apple's bank account. Ultimately, this hurt the ecosystem because you can't buy ANYTHING via the major ebook retailers.  It's not all lost, though, you can still buy magazines and comics through all the major guys.
When reading comics, the best apps out there are Marvel, DC, Comixology, IDW, Archie, and many others.  By default, the best experience is reading them in portrait mode, because the full frames are pre-loaded. If you tend to read in landscape mode, you are constantly pinching and zooming to isolate particular frames, which amounts to more work. Comics look really rich and vibrant, but it is important to note that the Mini is incompatible with the CMX HD format. What is this new format, you ask? Well, when the Retina iPad hit the markets it allowed companies to really pack more pixels into all of their media content. This allowed for crisper fonts, better pictures, and higher quality art. Since the Mini does not have the same resolution as the iPad 3, you are relegated to viewing them in SD. This does have a hidden blessing because the non-HD versions of comics are normally 30-50 MB, while the HD editions are 150 to 400 MB.  As an avid comic reader, I will stick with the iPad 3 for the best experience.
The Mini truly shines when you are reading ebooks via the companies you prefer to do business with. Kobo has unique elements like Pulse and Reading Life, which puts a heavy social media spin on the entire reading experience. iBooks gives you more of an animated format, with the ability to add highlights in full color, while Amazon gives you access to ALL of the most popular books at basement prices.
Whether you are reading books in landscape or portrait mode, you get the same familiar customization experiences. If you are using the Mini as your first e-reader, you are in for a treat! Every major app allows you to adjust the fonts, font-type, line-spacing, margins, and background. When you are reading late at night, the last thing you want is a bright white background and small black text. You might want to either lower the brightness level within the app, or change it to "Nighttime Reading," which makes the background black and the text white.
Apple has moved into the e-textbook business in a big way. iTunes U allows you to easily buy all of your first and second year classroom material for college and university. It really saves students a ton of money to move into the digital realm, and often you can save $400 – $1200 per semester by switching to digital.
I found during a six hour reading binge that I could easily hold it in one hand. The iBooks' continuous scrolling feature just unveiled, and it makes books function like RSS feeds. You just scroll down to see more content, instead of flipping pages. I can see the Mini appealing more to people who are commuting to work via the bus, tube, subway, or train.
Our Thoughts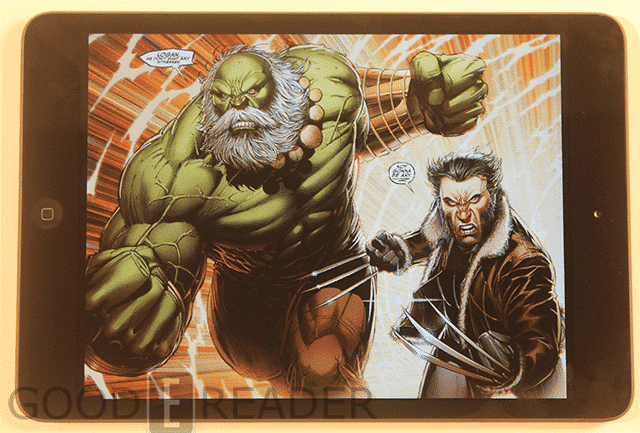 Steve Jobs famously said that he would never develop a seven inch tablet because the market was too saturated with them. Now that he has moved on, the company is focusing on what will make money and enhance quarterly sales figures.
The Mini has seen a tremendous lack of demand on opening day, with crowds significantly smaller than prior launches of the iPhone 5, iPad 3, and iPhone 4S.
The main draw of this unit is price and the ability to purchase it in 4G/LTE variants. Many of the top companies who peddle tablets make you rely exclusively on a WIFI internet connection. This limits what you can do when you are in motion. I love the fact that you can do way more when mobile if you opt into a cellular connection. Obviously, you have to pay a premium for it with the hardware and then monthly fees to your carrier. The Mini costs around $349, which is a bit higher than the Kindle Fire HD 7, Google Nexus, or the upcoming Kobo Arc and Nook HD. Apple products have never been cheap, but the lowered price-point on the Mini makes it more economically viable than its precursors.
In the end, it comes down to what you are going to do with the Mini. If you are going to exclusively read ebooks, it is very solid. If your daily life involves commuting, it is WAY more portable than the iPad 3. If you are more into comics, magazines, newspapers, and multimedia content, I would stick with the iPad 3 or the new iPad 4. I honestly don't think the iPad 4 even brings anything unique to the table, not enough to justify the price and so soon after the iPad 3 launch.
Pros
More Lightweight Than Most Android Tablets
Stereo Speakers
Access to the Most First Party Apps and Games
Easy to Use
Geared towards Readers
Long Battery Life
Cons
4:3 Aspect Ratio
Non-Retina Display
Lack of Customization Features
Thunderbolt Connector Makes Old Docking Stations Obsolete, Unless You Buy Pricy Adapters
High Price
Rating: 7.5/10
[cincopa AQDASBrCqE_0]

Michael Kozlowski has been writing about audiobooks and e-readers for the past twelve years. His articles have been picked up by major and local news sources and websites such as the CBC, CNET, Engadget, Huffington Post and the New York Times. He Lives in Vancouver, British Columbia, Canada.