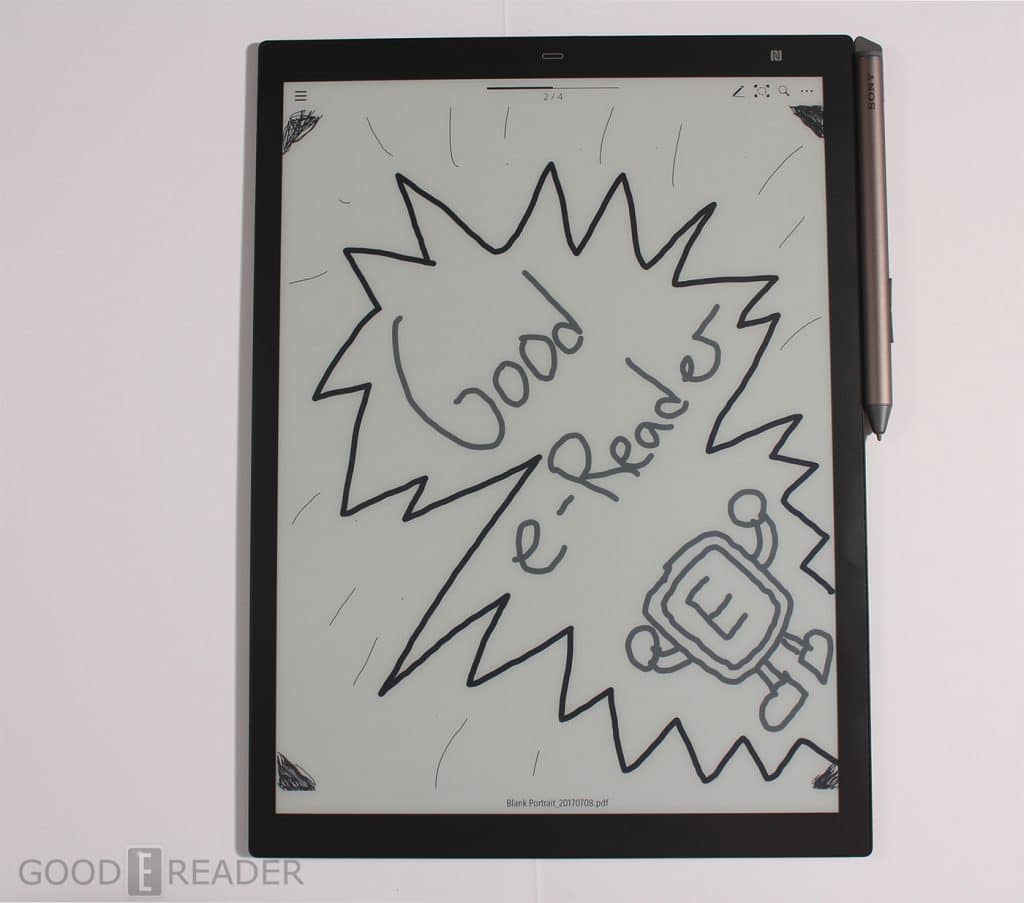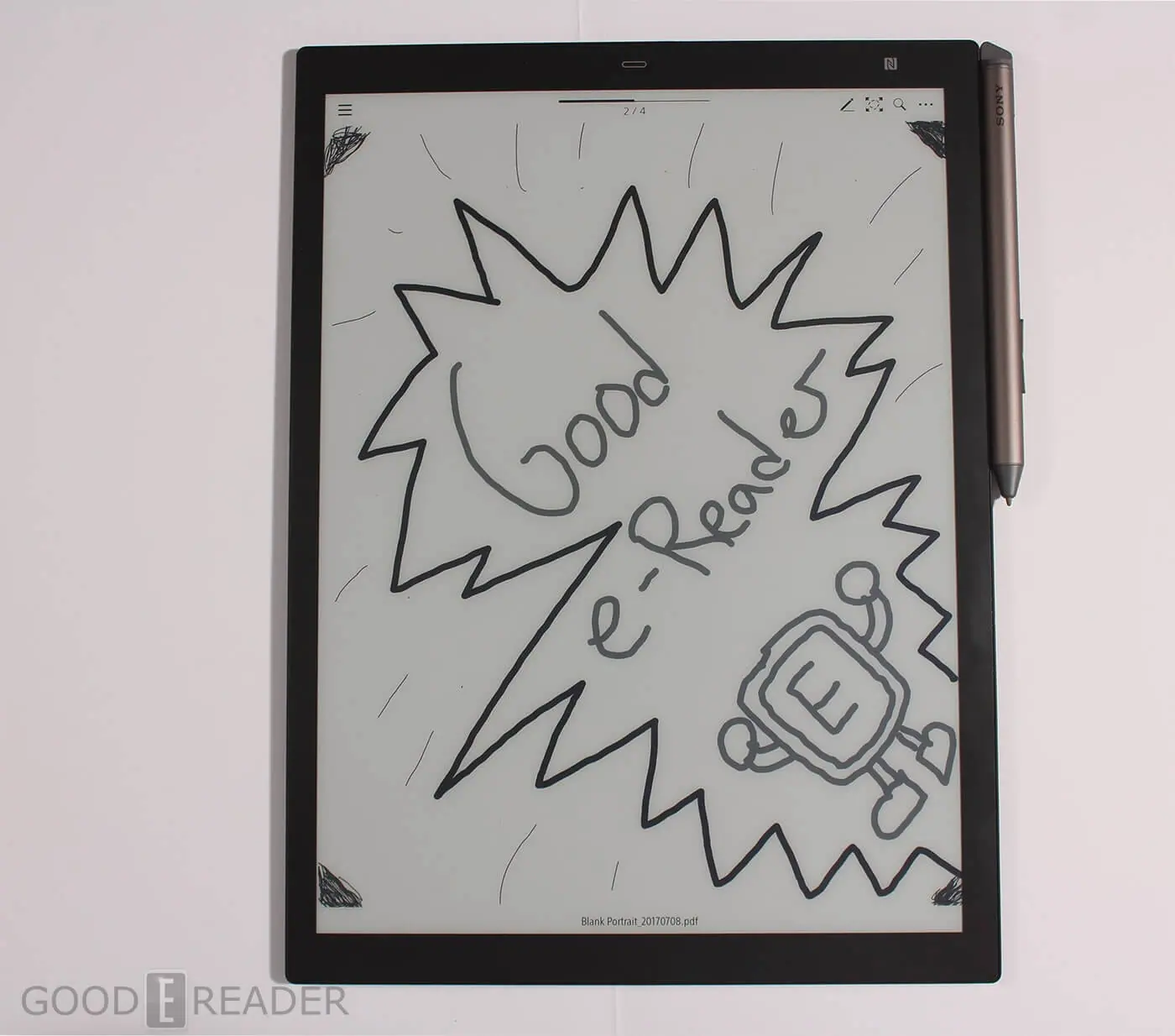 The Sony Digital Paper DPT-RP1 has a singular purpose; it is a dedicated PDF reader and editor. This product incorporates E-Ink Carta, which has a faster response time than Mobius. It also has a quad-core processor, which dramatically increases performance.  How does the second generation Digital Paper compare to the DPT-S1 and is it a good investment for professionals or students?
Hardware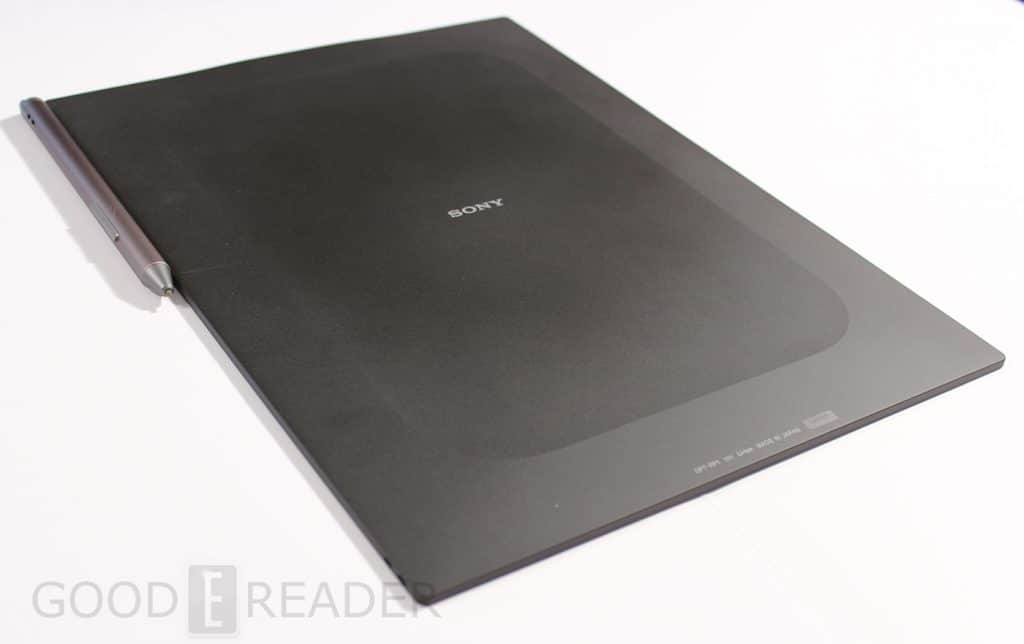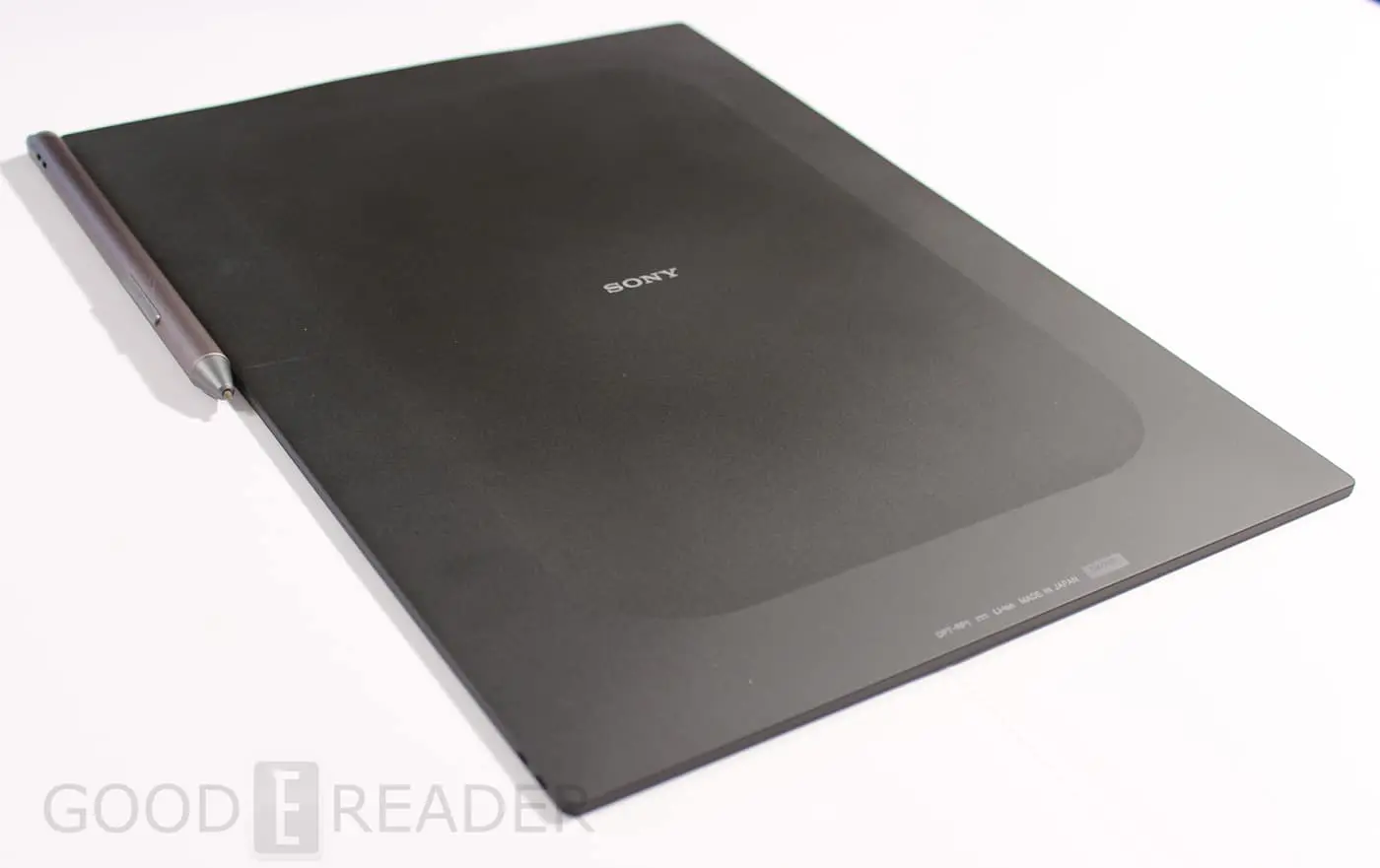 The DPT-RP1 features a 13.3 inch E-Ink Carta screen with a resolution of 2200 x 1650 and 207 PPI.  The screen is completely flush with the bezel and not only does this make the device have a premium feel, it also provides a ton of benefits. You can easily employ the stylus to take notes from one edge of the screen to the other, whereas the original Digital Paper had a sunken screen and was more challenging to do this.
Sony has a ton of marketing material that they use the RPT to business users and professionals. They say that it uses a flexible display and it is indeed malleable, to a very small degree. You can lightly bend the bottom and edges of the bezel, but you not want to put a ton of pressure when trying to bend it or it will likely break.
Underneath the hood is a Marvell IAP140 64-bit Quad-core IoT Applications Processor and ARM Cortex-A53 CPU, up to 1.2GHz, and has a separate power low-power Cortex M3. It has 1GB of RAM and 16GB of internal memory, but when you power it on the first time, there is 11 GB. The rest is reserved for the Google Android operating system and some of the stock PDF templates that are available.
The new Digital Paper has Bluetooth and wireless internet access. These two features only work in conjunction with the Digital Paper App for the PC. You can connect up to the app with the accompanied USB cable or via Bluetooth.  This app is essential to configure WIFI, the RP1 does not have the ability to discover WIFI networks on its own. Once you have established one, it will appear in the settings menu under "saved networks." Easily connecting to up to different networks might be a huge issue with consumers, but not professionals. It does not have an internet browser.
One of my biggest concerns is that the Digital Paper does not have access to cloud storage solutions such as Box or a corporate network. This was a big selling point with the original DPT-S1. This unit was a boon to professionals who would connect up to a centralized server, where people in their department are always updating existing PDF documents or uploading new ones. Without access to the cloud directly on the RP1 is going to be huge problem with early adoption, until Sony fixes it.
Thankfully, in the here and now, you can synchronize the RP1 using the Digital Paper app. You can connect up to a specific folder on your PC or a networked folder such as Dropbox or Onedrive.  If you have an existing PDF file on your device, you can always update it automatically. There is also an option to drag and drop PDF files in other directories with a file manager, although I cannot stress enough you need this app that has severe limitations. You connect browse the internal directory structure with Windows Explorer.
The inability to have your PC recognize the DPT-RP1 might provide barriers to future firmware updates. The DPT-S1 was easy to update, because Sony just provided a dedicated website that had all of the files and instructions on how to do it. Sony would need to introduce an updated app that could eventually push out new features like automatic updates.  Sadly, the existing Digital Paper app cannot update itself to new versions, Sony would have to introduce this feature and somehow inform users that an updated app exists and encourage them to update it, this is going to be challenging. If Sony does release a firmware update in the future, this guide tells you how to search for an update and install instructions will follow.
I suppose it is important to note that the RP1 has NFC, which will allow you to unlock it with a FeliCa card. FeliCa are big in Japan, but does not enjoy the same widespread usage in North America. It remains to be seen of the RP1 will spur adoption in companies that are heavily invested in Digital Paper. If you do not use a FeliCa card, no worries. This device has an optional password lock in the settings menu. You can ensure nobody will have unauthorized access, but if you lose it, there is no option to wipe it remotely.
The dimensions are 224 mm × 302.6 mm × 5.9 mm (8 7/8 in × 12 in × 1/4 in) and weighs a paltry 349 g (12.3 oz). It has a 2000mAh Lithium Ion battery which should give you around four weeks of usage with WIFI turned off.
The Stylus


The centerpiece of the Digital Paper is the new stylus. It has interchangeable nibs and you have to use a special tool to change them. When you buy the DPT it comes with four nibs, one is made of plastic and the other graphite. I find the graphite one is emulating a pencil and the plastic a traditional styli.
The stylus has two different buttons, one to make highlights and the other is an eraser. The highlighting experience is especially interesting, because not only can you highlight a specific word or body of text, but also you can make highlights over highlights. This is very innovative because you can for example highlight a paragraph, then a specific sentence in the paragraph and then finally a specific word. Each highlight makes the next one a little bit darker and very discernable.
Interestingly this stylus needs power. It uses a small rechargeable lithium-ion battery and the top of the stylus comes off, revealing a micro USB port. You can then use the accompanied USB cable to connect it up to your PC and it takes 3 hours to fully charge.
The DPT does not have a pen loop or stylus holder. It magnetically clamps directly to the unit. You can attach it to the upper left or right.  I think this stylus has a good build quality, it feels premium. It is made of a brushed aluminum and weighs 16 grams.  The original Digital Paper came with a plastic stylus and felt cheap and flimsy, it weighed 7 grams.
Note Taking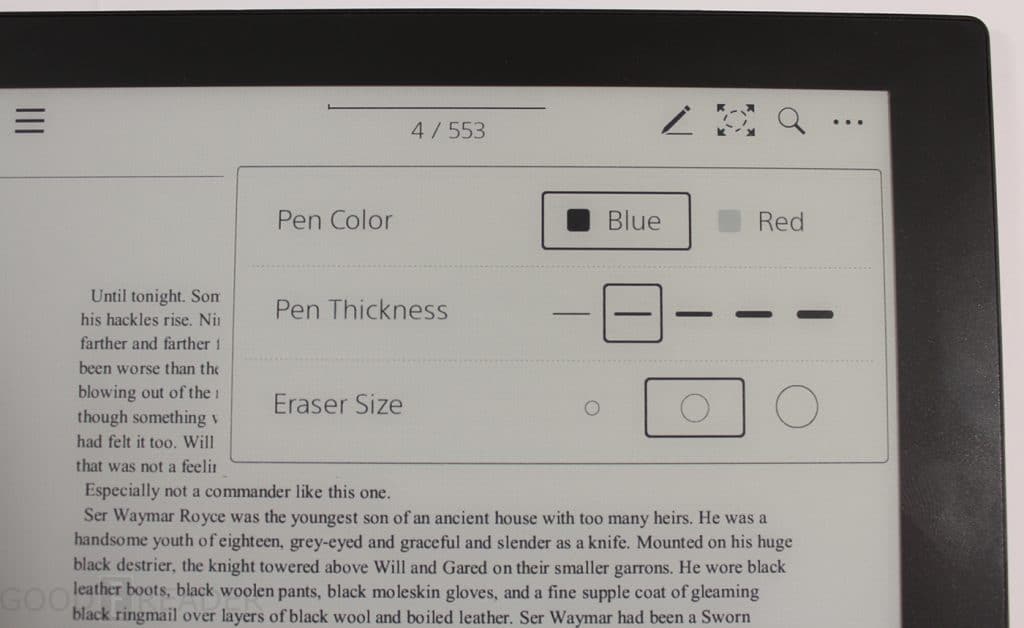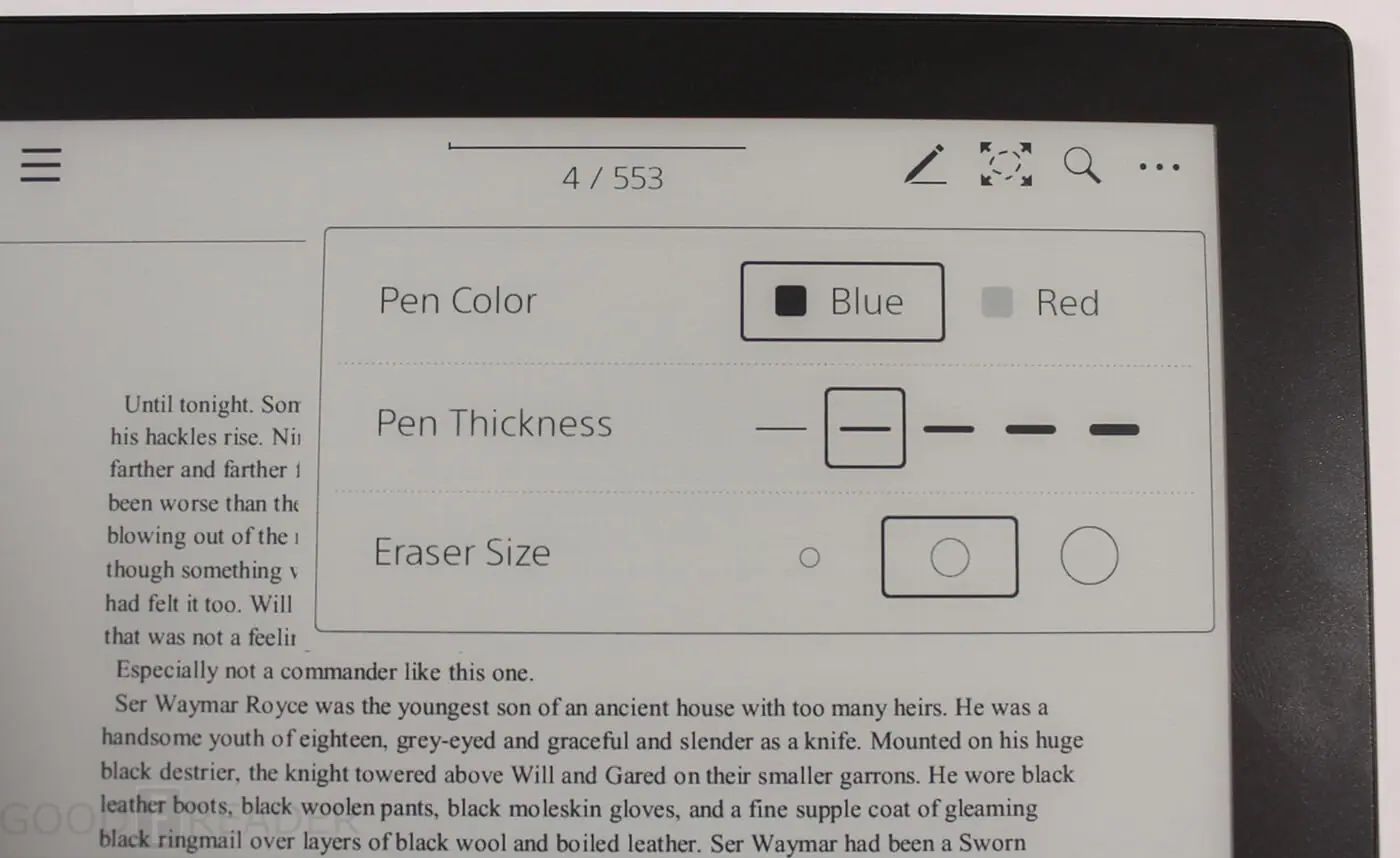 The Digital Paper has a singular purpose, to view and edit PDF files. The response time when drawing or taking notes is the best I have ever seen. It has no discernable lag whatsoever.  This is partly due to the new stylus, quad core processor and 1GB of RAM.
The stylus does not provide you with different degrees of pressure sensitivity so you will be relying on the five different pen sizes. It goes from very fine lines to extremely bold. It also has two different pen colors, blue and red. These colors do not directly influence what is displayed on the e-ink screen, but when you copy your edited file or take a screenshot, the colors are preserved when viewing it on your MAC or PC.
If you need multiple pages to take notes you can simply swipe left to right using the touchscreen and it will automatically create a new page. This is tremendously useful and intuitive.
I did notice a few issues when using the note-taking app. When you draw, a large image or use words that larger than normal, there is some ghosting if you decide to erase them. In order to get around this issue you need to open up a stock template to refresh the screen and then open the saved file.
When you are viewing or editing a PDF file you can search for a specific word or body of text and the search engine will automatic show the various pages where it exists. Simply click on one and that specific page will open. You can also use the searching system for any highlights you might have made.
Six different backgrounds that are available for taking notes. This includes a college rule or ones that are completely blank but have textures. Sony does have a dedicated website with hundreds of others, with big icons that give you a preview of what they look like. You can download them to your PC and transfer them via the Sony app directly to your device. There is also an option to remove any note taking backgrounds that you no longer want.
A new way to view PDF Files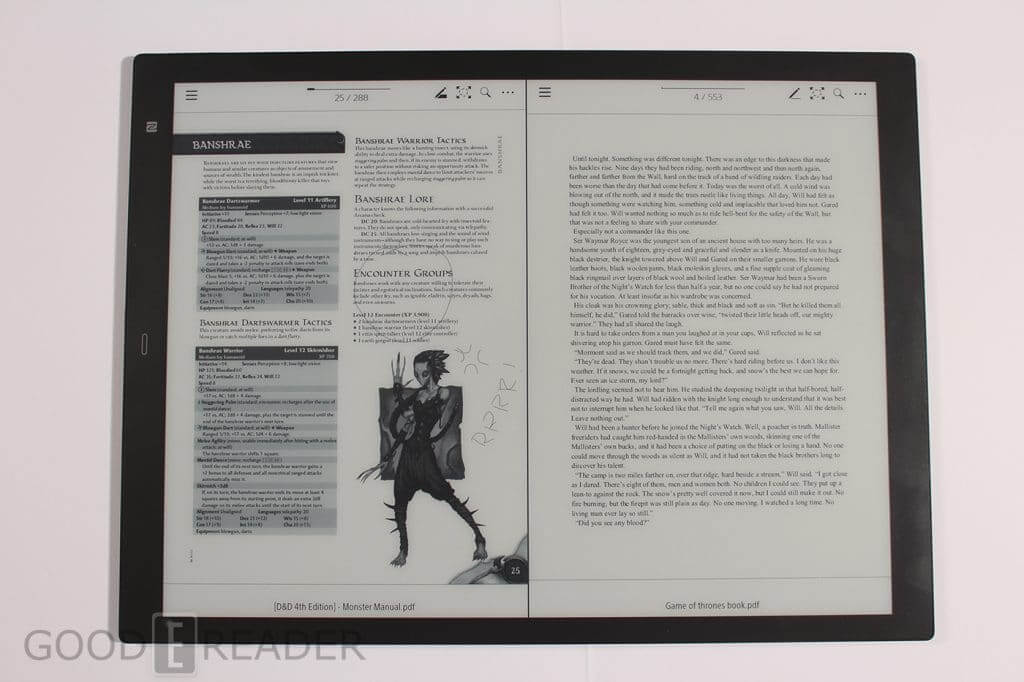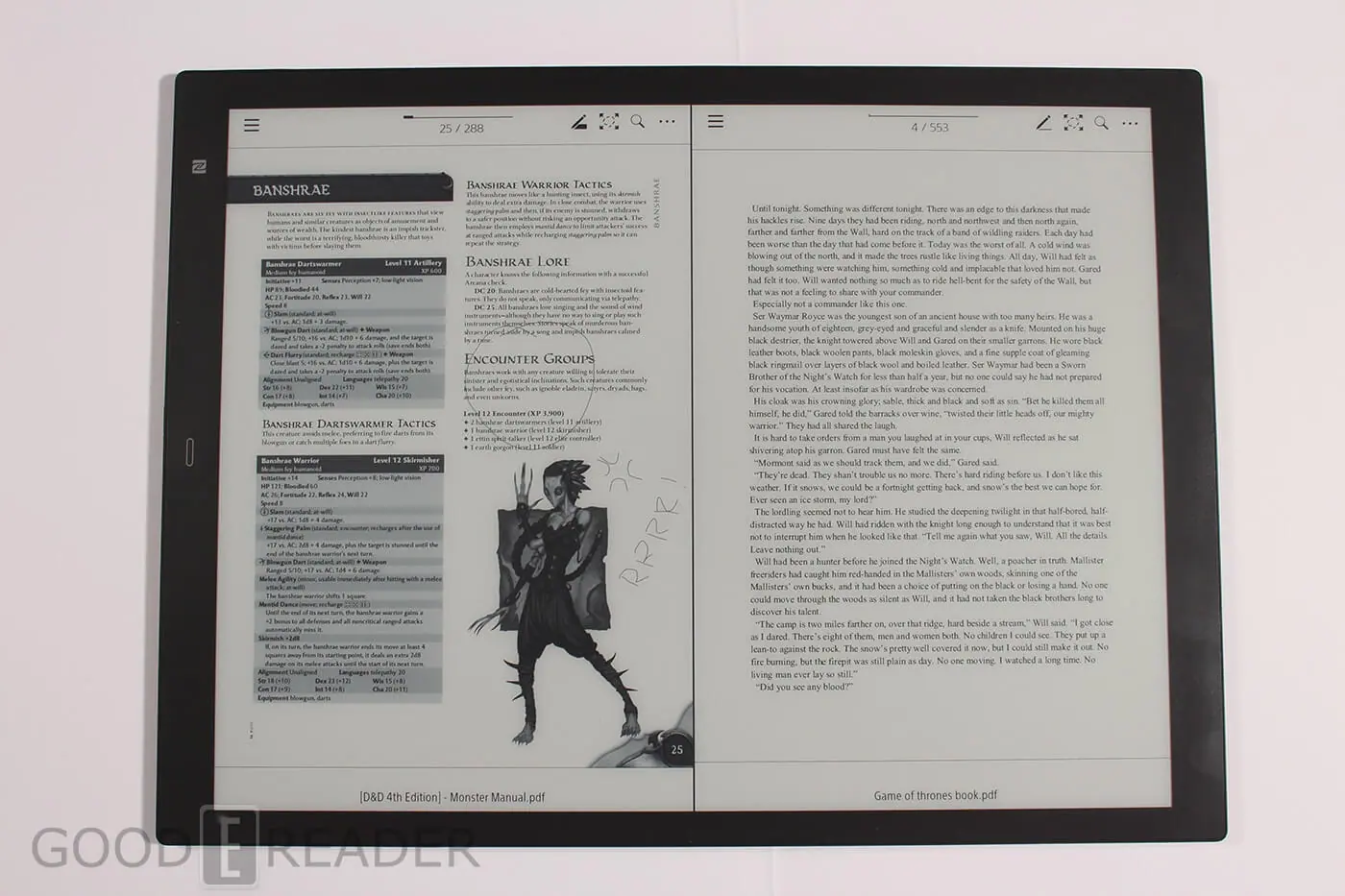 One of the most compelling aspects about the Digital Paper is the split screen view and multi page view systems.
Multi-page view will open up a PDF file in landscape mode and give you a secondary page. This makes viewing 100 page documents easier to view because you can fit more pages at once on a single screen.
Split Screen view is the most compelling aspect of the DPT. You can have two different files opened up at the same time and use the touchscreen to turn the page on one side of the screen, without affecting the other.
This might be a boon for students who have a digital textbook open on one side of the screen and note-taking app on the other. Alternatively, you could have two different e-books open at once, and independently make edits on both of them at the same time.
When viewing a PDF file you do not have the ability to pinch and zoom by using the touchscreen. Instead, you can use a small zoom tool to isolate a specific area; all you need to do is tap. When zoomed in, you will still be able to make edits.
One of the drawbacks about the zooming system is that it is irksome for documents that have small text or a combination of text and images. There is no reflow option to strip away the CSS elements and have pure text displayed. I think it might be important to make sure your PDF files do not have small text, or the entire document might be unreadable, even with a 13.3-inch screen.
If you are reading manga in PDF form, there is an option to change the directions that pages turn. By default, you would turn a page by tapping on the right hand side of the screen and use the left hand side to go backward, you can reverse this.
Although the DPT can only read PDF files, you are not exclusively reliant on digital textbooks or work related materials. You can load in your personal PDF collection, such as D&D gaming books or even e-books.
The DPT does is not Adobe certified, so it does not have a DRM system that would allow you to view PDF files that you borrowed from the public library or ones purchased from bookstores.
You can read ebooks on the DPT, as long as they are in PDF. If you have an extensive collection of EPUB, TEXT or MOBI files, you can convert them to PDF by using Calibre. This free e-book management tool gives you super advanced options to customize the conversion process.
Wrap Up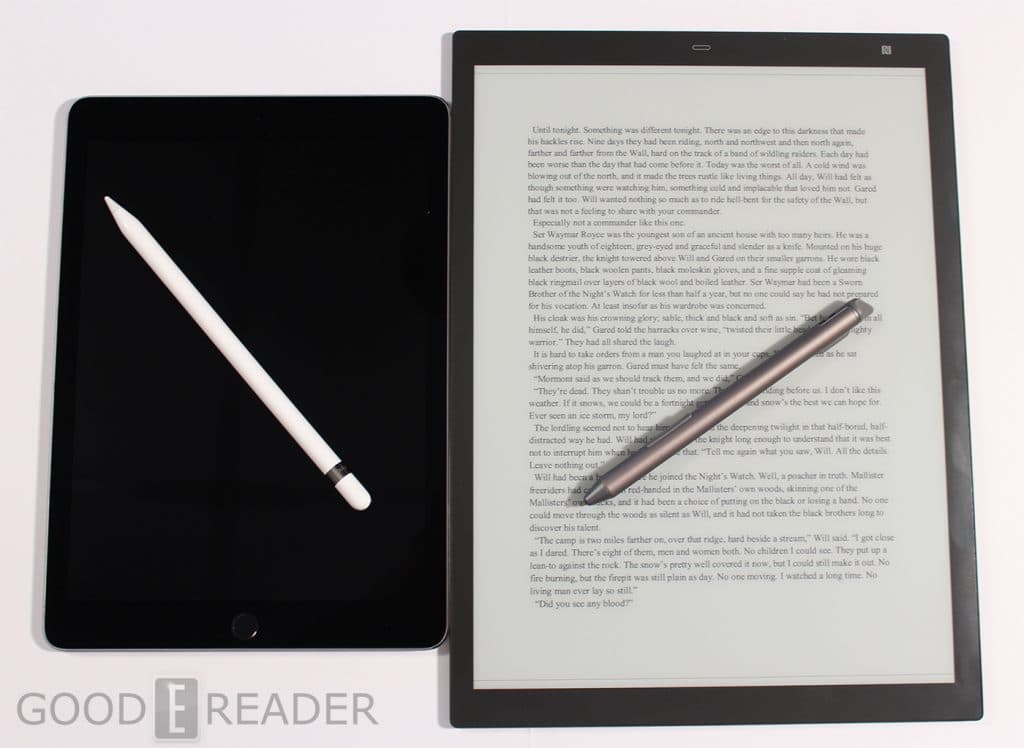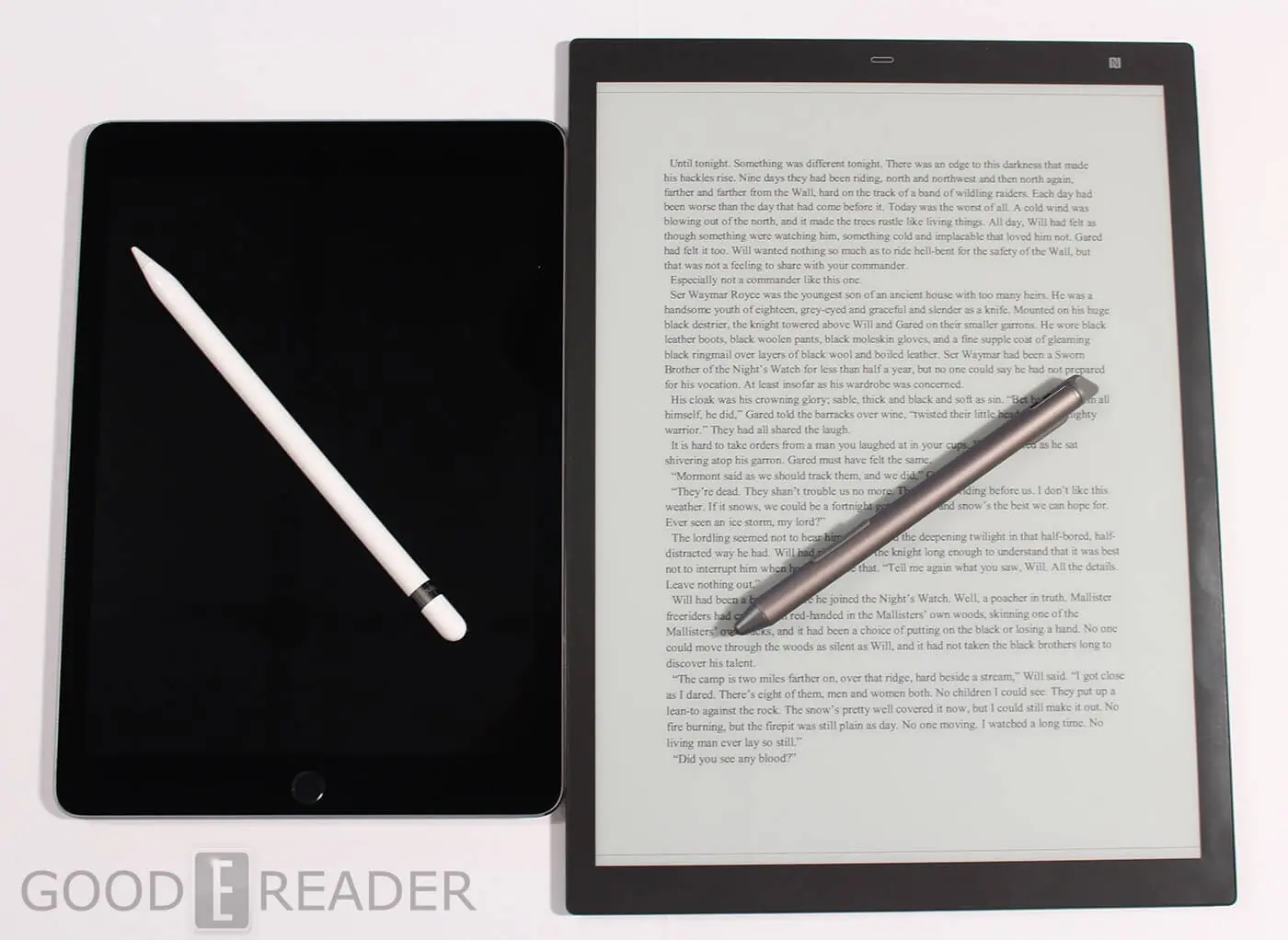 The DPT-RP1 excels at taking notes and editing PDF files, this is its primary function. It has a touchscreen layer and one that supports a stylus. It is as light as a feather and you can literally hold the device with a single finger. It is responsive, fast and tremendously robust.
The closest competitor of the DPT for note taking is the Apple iPad Pro with the Apple Pencil. The Apple Pencil has built-in sensors to determine orientation and angle, and to detect a range of forces for pressure-sensitive drawing and writing. Apple has optimized the iPad Pro and iOS to ensure the Apple Pencil has minimal latency. The drawbacks of the iPad is the reliance on apps to really get value. Now Apple hypes up apps that have Pencil compatibility, but they are all charge monthly subscriptions or one time fees ranging from $9 to $49 to unlock viewing and editing PDF files. Some notes like Evernote excel at writing, while Sketchbook Pro emphasis art. Almost none of them have any kind of PDF importing features from cloud storage and cannot import PDFs from email attachments. The best way to copy over PDF files is using iTunes.
When it comes right down to it, the iPad is a multipurpose tablet that is designed do more than just be a productivity tool. It suffers in direct sunlight and you are lucky to get a full 24 hours of constant usage because of the back-lit display. The Sony does an amazing job in direct light, because this is the primary strength of e-paper. You can also get over a month of constant usage, but you want to ensure that WIFI is turned off.
I would recommend this device to anyone who needs to view and edit PDF files. It does its singular job better than any other device on the market and is well worth the $699 price tag.
PROS
Good Resolution
Quad-Core Processor and dedicated GPU
The stylus is dramatically improved
Note taking is more robust
CONS
Stylus requires charging
No internet browser
WIFI networks need to be configured with the app
Cannot connect Bluetooth accessories
Rating: 9/10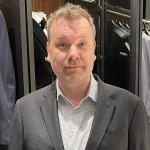 Michael Kozlowski has written about audiobooks and e-readers for the past twelve years. Newspapers and websites such as the CBC, CNET, Engadget, Huffington Post and the New York Times have picked up his articles. He Lives in Vancouver, British Columbia, Canada.