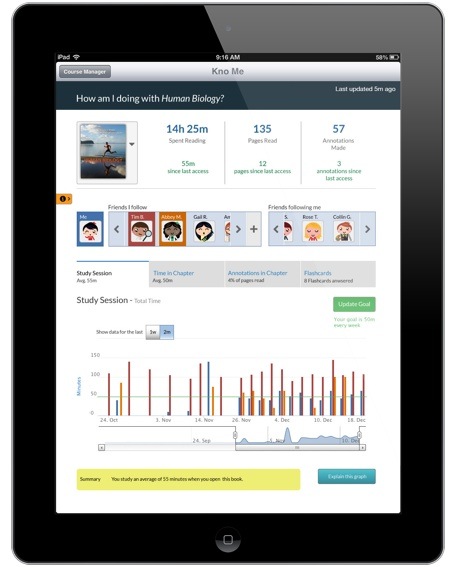 As digital textbooks incorporate newer interactive features at a fraction of the cost of their print counterparts, one key aspect of e-textbooks is now the need to catch them up to the speed of other forms of digital publishing. Just as other ebook users have enjoyed the frenetic pace of other forms of ebook creation, digital textbook and educational software developer Kno will unveil a platform today that can bring digital textbooks to the same speed as other books.
While Kno has already seen laudable results from its recently released interactive, feedback-based student study dashboard Kno Me, Kno's Advance platform allows publishers to create an ebook edition from PDFs or print editions of their books while maintaining the scale of the book. This is especially important in public schools where bring-your-own-device initiatives have meant student learning across different devices as well as the print counterpart.
"Working with Kno, the process of converting our print titles to highly interactive eBooks has been seamless," said Kurt Strand, Chief Product Officer, McGraw Hill Higher Education, in a press release. "Now, using Kno's Book Enhancer, we are able to enhance or update our eBooks virtually instantly. The process of defining interactivity is literally the same as creating it with Kno."
"Using Kno's Book Enhancer gives us better digital tools and capabilities than many large publishing houses," said Greg Greul, President of Wayside Publishing. "The ease of use, speed, and lack of additional costs enables us to keep our AP programs for English, History, and World Language programs compelling and up to date for students."
Kno's Advance is the grouping of various Kno entities, including Kno Ingest, the Kno Book Enhancer, and Kno Assessment. These three forms work together to allow publishers to create a digital edition in minutes based on a print file, while Enhancer and Assessment allow Kno's team to incorporate so many of the features that users have come to expect from fully interactive ebooks. This multi-tiered publication solution can mean an end to outdated editions and costly upgrades as material changes, allowing instead for publishers to make updates to their material in minutes.
Kno currently offers over 200,000 textbooks titles from more than 80 publishers, focusing on making these tools available for the K-12 public education arena. From its conception, Kno has sought to make digital textbooks affordable and accessible, while still creating dynamic full-featured content. In support of the public education sphere, Kno has partnered with Donors Choose to make funds available to schools with every purchase of a Kno ebook.
Mercy Pilkington is a Senior Editor for Good e-Reader. She is also the CEO and founder of a hybrid publishing and consulting company.