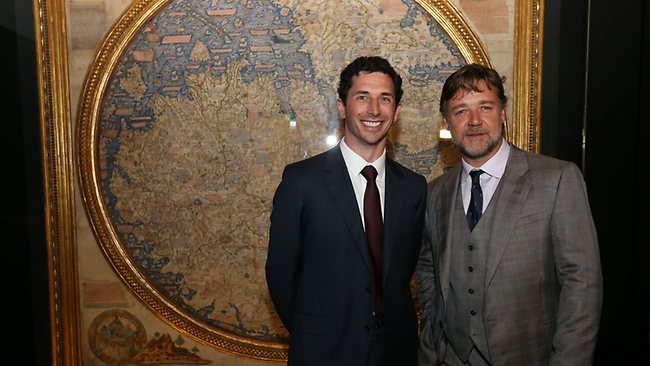 The National Library of Australia recently held an event in Canberra to mark the launch of the "Mapping our World" exhibition that is showcasing some of the rarest and oldest maps . Lending grace to the occasion was none other than Hollywood star Russell Crowe, a self-professed "map geek who said he has loved pouring over maps since his childhood.
"We have a history of cartography from the time of the ancient Babylonian world, to Ptolemy, through the middle ages right up to Matthew Flinders…to do that in 120 items is quite something," said Nat Williams, Director of Exhibitions with the National Library.
Special mention must be made of Fra Mauro, which the authorities explained is a hand painted world map that dates back 600 years. It is also expansive, at three square meters and weighing a mammoth 1,300 kilos. It also is the first time that the Fra Mauro has ever left its home in Venice.
"It was disassembled in three crates, and the journey was by air freighter with couriers all together and it was really very difficult. It was a great challenge but we won it," said Director of the Biblioteca Nazionale Marciana in Venice Maurizio Messina.
The British Library has lent some of its rare maps from its huge collection of over 4.5 million pieces, which includes a map of the world that once adorned a wall in the bedroom of Henry VIII. However, the map is only of historical significance as most of what has been depicted has been found to be largely inaccurate.
"I'm really looking forward to seeing people in here – that's really when it's it. At the moment, the lighting people are out, and I can see these wonderful objects for what they are from any angle, I can compare this map with that map, I can understand the cartography of the French and the British, or the Dutch and the Portuguese," said a naturally excited Martin Woods, National Library's curator of maps, who said the exhibition marks the culmination of years of planning and negotiations.
Sovan Mandal is the senior tablet and tech corespondent for goodereader.com. He brings a international approach to news that is not just applicable to the North American market, but also Asia, India, Europe and others. Sovy brings his own writing flavor to the website and is interested in Science Fiction, Technology and Writing. Any questions, send an email