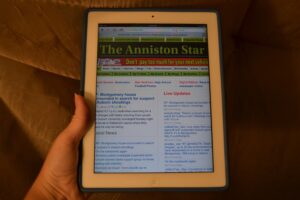 Around the country, once vital newspapers are shutting their doors, some after several generations of providing news content to print subscribers. With the birth of digital, it seems that the only newspapers able to keep up are the ones who have embraced a digital edition and encouraged their readers to subscribe to the electronic versions. Along with the success of these subscriptions came a shift in the newspaper model; in some news outlets, the typical daily edition has grown into a reflowable entity that allows for updates as news happens, a feature of the future of newspapers that subscribers are already clamoring for in the era of 24-hour news channels and internet updates.
As newspapers began to slide into a more digitally centered model, some of the obvious benefits to electronic newspapers became the norm. With the reduction in printing and delivery costs and the lower environmental impact, it seemed that digital newspapers were the wave of the future.
But now, a report today in Reuter's shows that newspaper are still suffering the effects of their own business model, even in the age of digital editions. As newspapers rely on advertising dollars for revenue, and with the ad space online at a premium, many are finding that they simply can't make ends meet with what online advertisers can pay, especially with digital ad revenue falling between two and seven percent at some of the nation's largest and most well-known papers.
The problem is twofold: first, just as with the rest of a flailing economy, online advertising has fallen off. But the other issue is referred to as advertising exchanges. This system lets potential advertisers bid on ad space on websites in order to bring in a portion of income rather than none; the end result is advertising space sold at dramatically lowered prices, which is enough to put the pressure on the newspapers who rely on those advertisers' dollars to supplement what subscribers already pay.
One tool that newspapers can use to stave off the sting of advertising exchanges is video. Several major newspapers, including USA Today, have been able to increase their ad dollars coming in by allowing advertising on their embedded videos. But that option isn't feasible for all newspapers around the country, especially with the limited advertising budgets in a weak economy.

Mercy Pilkington is a Senior Editor for Good e-Reader. She is also the CEO and founder of a hybrid publishing and consulting company.