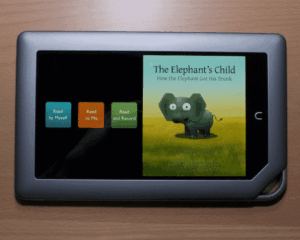 One of the facets of the education system that still frustrates teachers and parents alike is the loss of valuable and hard-won academic skills over the course of the summer break. While the length of the break varies by state, it can be close to three months, or nearly one-third of the year for what are already emergent readers and learners.
Barnes and Noble issued a press release today that announces its kids' summer reading program, offering a chance for kids to receive a mini-library of free NOOK books with the in-store purchase of a new NOOK tablet device. The popular titles are from well-known juvenile literature authors and include select books like the Judy Moody series, Artemis Fowl, and the Kingdom Keepers series.
"We are excited to bring together our award-winning NOOK Tablet and this fantastic free collection of bestselling titles so children can start building their summer reading library," said Jim Hilt, Vice President of eBooks for Barnes & Noble, in the press release. "With this offer, we will create lifetime readers by delivering great content into the hands of young readers through an engaging and interactive digital experience."
In order to target age-appropriate ebooks to the right audience of young readers, the NOOK book giveaway will be active during a pre-determined window of dates. Between June 18th and July 15th, the titles will be most appropriate for readers between the ages of seven and twelve. From July 15th through August 6th, the ebooks will be from the teen summer reading collection. The final program will run through September 2nd and will feature books for young readers.
At the time of in-store purchase of either a NOOK Tablet 8GB or 16GB, customers will receive coupon codes for the free downloads of the titles they wish to add to their digital lockers. Customers can choose to download and enjoy ebooks one at a time, or download the entire collection that is available at that date.

Mercy Pilkington is a Senior Editor for Good e-Reader. She is also the CEO and founder of a hybrid publishing and consulting company.