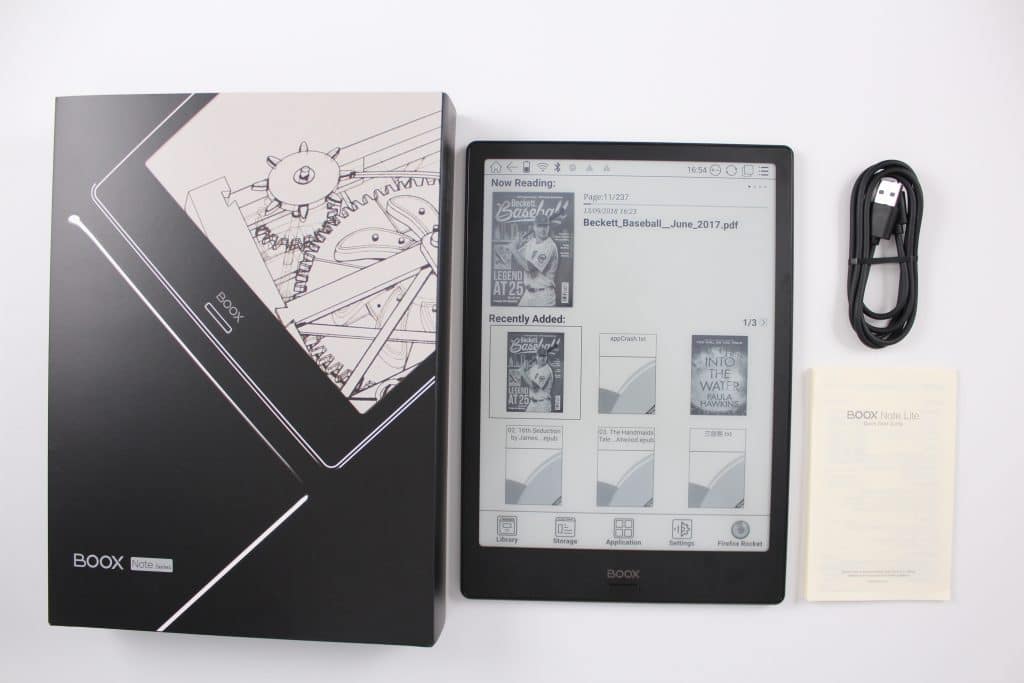 The Onyx Boox Note Lite is a dedicated ebook reader. It does have an active digitizer or come with a stylus. The big selling points is the 10.3 inch capacitive touchscreen display and the great hardware that ensures a robust Android experience.
Hardware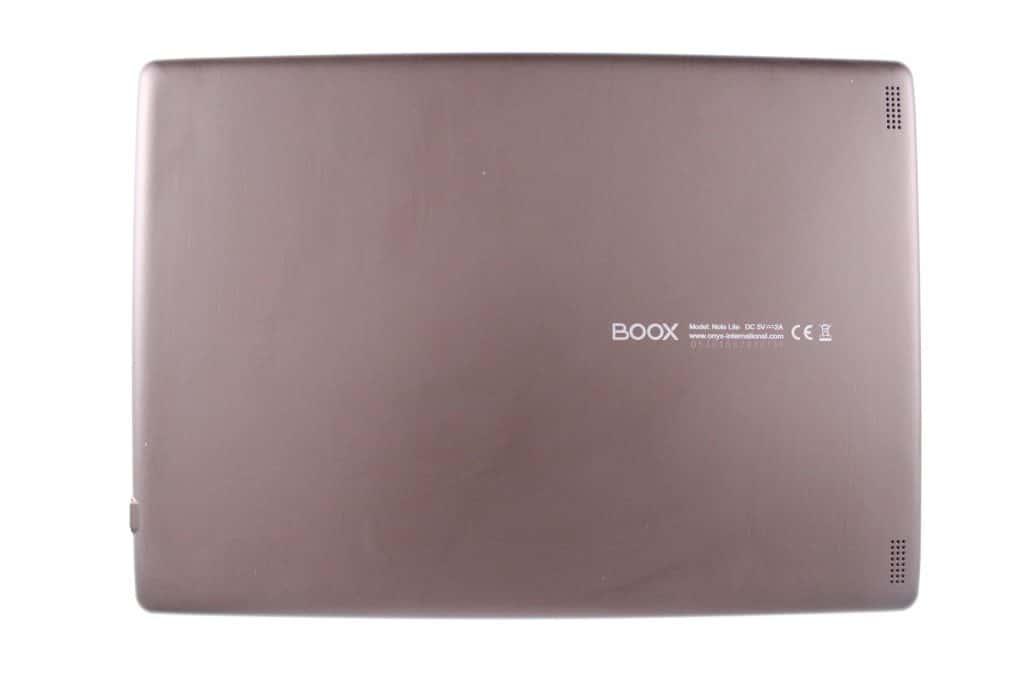 The Onyx Boox Note Lite features a 10.3 inch E-ink Carta display and a resolution of 1872×1404 and 227 PPI. This does not have a glass based display, but instead has a flexible e-paper one. It does not have a front-light.
Underneath the hood is a 1.6GHZ quad core processor, 2GB of RAM, 32GB of storage,dual speakers, mic, Bluetooth 4.0, USB C and WIFI. Onyx was the first e-reader company to employ a quad processor and it dramatically increases the performance of navitating around the device, surfing the internet, turning the pages of a book or using Android apps. Speaking of Android, this unit is running 6.0 and has Google Play.
Bluetooth is a really underrated feature with the Note Lite. You can connect up a pair of wireless headphones or speakers and listen to audiobooks or music in the foreground or background. You can also hook up a wireless keyboard or a mouse or even foot pedals.
The Lite is powered by a giant 4100 mAH battery and will last around four weeks in standby mode. I found that normally I get around a week of battery with WIFI/Bluetooth always on and using Android apps, the stylus and reading ebooks. You can extend the battery life further if airplane mode is turned on and app usage is kept at a minimum.
From a design standpoint this device is really polished. It has a home button on the bottom and this is the largest part of the bezel. The sides and top are fairly clean and only have around half an inch of where the screen meets the bezel. It is only available in black and the back of it is comprised of a hard plastic.
Software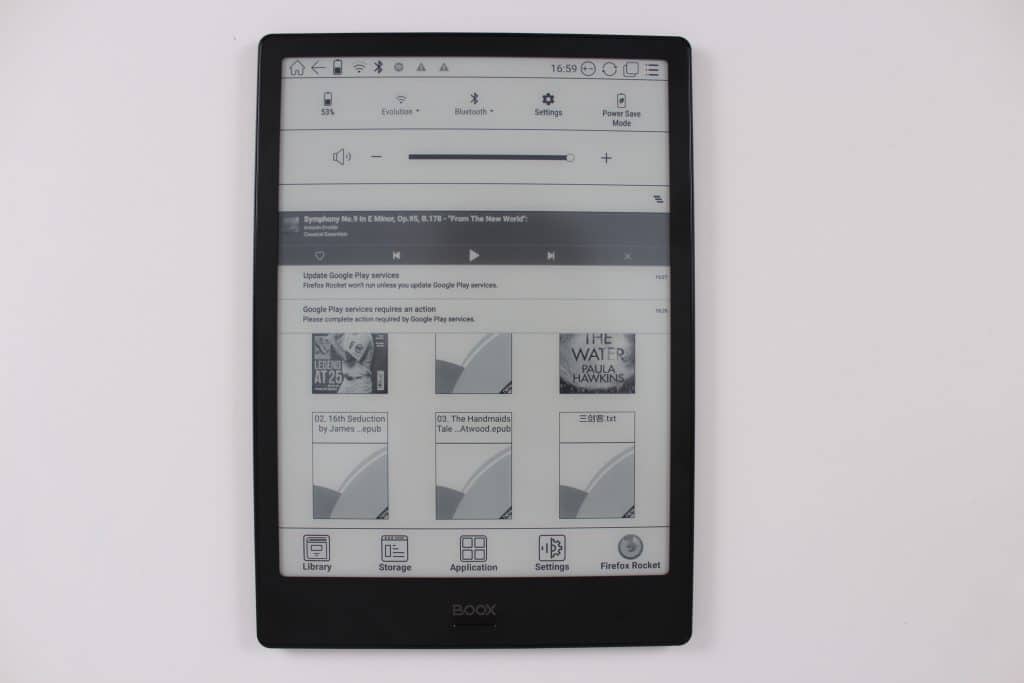 There are a number of e-readers on the market that have Android as the main operating system. The average one is running 4.04, which severely limits the number of apps that you can install, since all of the good ones require a higher version. The Note Lite is running Android 6.0, which is the last version that supports an E-Ink screen.
Onyx has Google Play on their e-reader and opens up a wide array of apps that be installed on the Plus. Some users are unable to access the app store, but Onyx is working on a fix. The company is also launching their own app store with only a handful of recommended apps that have been optimized for an E Ink screen.
The Lite suffers from a limited amount of internal storage, because it does not have an SD card. It has 32GB, but after the OS is installed, you have roughly 27GB to play around with. Once you install a few of your favorite apps, a dozen high resolution PDF files and a few hundred books, you will be running low on space. This is why I am recommending that you install Lite and Go apps.
The navigation UI entries are at the very bottom of the home screen. This includes access to your digital library, file manager, app screen and a basic Webkit internet browser.
E-Reading Experience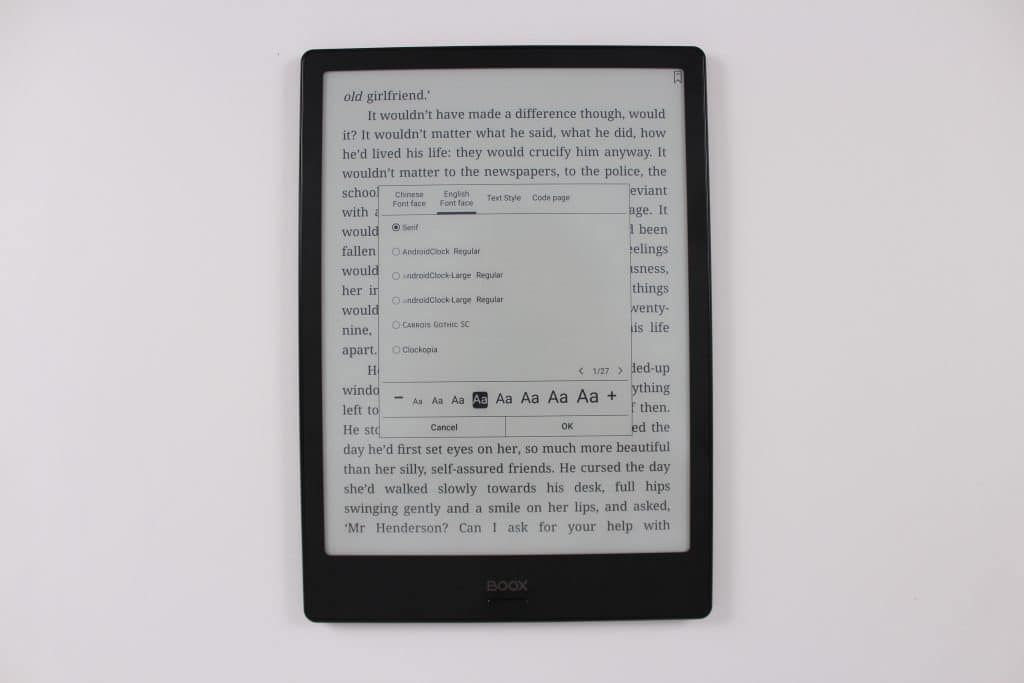 The Note Lite is basically a large screen ebook reader. Almost everything 10.3 inches to 13.3 inches is basically just a digital note taking device, that costs a fair penny. The Note Lite is around $400, which makes it ideal for reading manga, ebooks, digital comics and a slew of other content.
All of your stuff is housed in your library, which contains all of your PDF files and e-books. You can scan for metadata, which adds covers to titles that do not have them. This often occurs with royalty free content, but also ones that are issued by major publishers. This is useful because you no longer have to use a program like Calibre, you can do it directly on the e-reader. You can also do other things like switch between grid or list view or delete the book entirely off your device.
The e-reading experience is standard fair. Onyx redesigned the font selection menu to increase the size, switch to bold mode or adjust line spacing or margains. It feels more like a Kindle now in this regard. One of the drawbacks was selecting a font, there is seriously 27 pages with 10 fonts per page. This is totally overkill and there is no quick method to search for a specific font, you are just scrolling endlessly to find one you like. Still, you can make highlights, annotations, translate, lookup words in a dictionary or turn on text to speech. Text to speech is fairly robotic and does not even compare to Google Assistant, Bixbi, Siri or Alexa.
Onyx has optimized a few dozen popular apps with their custom firmware. Amazon Kindle traditionally is not great an on e-reader because of all of the animations, especially when you turn the pages of a book. This app was developed with smartphones and tablets in mind, so it looks really pretty. Onyx has somehow removed all of the animations, so you get lightning quick page turns, which is really ideal.
Not only can you read ebooks, but you can also listen to audiobooks, which are the fastest growing segment in digital publishing. You can easily install Kobo Audiobooks, Audible, Storytel or your favorite audiobook retailer. You can also sideload in your own audiobooks and use a 3rd party player. The Lite has speakers on the back, which the audio quality is acceptable, but you ideally want to use a pair of headphones or a speaker. Google Play has hundreds of audiobook players, so you will find no shortage of apps.
I like the Note Lite as a dedicated ebook reader. Android really offers a ton of flexibility to craft your own experience. The quad-core processor and 2GB of RAM really takes app performance to an entirely new level.
Wrap Up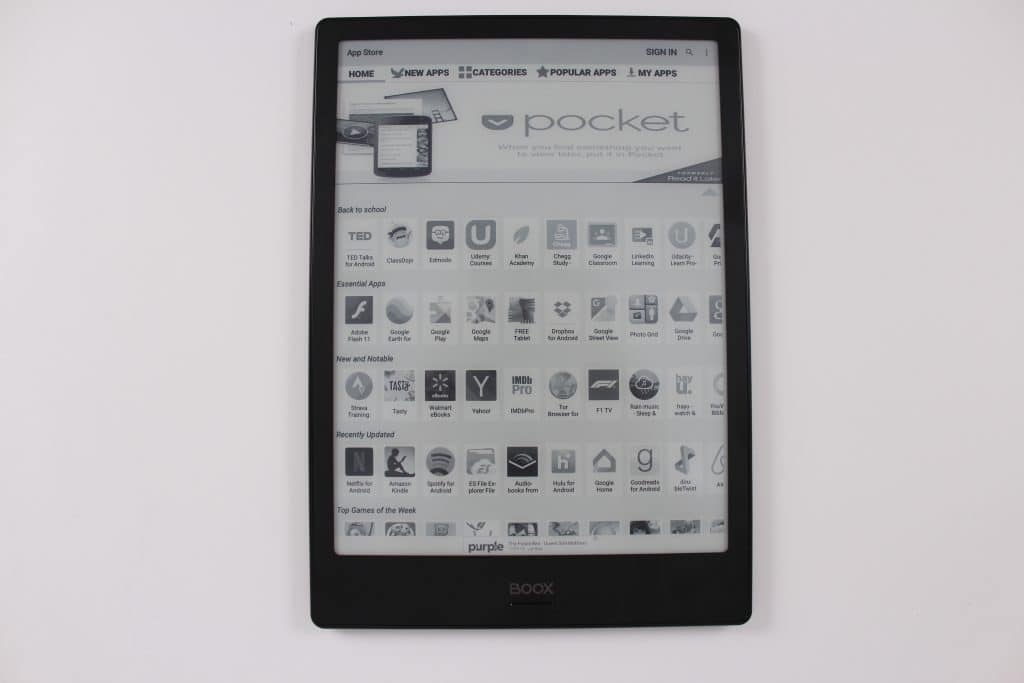 The Note Lite makes sense for someone who wants a large screen e-reader for all of their comics, manga, newspapers, magazines, ebooks or audiobooks. A 10.3 inch screen is large enough to show everything in high resolution, without always needing to pinch and zoom, just to read the text.
This e-reader is also great for people who have vision disorders and need large fonts in order to read, a 10.3 inch offers more screen real estate with the fonts jacked up, whereas a six inch model is not.
Michael Kozlowski is the Editor in Chief of Good e-Reader. He has been writing about audiobooks and e-readers for the past ten years. His articles have been picked up by major and local news sources and websites such as the CBC, CNET, Engadget, Huffington Post and the New York Times.