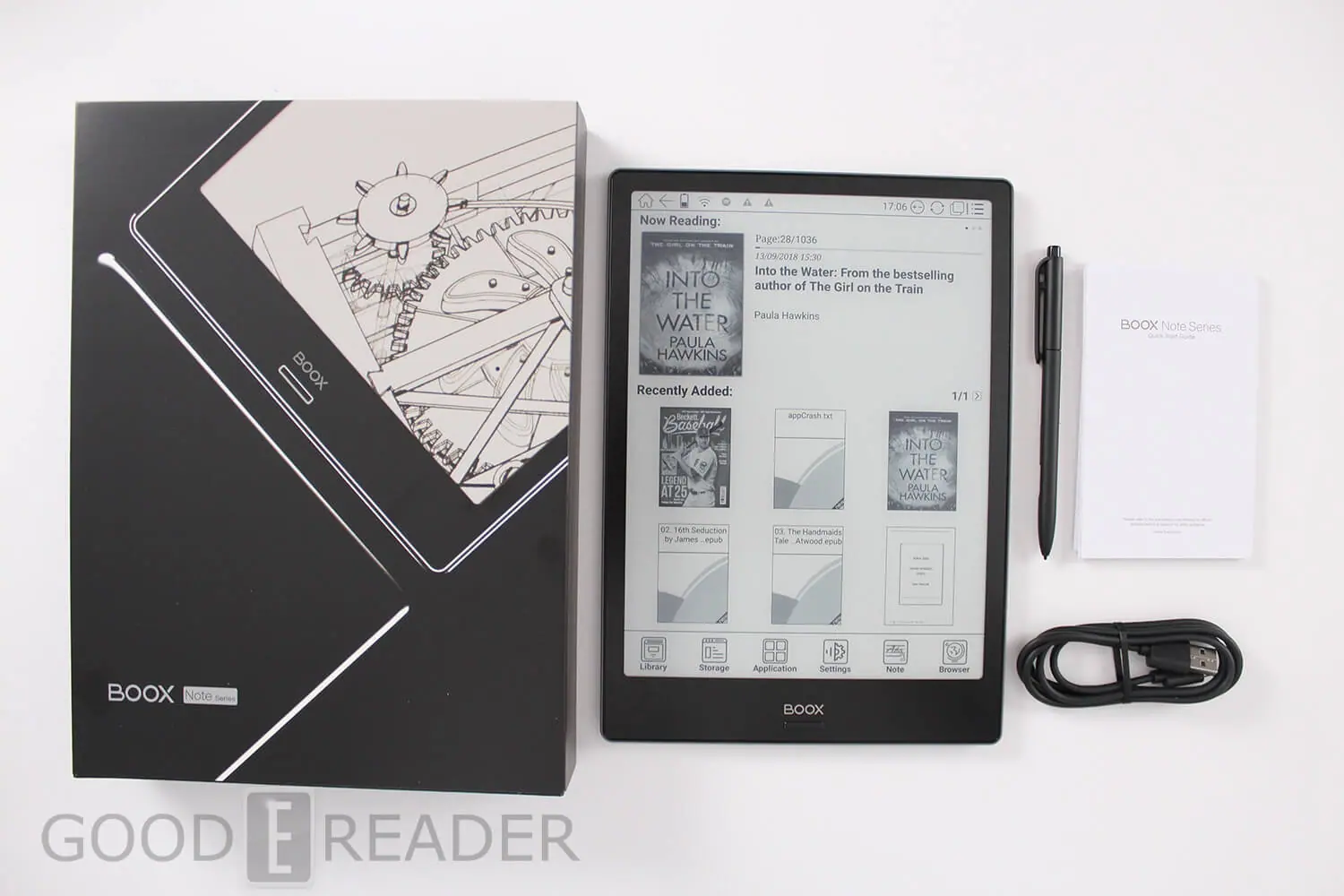 The Onyx Boox Note product line comprises of four different models, which have all been released this year. The original Note that came out at the very beginning of the year proved to be the most popular e-reader the company has ever made and was their first digital note taking device that had a quad core processor and ran a modern version of Android, by e-reader standards at least. The company then developed the Note S, which was a stripped down version of the Note and it only had a 9.7 inch screen. In the past week Onyx has also unveiled the Note Lite, which forgos the stylus layer and is pretty well a dedicated ebook reader. The Note Plus is similar to the 10.3 inch Note, except this new model has a glass based, scratch resistant display.
Hardware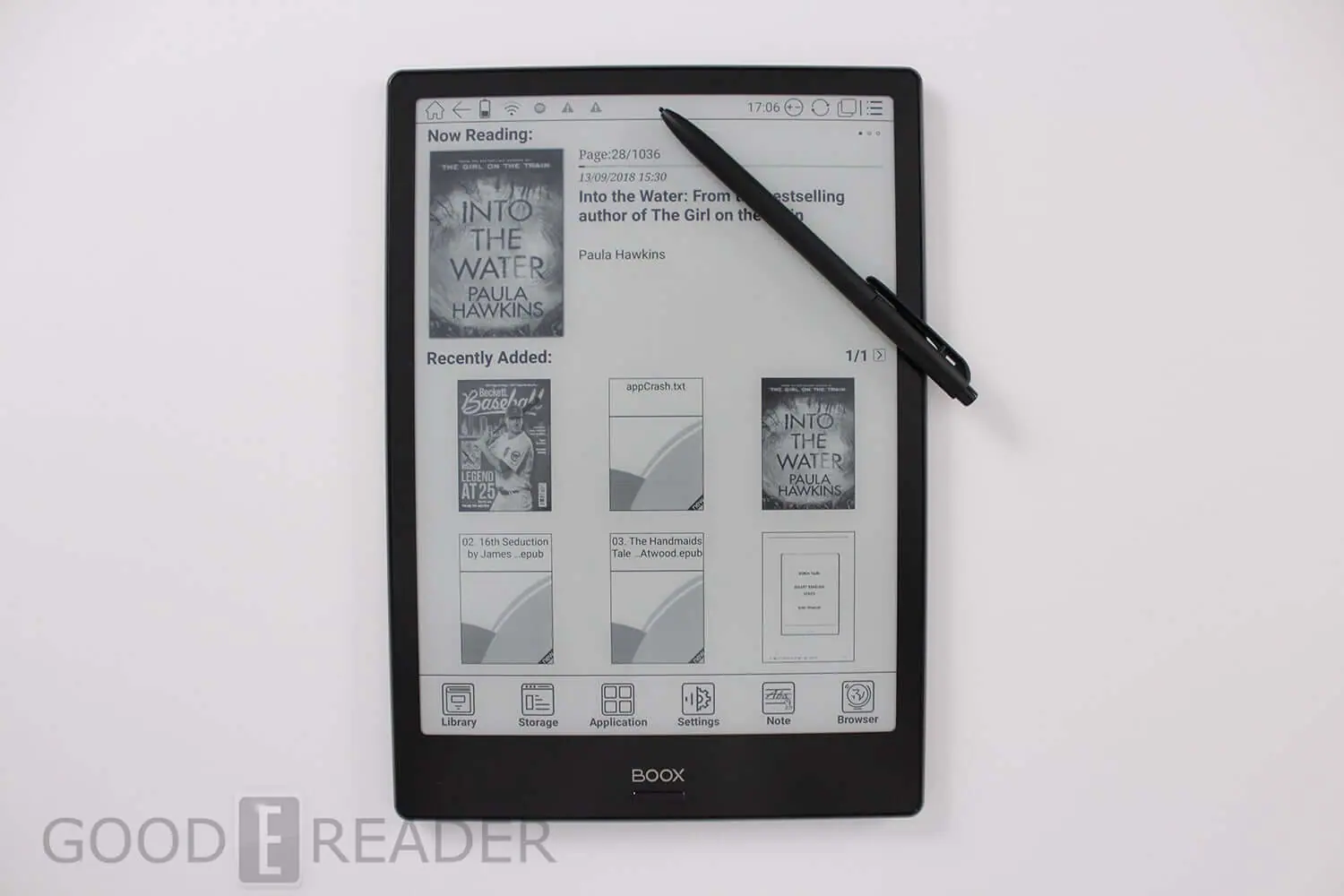 The Onyx Boox Note Plus features a 10.3 inch E-ink Mobius and Carta display and a resolution of 1872×1404 and 227 PPI. It has a glass based layer that is scratch resistant and also a electromagnetic handwriting (WACOM electromagnetic) layer for stylus support.
One of the big advantages of a glass based display is that the screen is completely flush with the bezel. It ensures that you can draw from the very edge of the screen to the other and can press really hard with the stylus and not scratch the screen. I am a big fan of glass screens because it is easier to swipe and gesture when using Android apps or turning the pages of an ebook.
Some people think that glass screens are brittle than flexible e-paper. I have been covering e-readers for a decade and only a handful of people have ever actually managed to crack the screen and this occurred because they dropped it on concrete or are habitually clumsy. If you feel that you want to take better care of the Note Plus, I suggest just buying a carrying case.
Underneath the hood is a 1.6GHZ quad core processor, 2GB of RAM, 32GB of storage,dual speakers, mic, Bluetooth 4.0, USB C and WIFI. Onyx was the first e-reader company to employ a quad processor and it dramatically increases the performance of navitating around the device, surfing the internet, turning the pages of a book or using Android apps. This thing is a beast and can handle most tasks like a champ.
Bluetooth is a really underrated feature with the Note Plus. You can connect up a pair of wireless headphones or speakers and listen to audiobooks or music in the foreground or background. You can also hook up a wireless keyboard and write that great American novel, or at least use it for homework!
The Plus is powered by a giant 4100 mAH battery and will last around four weeks in standby mode. I found that normally I get around a week of battery with WIFI/Bluetooth always on and using Android apps, the stylus and reading ebooks. You can extend the battery life further if airplane mode is turned on and app usage is kept at a minimum.
The dimensions are 249.5 by 177.8 by 6.8mm and it weighs 355 grams, this is the same weight as the non-glass version of the Note.
Why should you buy the Note Plus with a glass based display over the original Note with a sunken screen? A small minority of users that bought the original Note claimed that the screen was getting scratched because they were pressing too hard on the stylus. Onyx then began to include screen protectors with all new orders to prevent this from happening. I find a glass display is the better buy, because you don't need a screen protector and the glass is scratch-proof.
Software
There are a number of e-readers on the market that have Android as the main operating system. The average one is running 4.04, which severely limits the number of apps that you can install, since all of the good ones require a higher version. The Note Plus is running Android 6.0, which is the last version that supports an E-Ink screen.
Onyx has Google Play on their e-reader and opens up a wide array of apps that be installed on the Plus. Some users are unable to access the app store, but Onyx is working on a fix. The company is also launching their own app store with only a handful of recommended apps that have been optimized for an E Ink screen.
The Note Plus  has limited amount of storage because it does not have an SD card. Although the device has 32GB, after the OS and all of the preloaded content is installed you have roughly 27GB. Once you install a few of your favorite apps, a dozen high resolution PDF files and a few hundred books, you will be running low on space. This is why I am recommending that you install Lite and Go apps.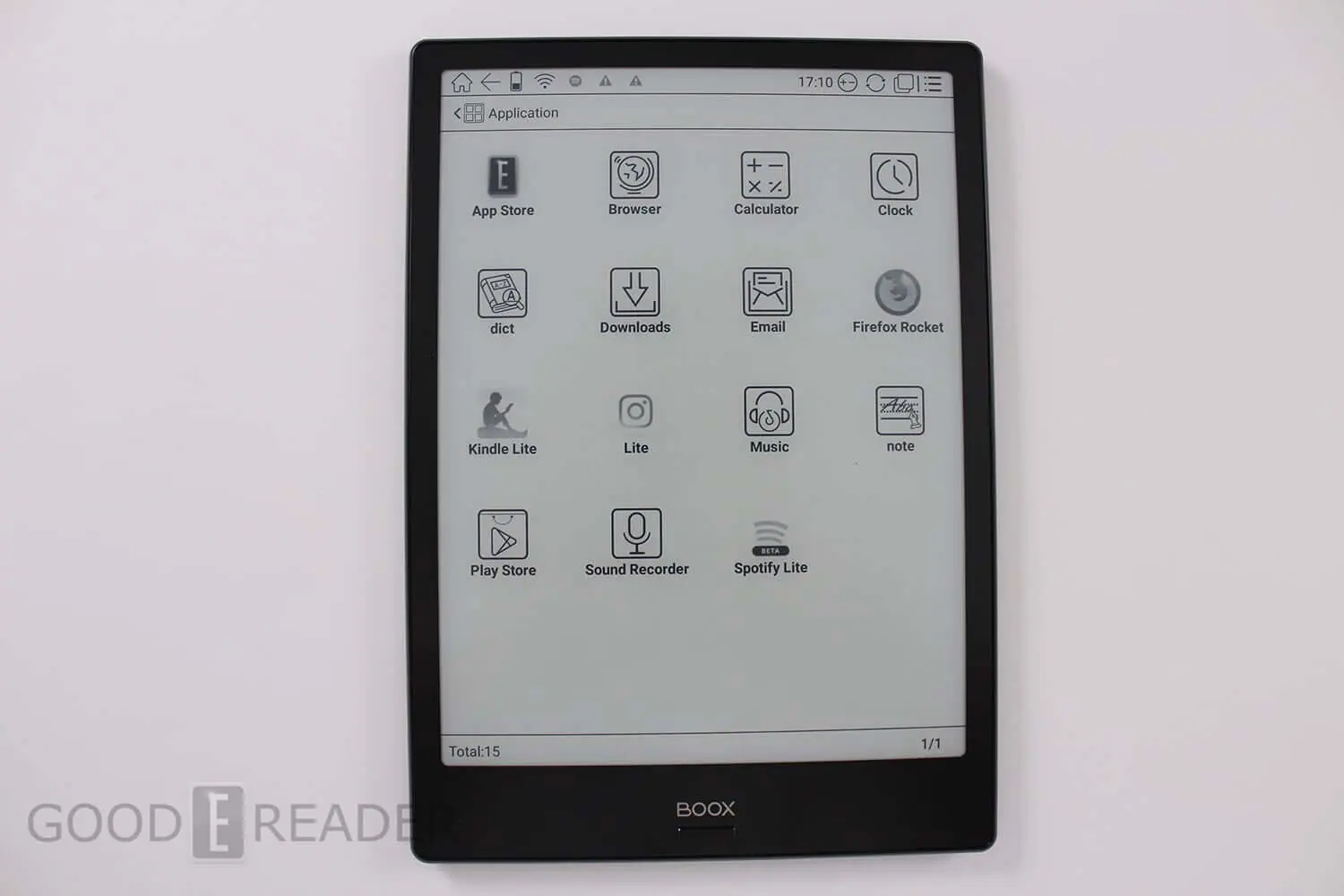 Major companies have been releasing a series of Lite and Go apps that are optimized for lower end smartphones in countries with poor internet connection. Amazon released Kindle Lite for this very purpose, and there are Lite versions of Facebook, Spotify, Instagram. There is also a myriad of communication apps such as Skype Lite and Line Line. This is having a really positive impact on Onyx e-readers.
For example Kindle Lite is 2MB fully installed. There is really minimal interface with no complex page turn animations. It also lacks features such as Flashcards, Popular Highlights, X-Ray, dictionaries and Wordwise. You can buy and read books, that's it. Spotify Lite is great for streaming music and doesn't have any animations or anything that would adversely affect your E Ink experience and is 3MB fully installed. Instagram Lite is 1.5MB fully installed and you can do everything the normal app does except for all the advanced features and taking photos, since only the Pocketbook Ultra has a camera.
I believe Lite and Go apps are the future of e-readers. They perform really well on devices with a multi-core processor with A2 mode or a single core Freescale/NXP Sololite. The main benefit is you can install more apps with a limited amount of space and they are all designed with lower versions of Android in mind. They provide the core experience,  without all of the bells and whistles.
The Onyx Boox Note Plus has their navigation UI entries at the very bottom of the home screen. This includes access to your digital library, file manager, app screen, note taking  and a basic Webkit internet browser.
Onyx does something very interesting with the library, which contains all of your PDF files and e-books. You can scan for metadata, which adds covers to titles that do not have them. This often occurs with royalty free content, but also ones that are issued by major publishers. This is useful because you no longer have to use a program like Calibre, you can do it directly on the e-reader. You can also do other things like switch between grid or list view or delete the book entirely off your device.
There default file explorer that shows you everything on your device and and is fairly basic. You can view all of the content you have sideloaded on your device. If you long press on a specific file, book or APK file you do have the option to delete it.
Note Taking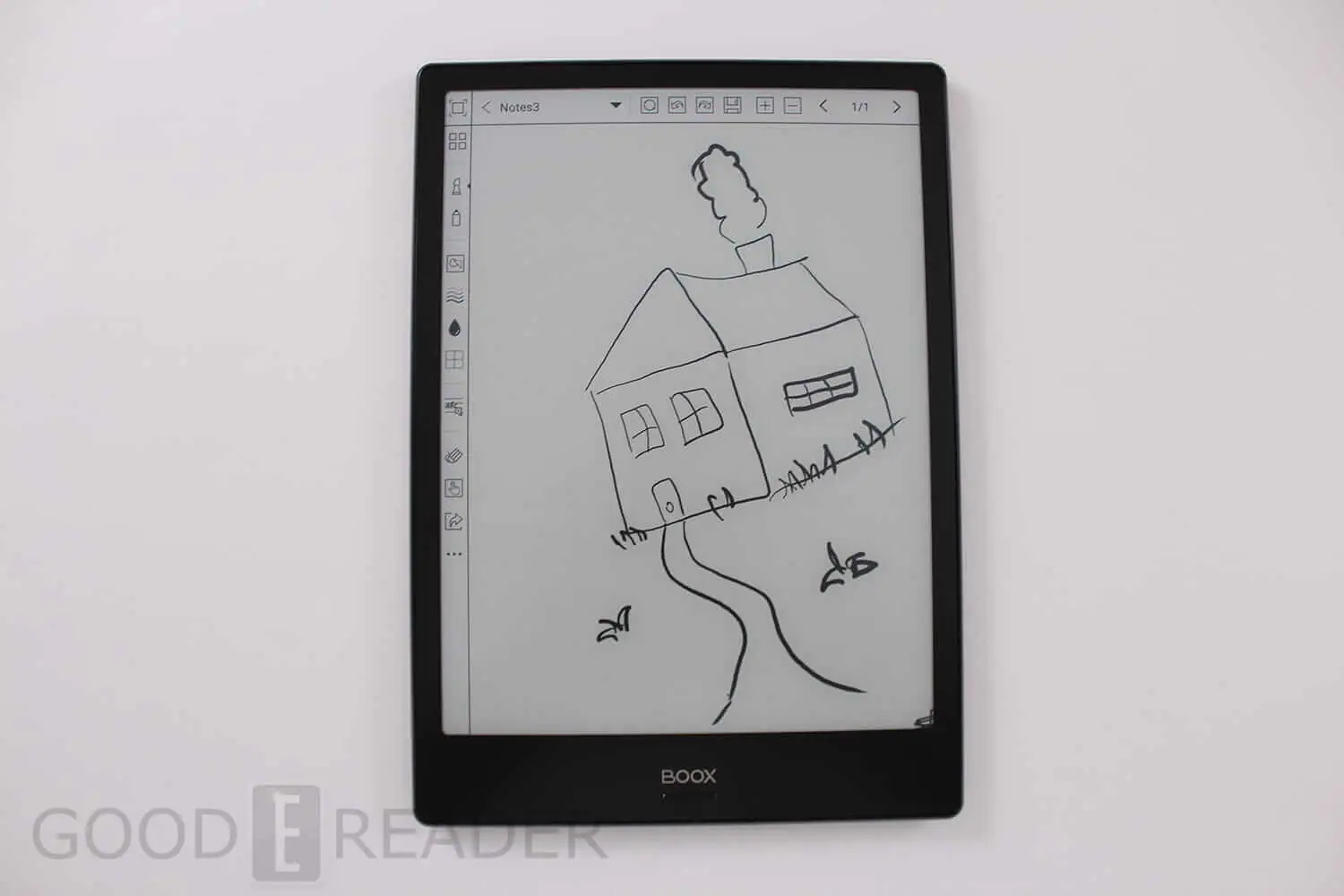 The primary reason you would buy the Onyx Boox Note Plus is to edit PDF files, draw and take notes. I am pleased to report that this device excels at doing all of the above, this is thanks to the processor, RAM and the constant firmware updates that Onyx pushes to enhance the overall experience.
The top of the note taking menu has an option to turn off the touchscreen and only use the digitizer layer, this is useful if you just want to use the stylus. I found this option isn't totally necessary because the screen has palm rejection enabled by default. There is a handwriting option that takes big letters and notes and makes them smaller. This is useful if you write a big note, "meeting at 6:00 with Michael Kozlowski" and you draw it really big, because you are in a hurry. The Note will then scan all of the big text and automatically resize it so they are really small, in bullet point form.
There are plenty of shapes you can use and scale them live on the screen such as a line, triangle, circle and square. Onyx has also revised their background screen, so there are only 12 of them now. The most popular is the blank one or college rules, which actually has a new option to manually configure the amount of line spacing.   There is also sheet music background for musicians who want to write their own music.
The Note Plus can also edit PDF documents, but you can't just start drawing right away like you can on the Remarkable or Sony Digital Paper. Instead you need to tap on the center of the screen with the stylus and it will bring up a small navigation bar located on the bottom of the screen. You can initiate the scribble option to draw or take notes and it the stylus has pressure sensitivity.  You can save the edited PDF document as an independent file and save it.
There is also a redementary split screen view system where you can have a page of text on the left hand side and a blank page on the right. This is modeled after what Sony has done with the Digital Paper, although the Onyx struggles in this regard. You can't turn the Onyx into landscape mode and have two pages of text, you will always have a blank page on the right, meant for taking notes. I would likely recommend using a different PDF editor if you want more features.
It takes around 3-4 seconds to load a 94 page PDF and almost 20 seconds for a 500 page PDF to load. If you tend to use the Note as a replacement for paper, be prepared to wait if you have huge docs.
I found that stylus does a good job with minimal latency when using the stock note taking app.  The eraser at the top of the stylus is satisfying to press down and it will remove an area of text by just clicking on it. This ensures that if you are drawing something complex you won't instantly erase everything is on the screen. It firstly erases the last thing you wrote or drew and then will erase an area of text that is interconnected with each other. For example, if i write the word HI!!!! it will erase all of that text if I click anywhere on it, but if there is text with spaces after it, I would have to erase that too.
Overall, the note taking experience reminds of editing photos and making changes to pictures with Photoshop. Onyx has consistently released firmware updates to make note taking more fluid. This is one of the big reasons why it is worth it to buy a Note.
E-Reading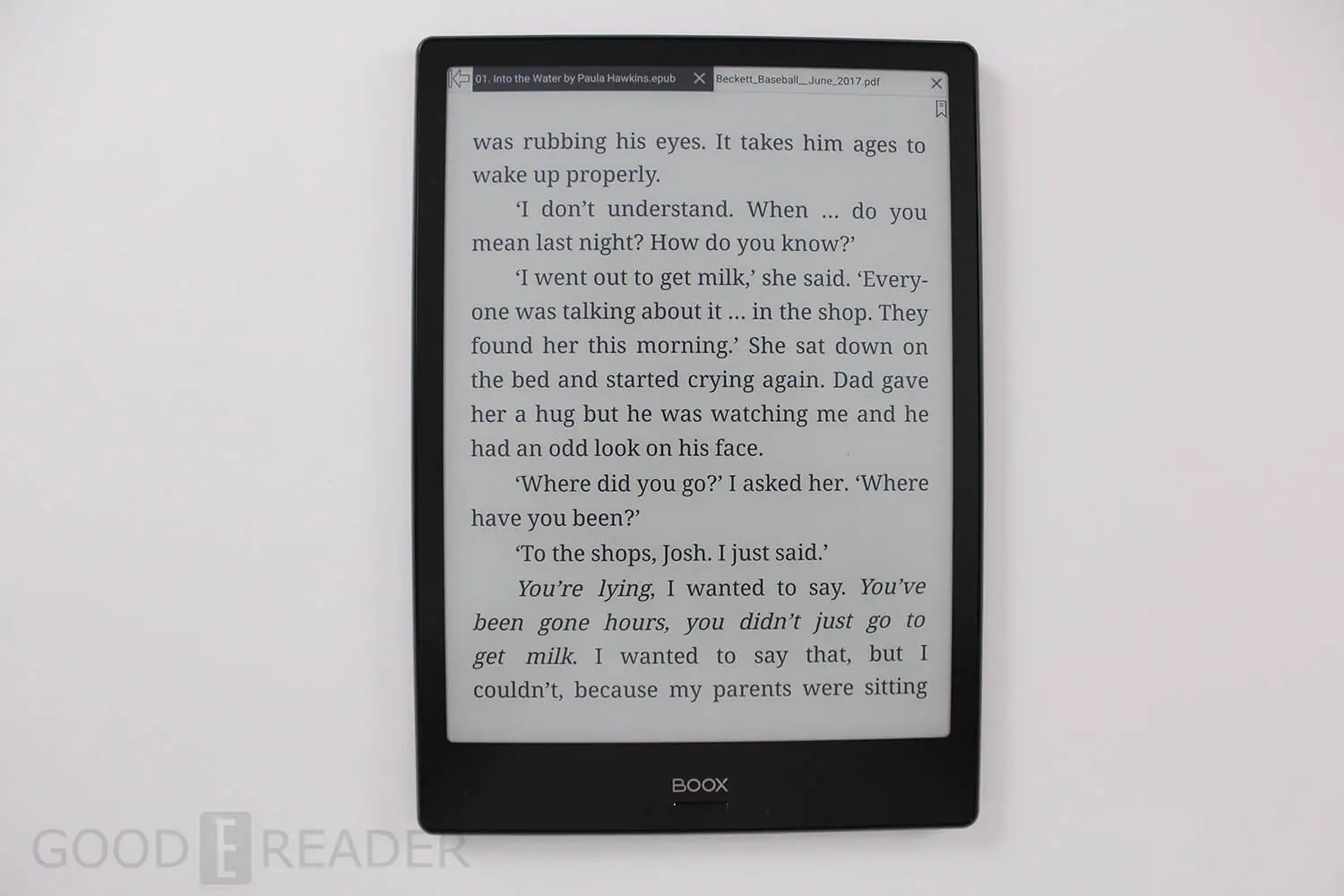 The e-reading experience is standard fair. Onyx redesigned the font selection menu to increase the size, switch to bold mode or adjust line spacing or margains. It feels more like a Kindle now in this regard. One of the drawbacks was selecting a font, there is seriously 27 pages with 10 fonts per page. This is totally overkill and there is no quick method to search for a specific font, you are just scrolling endlessly to find one you like. Still, you can make  highlights, annotations, translate, lookup words in a dictionary or turn on text to speech. Text to speech is fairly robotic and does not even compare to Google Assistant, Bixbi, Siri or Alexa.
One of the big advantages of reading EPUB files is the option for split screen view in landscape mode. This opens up one page of an ebook and a blank page on the right so you can take jot down notes or draw.
I find the stock e-reader app is lacking. It is OK if you want to just read EPUB books and turn the pages with the touchscreen. If you want to do any sort of advanced features, there are almost too many of them. It can get really confusing. I would recommend to foro the default one and use a 3rd party like KOREADER or Moon+.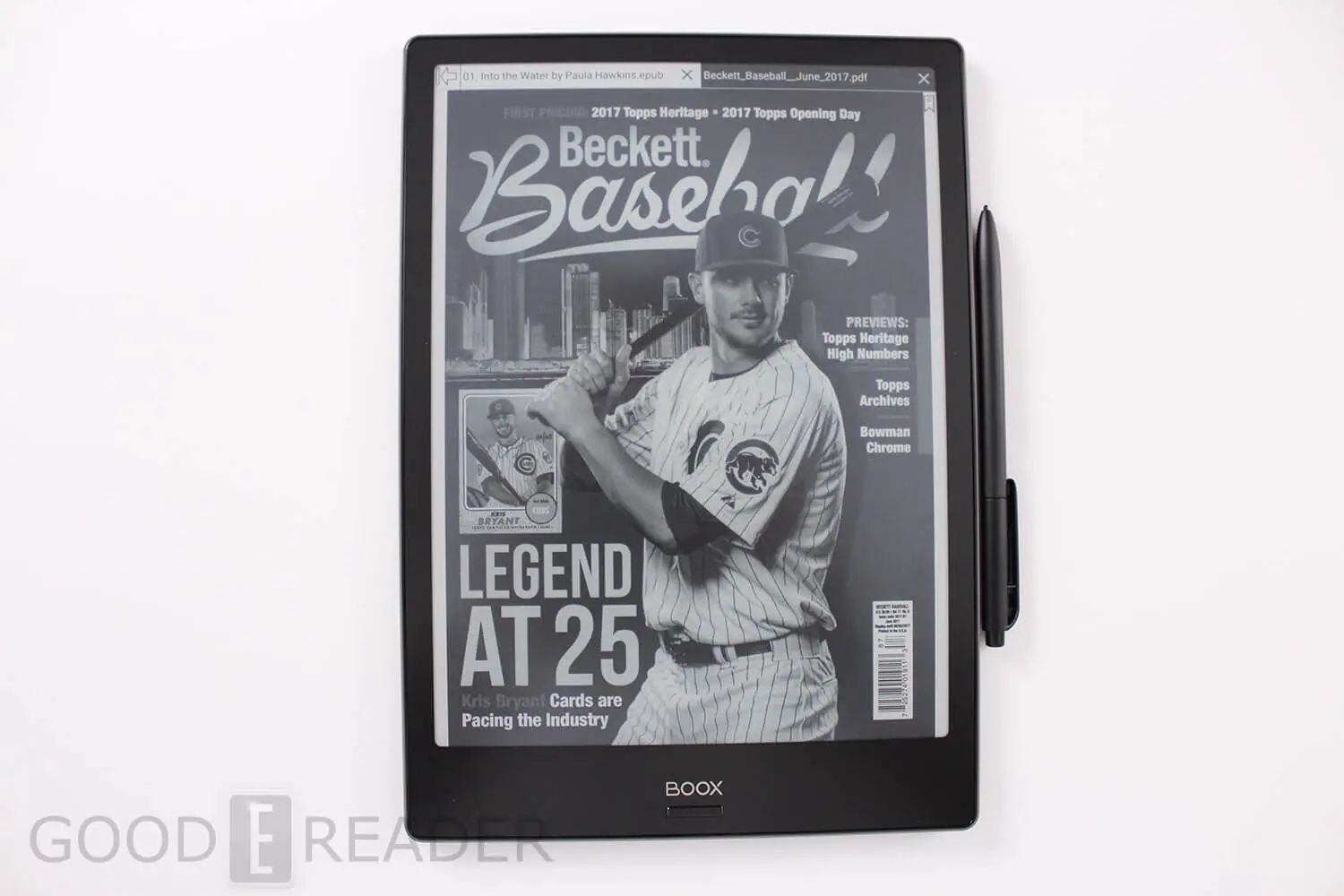 Editing PDF ebooks is another beast entirely. It offers many options to draw right on the page. You do not have pressure sensitivity with the PDF editor app. You can save the edited PDF as an independent document, which is useful for digital textbooks or if you are writing it for work.
Wrap up
If you want a dedicated digital note taking device the Note Plus offers more value than the Sony Digital Paper or the Remarkable. Both of these competitors rely on desktop software to transfer PDF files to the device, which is time consuming. The Onyx simply connects via a USB cable and simply drag and drop all of the content.
The Plus can run Android apps, read ebooks and offers more versatility and flexibility to craft your own experience. If you are looking to buy this product, I would recommend it over the original Note without the glass screen.
Michael Kozlowski has been writing about audiobooks and e-readers for the past twelve years. His articles have been picked up by major and local news sources and websites such as the CBC, CNET, Engadget, Huffington Post and the New York Times. He Lives in Vancouver, British Columbia, Canada.