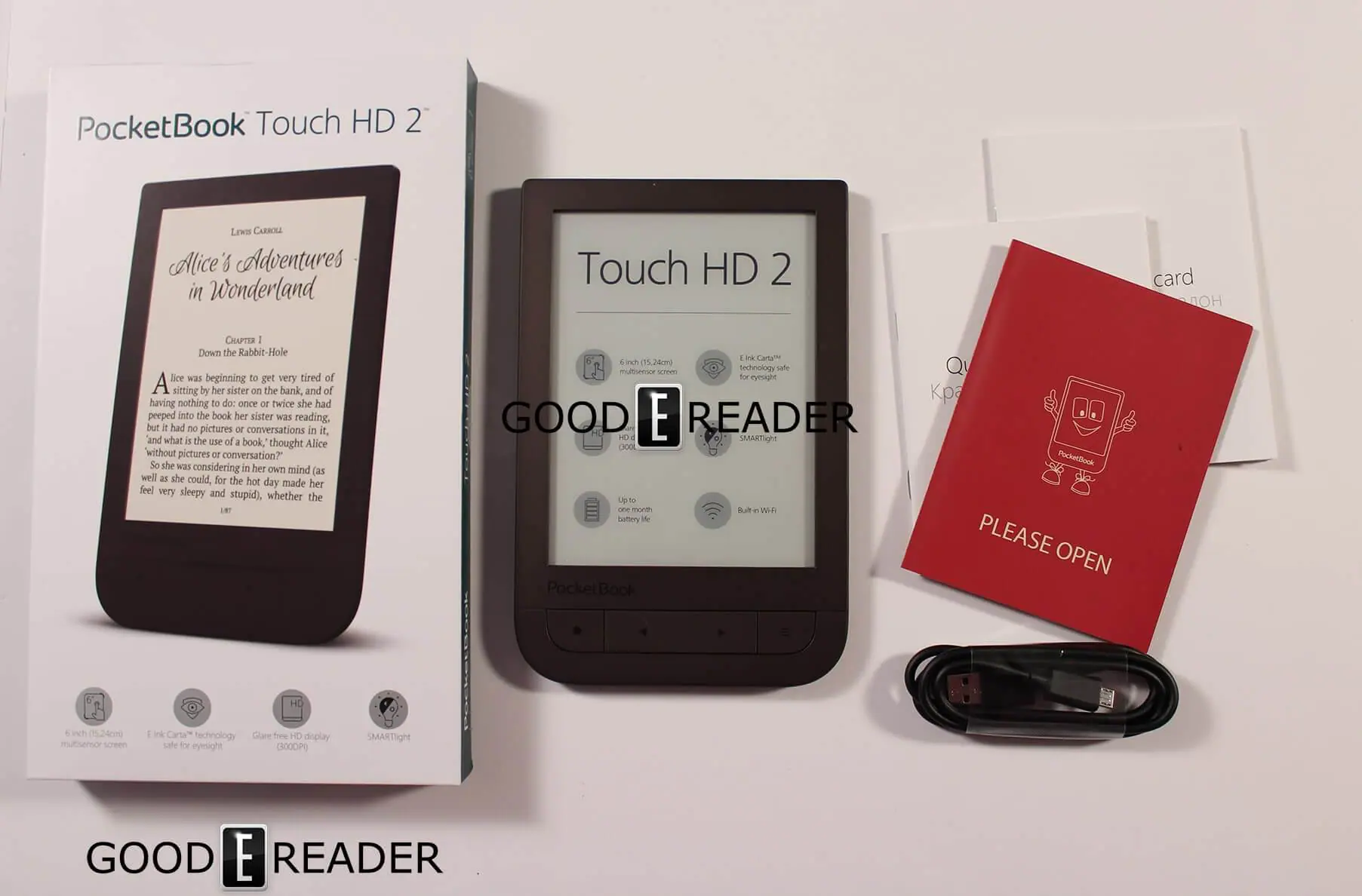 The Pocketbook Touch HD 2 has just been released and the most compelling aspect about this new e-reader is that it features a 300 PPI screen and a new lighting system that warms the screen.  It also has audio functionality so you can listen to an audiobook or music while reading an ebook.
Hardware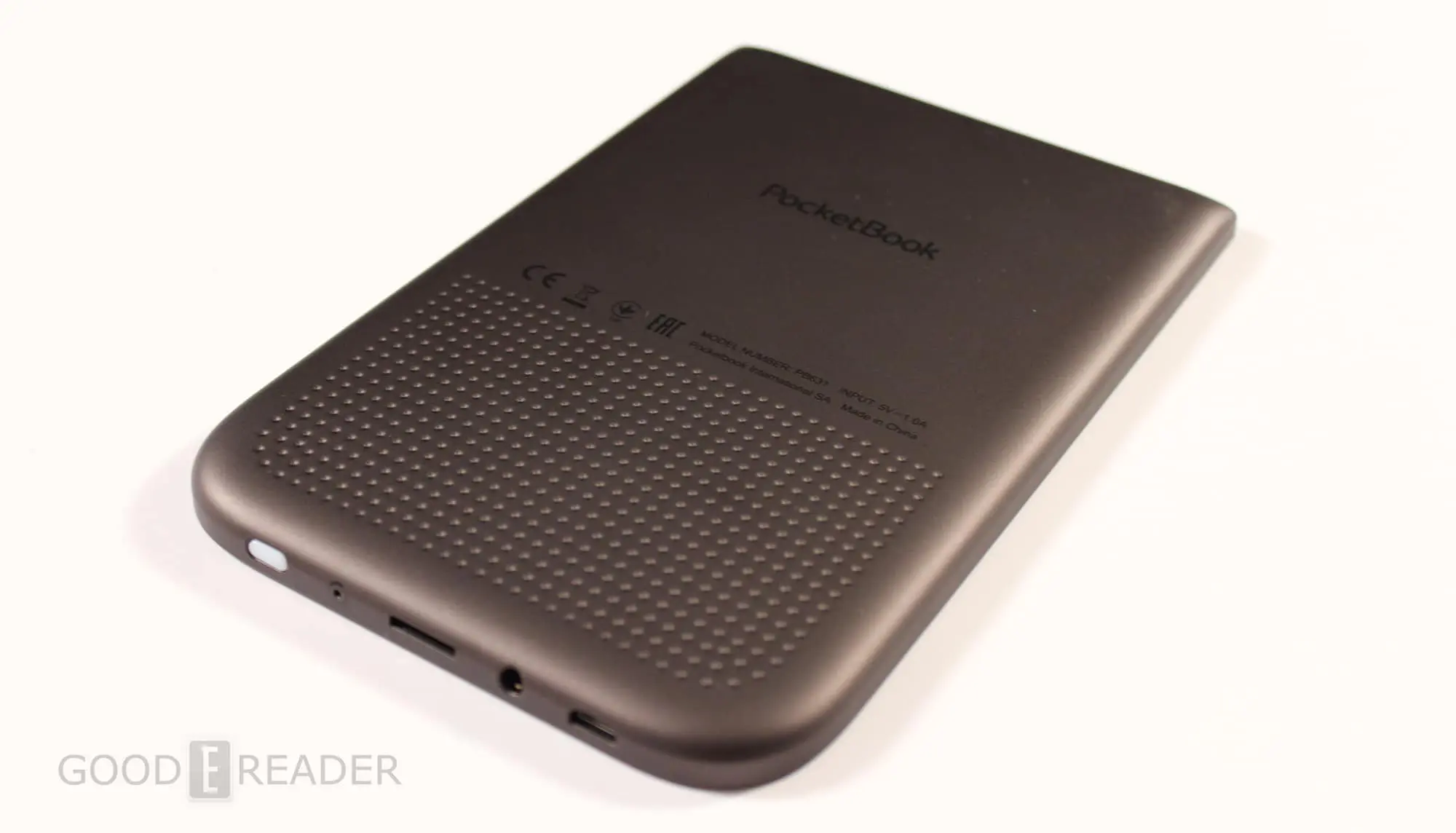 The Pocketbook Touch HD 2 features a six inch E Ink Carta display with a resolution of 1440X1080 and 300 PPI. It uses a IR sensor, which is the same screen tech the new Nook Glowlight 3 utilizes. Underneath the hood is a 1GHZ processor, 512MB of RAM and 8GB of internal storage. There is a MicroSD card to enhance the storage up to 32GB. You will be read for around a month on this device without having to recharge, thanks to the 1500 mAh battery.
The PocketBook Touch HD 2's big selling point is the new SmartLight screen which will adjust the color temperature depending on the time of day. There are two modes of SMARTlight adjustment. The automatic one, which is set by default, works depending on the time of day. It offers an optimal variant of lighting: soft and warm for relaxed reading in the evening or more intensive for the more active hours of the day. Basically, the automatic mode is dependant on the clock, so make sure your timezone is correctly set. The other mode is manual, which you can use the scroll bar and optimize the lighting experience.
Pocketbook is one of the few companies operating in the e-reader space that have supported audio for many years.  There is a 3.5mm headphone jack that will allow you to listen to audiobooks or to enjoy music while reading. PocketBook Touch HD 2 supports the mp3 format and a Text-to-Speech function, which converts text into spoken voice, the e-reader will read aloud any text file in any of the supported formats.
The dimensions of only 113.5 x 175 x 9 mm and the low weight of 180 g make the e-reader a perfect companion for people on the go.
Thee overall design of the Pocketbook Touch 2 is inspiring, it really looks like a unique device. The back of the unit is nice and smooth and then halfway down there it is perforated, which makes it immune to fingerprints. The front has a number of physical buttons, including a back, home and two manual page turn keys. I really dig devices that allow you to flip pages of an ebook by using the touchscreen or page turn keys. I find this is really useful when you are holding it with one hand and it's counterintuitive to swipe/gesture.
Software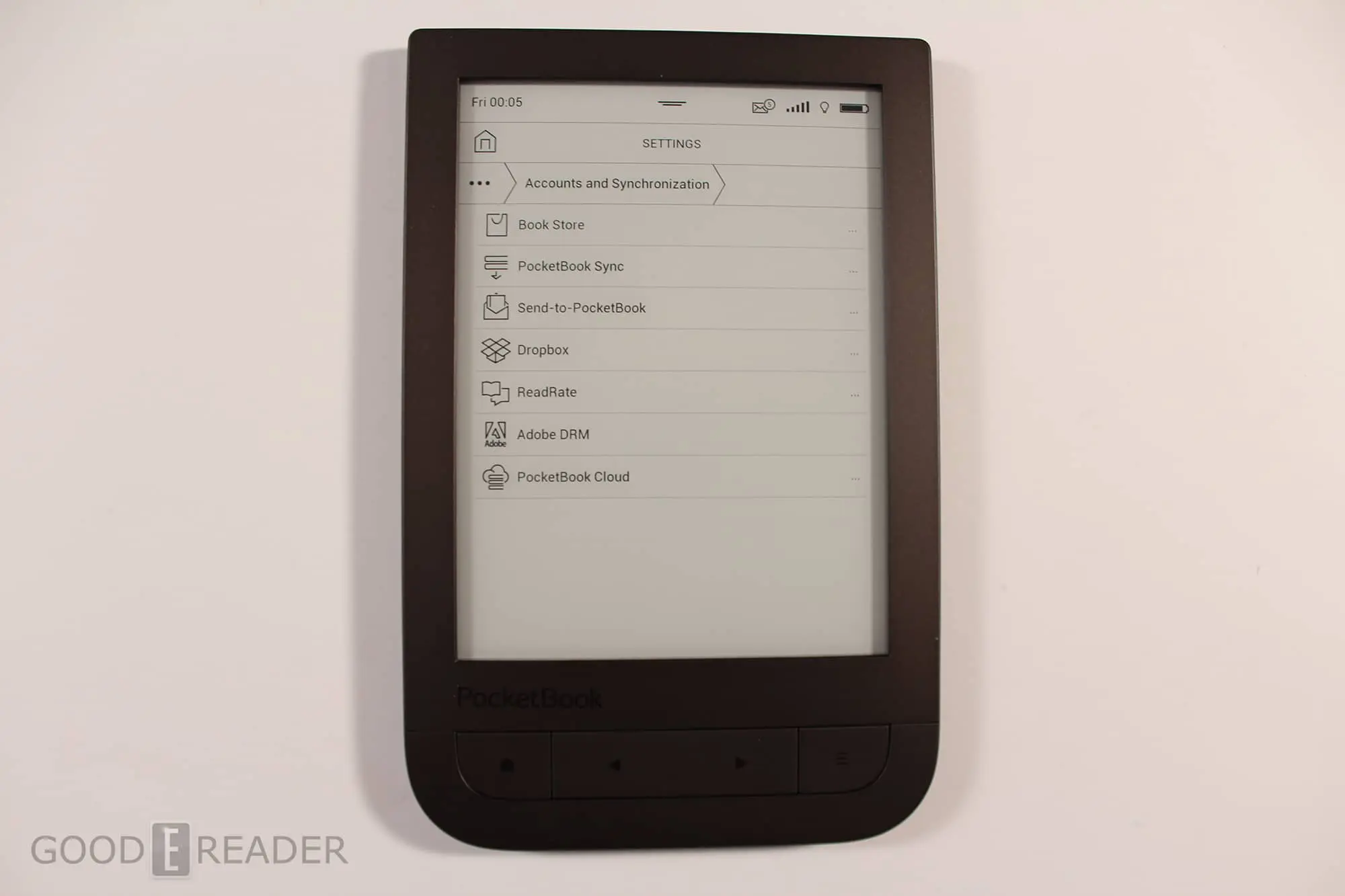 The main home screen comprises of a carousel that lists all of the books you have recently added or are in the process of reading. You can use the touchscreen to select a book or you can use the manual page turn keys to navigate around. The library menu is fairly basic, you can sort by authors, title or date added and all of the e-books show the cover art. The library menu has inertial scrolling, which means you can drag your finger down, let go and it will continue to scroll down a little bit. The app menu has a number of usable things, such as a few games (Chess and Sudoku) and some proprietary Pocketbook apps such as Send to Pocketbook, Dropbox for Pocketbook, The Pocketbook Bookstore, Pocketbook Cloud and a RSS Reader. What is most impressive is the stock note taking app they have. It is seriously robust as heck, and allows you to choose a bunch of different pen sizes to jot down notes, although it is not compatible with any stylus.
You can browse the internet with the built in browser. You can use it to visit your favorite website or read your favorite blog. Google is strongly encouraging companies to employ mobile friendly websites and are allowing them to rank higher in the search engine. This is a boon for e-readers that struggled with big websites with lots of images in the past, mobile really makes the Pocketbook Touch HD shine.
The settings menu has some default options, such as page refresh speed and firmware updates. If you want to borrow ebooks or audiobooks from the public library or purchase digital content from other booksellers, the Touch HD 2 has Adobe DRM support. This will allow you to enter your Adobe login and password on the e-reader and then use Adobe Digital Editions to copy it to your device. Many e-readers do not have this kind of support, because Adobe license fees are really expensive.
E-Book Experience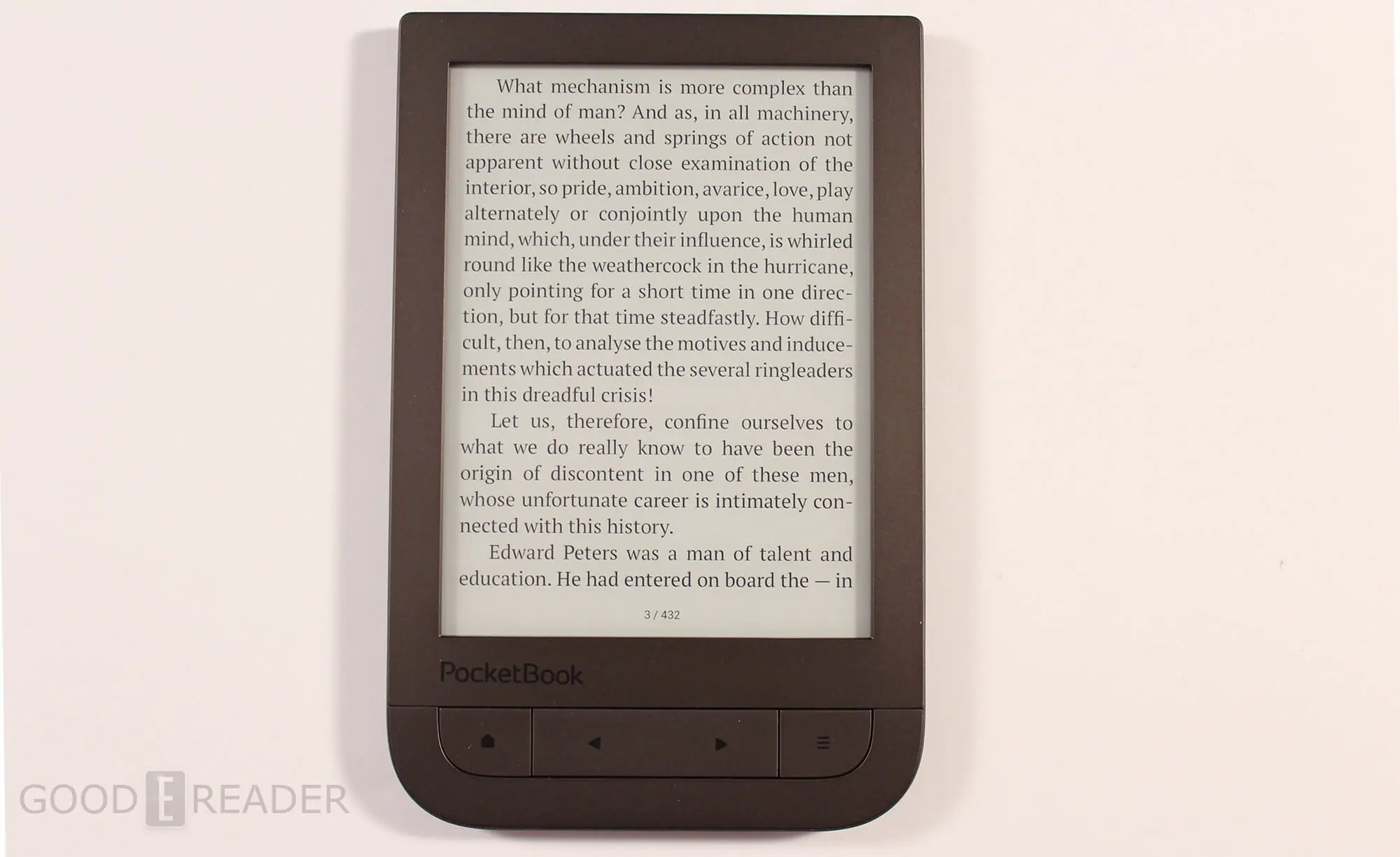 The Pocketbook Touch HD primarily supports EPUB and PDF files.  It does not have a dedicated digital bookstore, so you will have to sideload in your own content or borrow them from the public library. Luckily this device supports a wide array of ebook formats; PDF, PDF(DRM), EPUB, EPUB(DRM), DJVU, FB2, FB2.ZIP, DOC, DOCX, RTF, PRC, TXT, CHM, HTM, HTML, MOBI, ACSM.
You can change the line spacing, margins and a bunch of fonts. You can increase the size of the text and it even has a hyphenation option, which emulates Amazon Bookerly, which truncates spaces between words. In most e-books there are formatting problems when a book is not optimized for a particular device. Some words have a normal space, but others (appear like this, and are hard to read). The hyphenation option solves most of these spacing errors, but not all of them.
The library of the e-reader contains 97 preinstalled free e-books in 14 languages, including 7 in German and 8 in English. Reading with the preinstalled Abbyy Lingvo dictionaries will help to improve foreign languages skills and appeal to users all over the world.
Overall the reading experience is really enjoyable. They have like 12 different font families that will appeal to people of all ages. Page turn speed is robust and there is little to no ghosting.
Wrap Up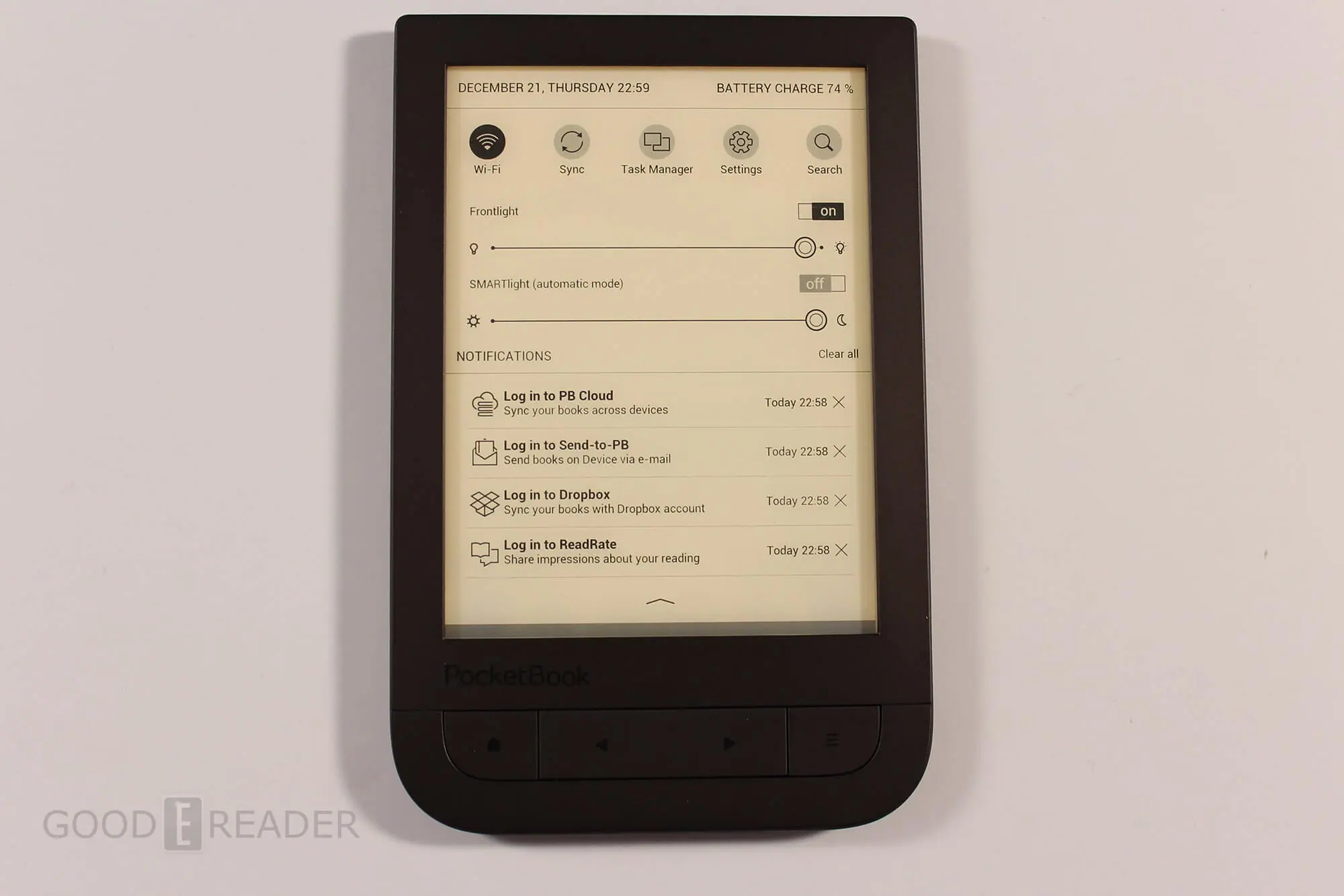 This is the first Pocketbook branded e-reader that has the same lighting system as the Kobo Aura One and the new Barnes and Noble Nook Glowlight 3.  The one big advantage Pocketbook has over both of these companies is that it supports audio and does not lock you into a specific ecosystem.
I think Pocketbook has been really on fire lately. In 2017 they released the Aqua 2, a waterproof e-reader and the Touch HD, which is similar to this device, sans the new lightning system and a 3.5mm headphone jack. All of these units are designed well, have solid hardware and standout in a crowd.
The Pocketbook Touch 2 is recommended for people who do not want a mainstream e-reader like a Kindle or Kobo. You can  use it anywhere in the world and the UI will optimize itself to your specific region, it has a ton  of dictionary support and the reading experience performs well.
This e-reader will be available soon in the United States, pricing is not available.
PROS
New RGB lighting system
300 PPI Screen
Audio
Manual Page Turn Buttons
Supports Adobe DRM
CONS
No dedicated bookstore to download free ebooks
Library section does not have many features
When you power it on for the first time there is mandatory firmware updates
Rating: 8/10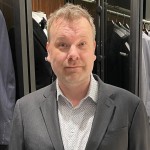 Michael Kozlowski has written about audiobooks and e-readers for the past twelve years. Newspapers and websites such as the CBC, CNET, Engadget, Huffington Post and the New York Times have picked up his articles. He Lives in Vancouver, British Columbia, Canada.