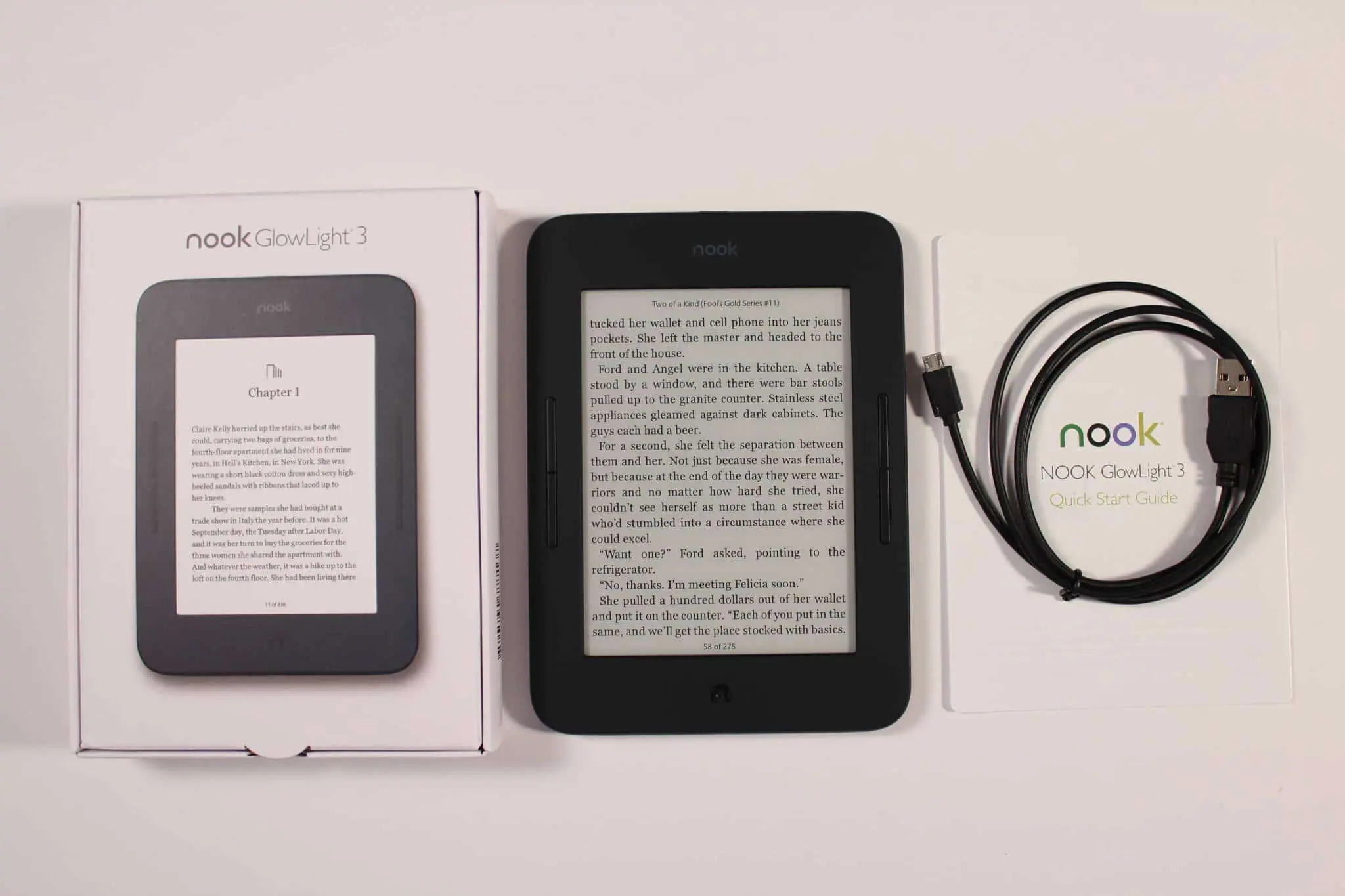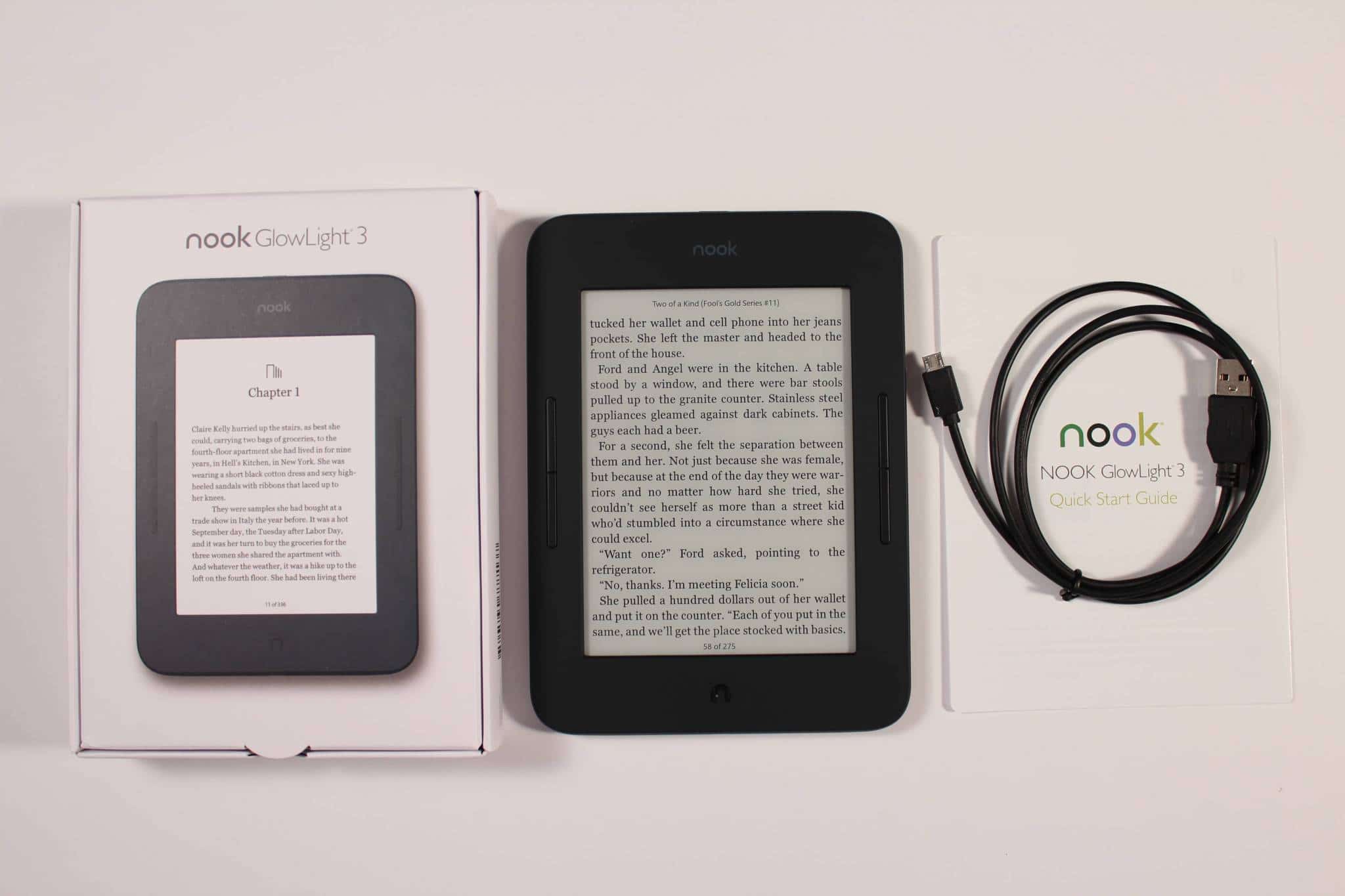 Barnes and Noble has just released their first new e-reader in two years and it is called the Nook Glowlight 3. This device has a number of innovative features such as the page turn buttons that can skip ahead a chapter with a double tap or rapidly turn the pages of an e-book by holding it down. It also the first Nook to incorporate a comfortlight system that mutes the white screen and turns it orange.
The purpose of this review is to give you a sense on what the B&N Nook Glowlight 3 brings to the table and if it is worth it to upgrade from an older device. Many people have fled the Nook ecosystem over the years due to mixed messages from the executive team.  Still, Barnes and Noble is the number 2 digital bookseller in the United States and trounces Apple, Google and Kobo in sales.  Should you buy the new Nook Glowlight 3? This review will answer that question.
Hardware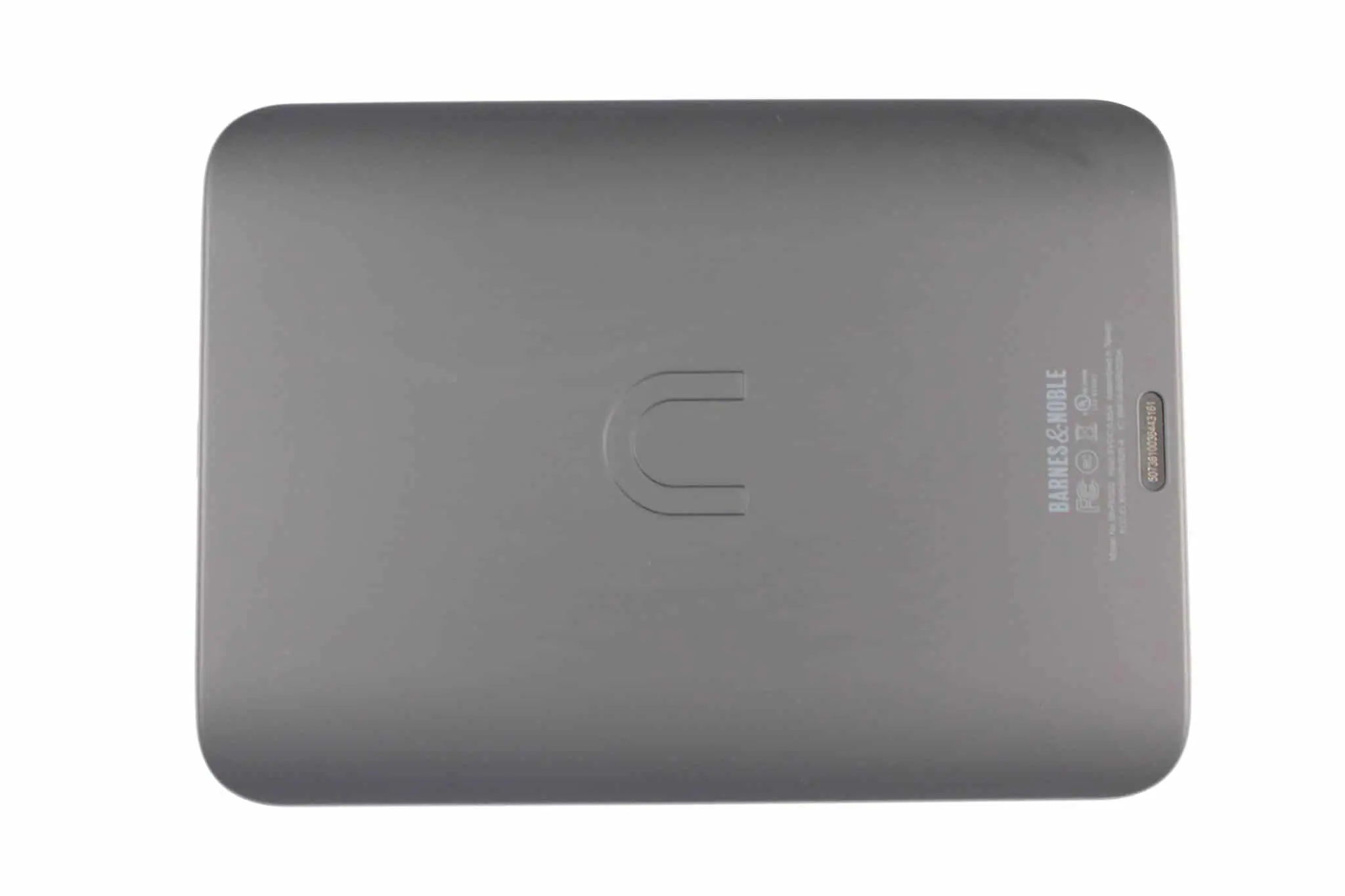 The B&N Nook Glowlight 3 maintains a lot of the design elements of the original Nook Glowlight that was released in 2012. The new model has a black rubberized frame and the corners are rounded, which makes it easier to hold.
Barnes and Noble is marketing this device as the highest resolution Nook ever produced, but it has the same 1440×1080 and 300 PPI as the Nook Glowlight Plus released two years ago. We put both of these devices side by side to see the differences and they are pronounced. When you are reading an e-book the clarity of text is crisper on the new Glowlight 3. This is due to a myriad of factors.  Sunken screens often employ infrared technology from NEONODE and this makes text looks crisper on E-Ink CARTA vs a capacitive touchscreen display whose screen  is completely flush with the bezel. Text is also amazing on the new Nook Glowlight 3 because of the new front-lit system.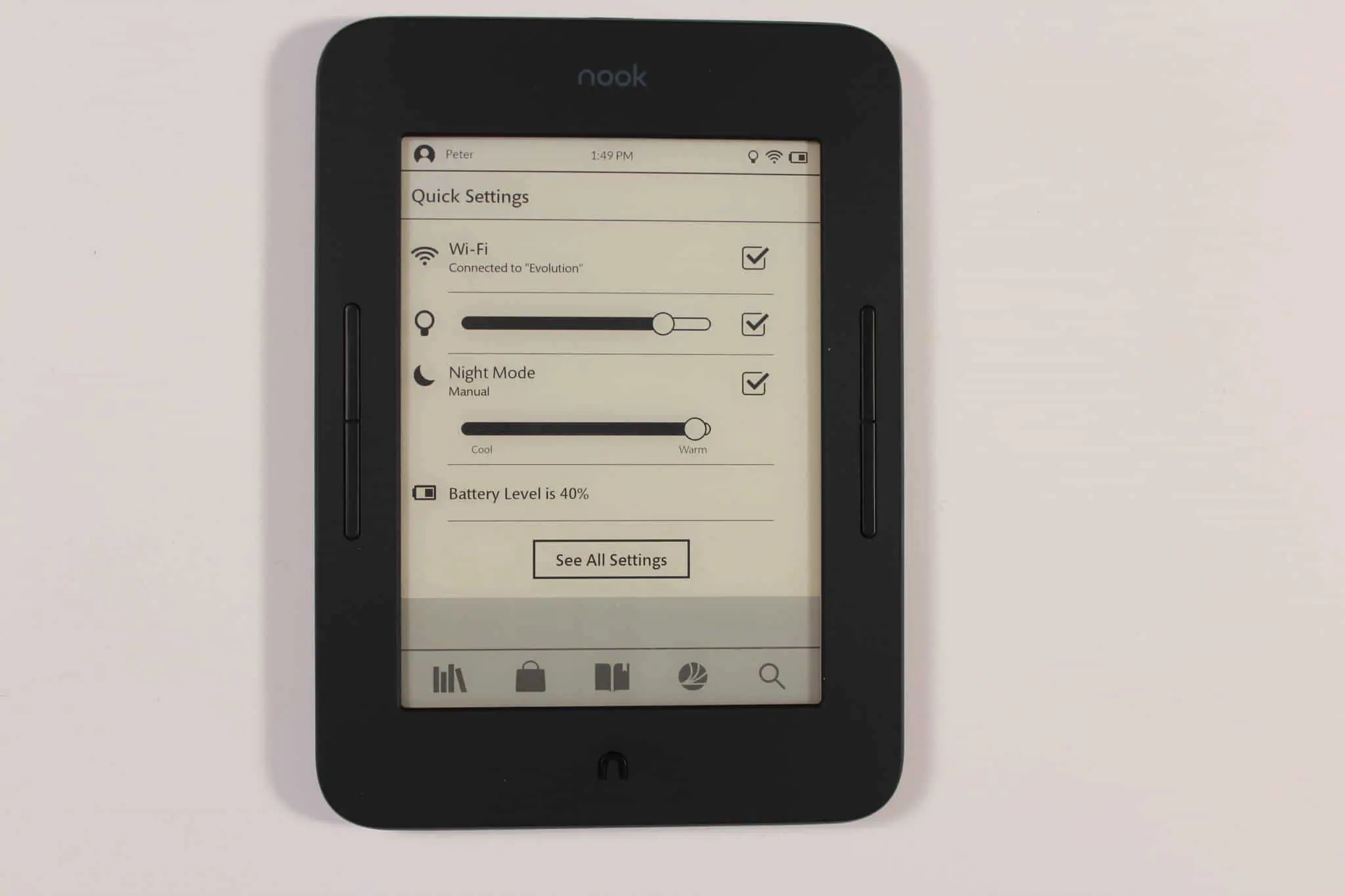 The Nook Glowlight 3 has a very advanced front-lit display system. On the top of the bezel is 7 white LED lights and 6 orange ones. They project light downwards and give you even light distribution across the screen. There is a new comfortlight that turns the screen from white to different degrees of orange.  This is similar to what Kobo and Amazon have both done with the Aura One and the new Oasis. The Nook has slider bars to configure the white and orange LED lights and there is an option to automate the process. There is no ambient light sensor, instead the Nook utilizes your timezone.  Overall, the lighting system puts the Nook Glowlight Plus to shame.
Underneath the hood is a 1 GHZ Freescale processor, an undisclosed amount of RAM.  It has 8GB of internal memory, but when you power it on for the first time there is only 6.3GB available. There is 1GB available for sideloaded content, which is the equivalent of 1,000 e-books.   There is no SD card to expand the memory further, but there are options in the library menu to delete content or offload specific books/newspapers/magazines/PDF files to the Cloud.
Surprisingly the Glowlight 3 is not waterproof. This is because the technology is more of a hindrance than a major selling point.  When you are reading a waterproof device in the bathtub or the shower you cannot turn the pages of an e-book. The water actually registers as touchscreen interactions, which warrants continiously wiping off the water particles with a cloth in order to turn the page.  The Nook Glowlight Plus had this problem and so does the Oasis 2. I bet B&N solicited customer feedback and found that a waterproof e-reader simply wasn't compelling, so they did not include it.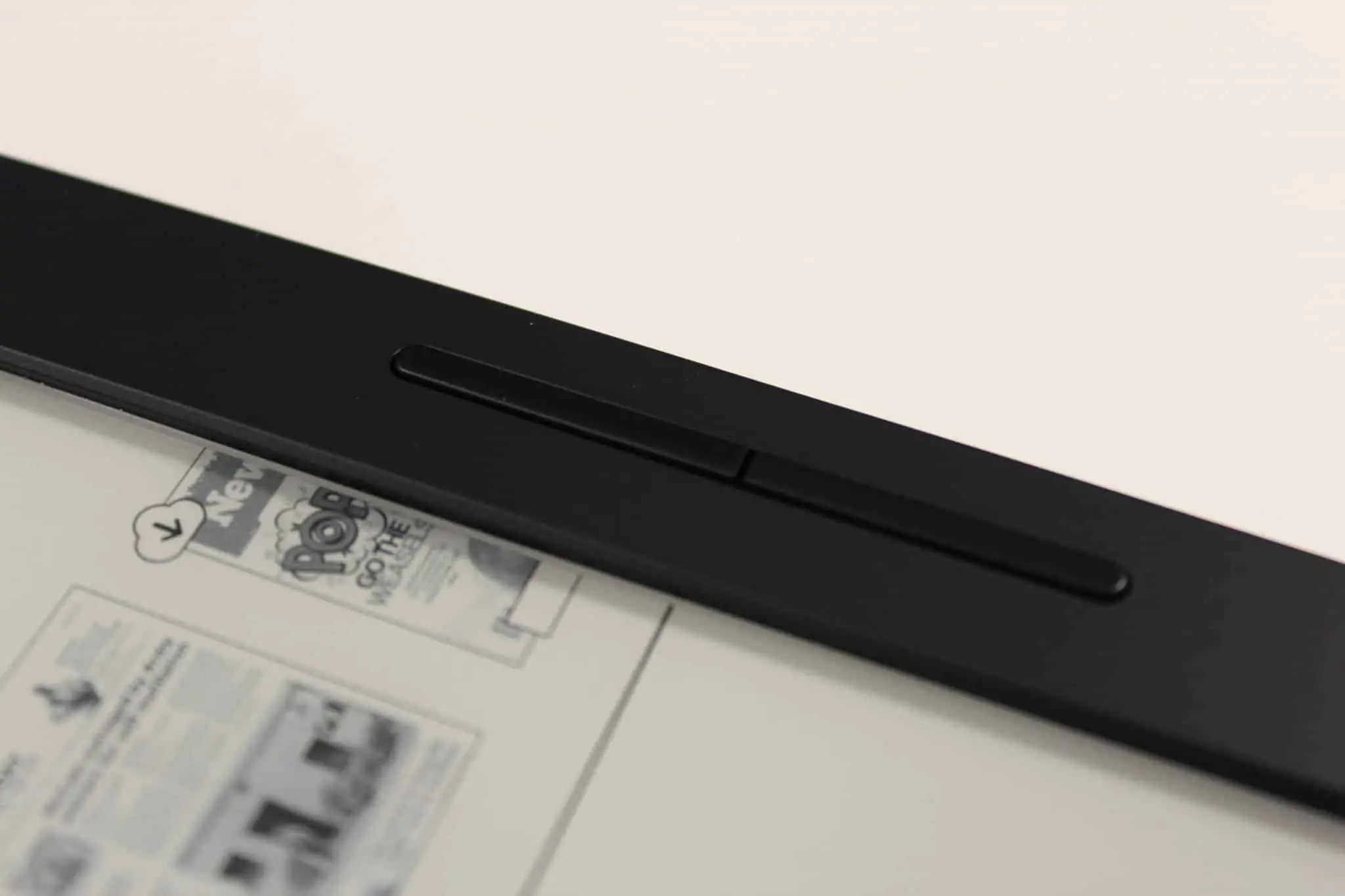 One of the best elements on the new Nook are the physical buttons. There are two page turn buttons on both the left and right hand side. There is also a raised home button with the quintessential N logo that has a lot of torque and is satisfying to click.  If you hold down on the home button it will turn on or off the glowlight. The page forward button does different things, depending on if you are reading an e-book, graphic novel, magazine, newspaper or PDF file. When reading an e-book you can double tap the page forward button and it will jump ahead one chapter, if you double tap the back button you go back a chapter. When reading a newspaper this same combination will jump to different sections. If you hold down the forward button it will rapidly skip ahead with no latency or full page refreshes. When reading a PDF file it initiates an A2 mode system that will skip ahead in a document, it accomplishes this task by downscaling all of the image files at the expense of clarity. When you finally land on a page you want, it takes a few seconds and will automatically revert to high resolution text and images.
I like the rounded corners on the Nook, it makes it easier to hold. The back of the unit is made of hard plastic, but provides robust grip. I also dig the physical page turn buttons which makes it easier to read while holding the device in one hand. This is useful if you commute on a daily basis via the bus or  subway.
Software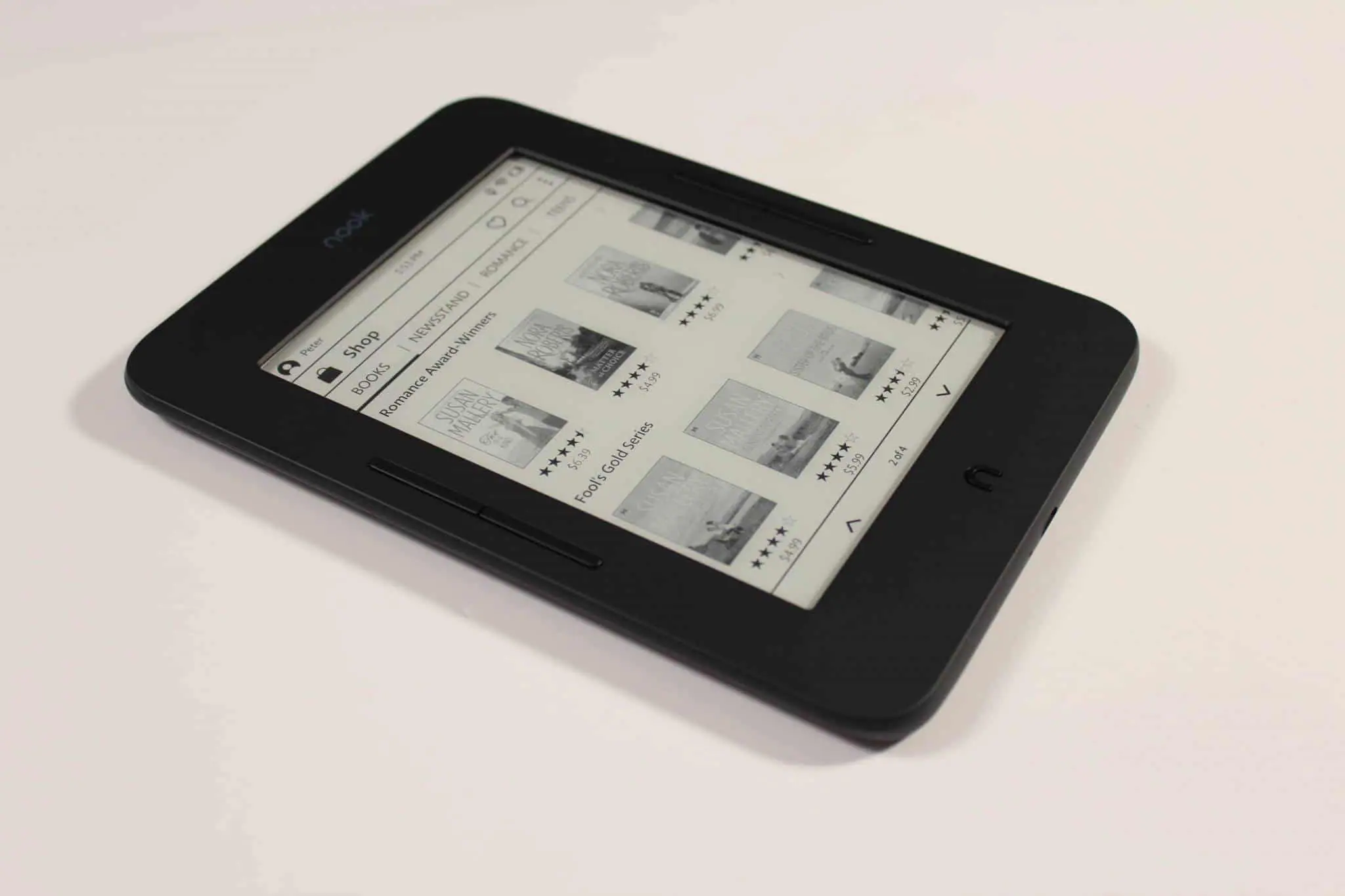 The Barnes and Noble Nook Glowlight 3 is running Google Android, similar to all of their other e-readers. You would never know it though, since the company runs their own skinned version of it that prevents sideloading in your own apps or accessing an internet browser.
The main home screen comprises of your library, store, the last book you opened, Nook Readouts and a search menu. The Nook iconography has been changed in recent months, the section used to be displayed underneath the icon, but now it has been changed to a high resolution flat design.
The library screen can display your books in gridded or list view and you can filter by author, title or date. In order to make your library easier to manage, you can sort by specific content type. This includes e-books, magazines, newspapers, personal documents and more. If it becomes too big you can delete anything on your device or offload sideloaded content to the Nook Cloud.
The shopping experience is intuitive and robust.  You can effortlessly click on a cover of a book and see the description, reviews, download a free sample or make a purchase. Barnes and Noble puts a heavy emphasis on curated content and on the main menu of the store are links to take you the bestseller, romance and teen sections.
Barnes and Noble Readouts launched in 2015  and the system features author interviews, previews of upcoming titles and free serialized fiction. There is a revolving library of content that is produced by the Nook editorial staff and is updated daily or weekly.
Readouts helps readers discover new books to read and the experience can be customized. You can select specific genres that interest you and remove the ones that do not. Every Friday Readouts is populated with a ton of freebies, but you have to opt into it.
The settings menu allows you to do things like attach social media logins to your Nook account. You can attach Facebook and Google, instead of always logging in with your B&N login and password. There is a section to manage your internal storage, glowlight settings and run firmware updates. Once you search for an update and if there is one available it will  only download and install it if the device is in sleep mode and then the process is automated. B&N only pushes out device updates once or twice a year.
E-Reading Experience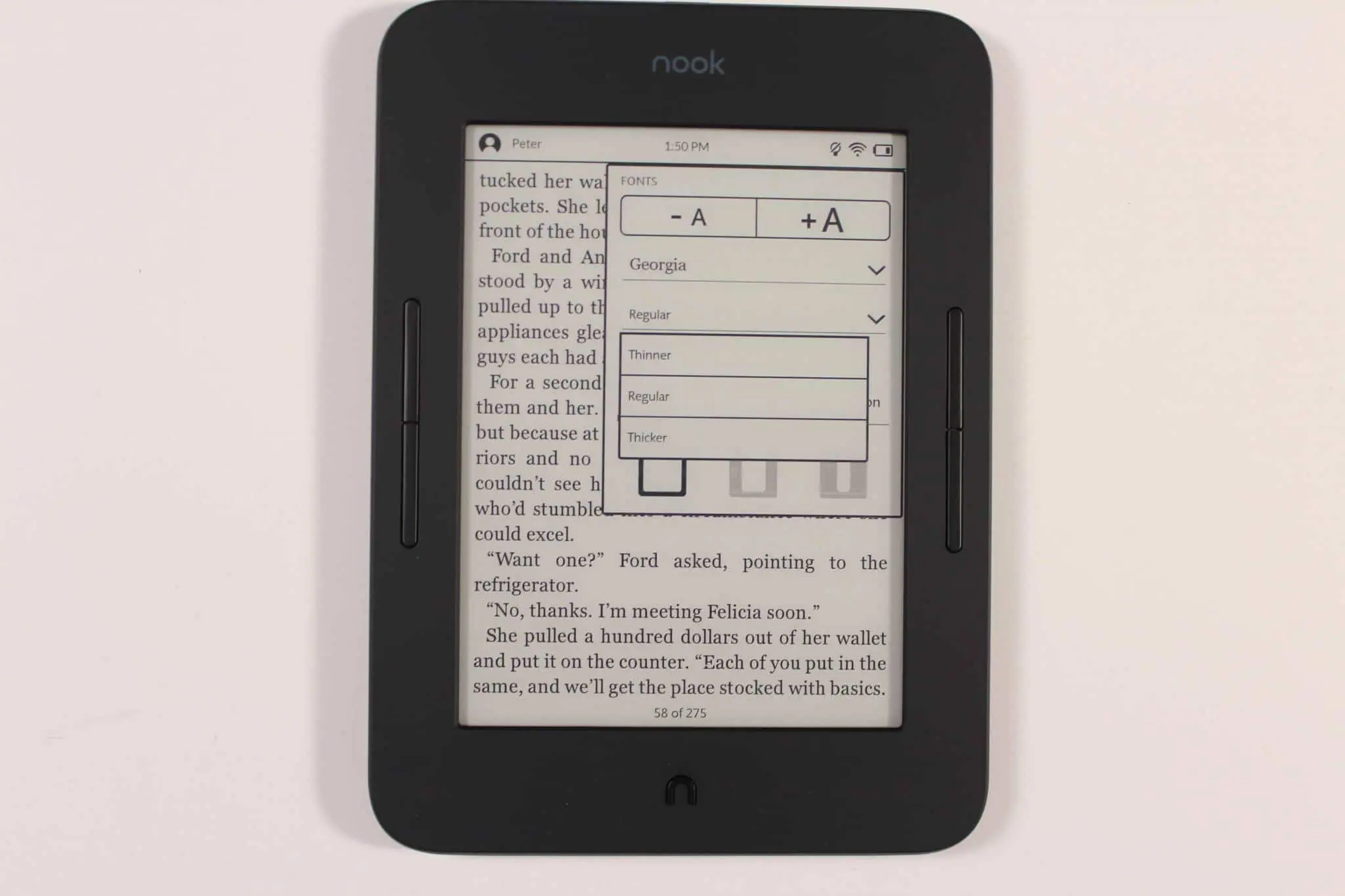 The essence of all dedicated e-ink based devices is reading e-books and other digital content. The main Nook Reading app is well designed and page turn speed is super quick. I have outlined exactly how the buttons assist you in reading in the hardware section, so I won't mention it again, but they really make reading more enjoyable.
There are around 10 different fonts to select from and each one can be customized to be thick, thin or regular. Thick is basically bold mode, which makes the fonts easier to read for people with vision disorders or older people who need everything more pronounced.  The default font in all books is the publisher's default this is the only one that cannot be thick.  There is also a few other options such as adjusting the margins.
The overall reading experience with e-books, whether they are purchased from Barnes and Noble, downloaded from the public library or sideloaded all work great. Page turn speed is super quick and there are little to no full page refreshes to break reading immersion.
One of the features I really enjoyed with e-books is being able to copy a specific word or body of text and paste it into a new note. Most e-readers require you to manually type out a note, the Nook is the only reader on the market that allows you copy/paste.
The Nooks have always suffered from a lackluster PDF experience and the Nook Glowlight 3 is no different. Pinching and zooming is hit or miss, sometimes the software thinks you are turning a page or initiating the highlight/dictionary/note taking system. Other times it works, but it takes a few seconds for the zooming to kick in. There is no mini map to help orient on exactly where you are in a particular document. I would recommend if you are looking for an e-reader with deadly PDF support, the Nook might not be for you, unless your collection comprises of non-image heavy documents, such as sheet music.
Magazines and newspapers purchased from B&N work fine. You can use the hardware keys to skip to different sections or to read particular articles. When you rapidly turn the page, it initiates an A2 mode system which degrades the quality of the text and images, but greatly enhances the page turn speed. I found that this is the best Nook ever made to make newspapers, magazines and graphic novels viable to read. You no longer are dependant on the scroll bar on the bottom of the page or to constantly access the table of contents. One of the benefits about this type of content is that you have full control over the font size, font type and margins.
Wrap Up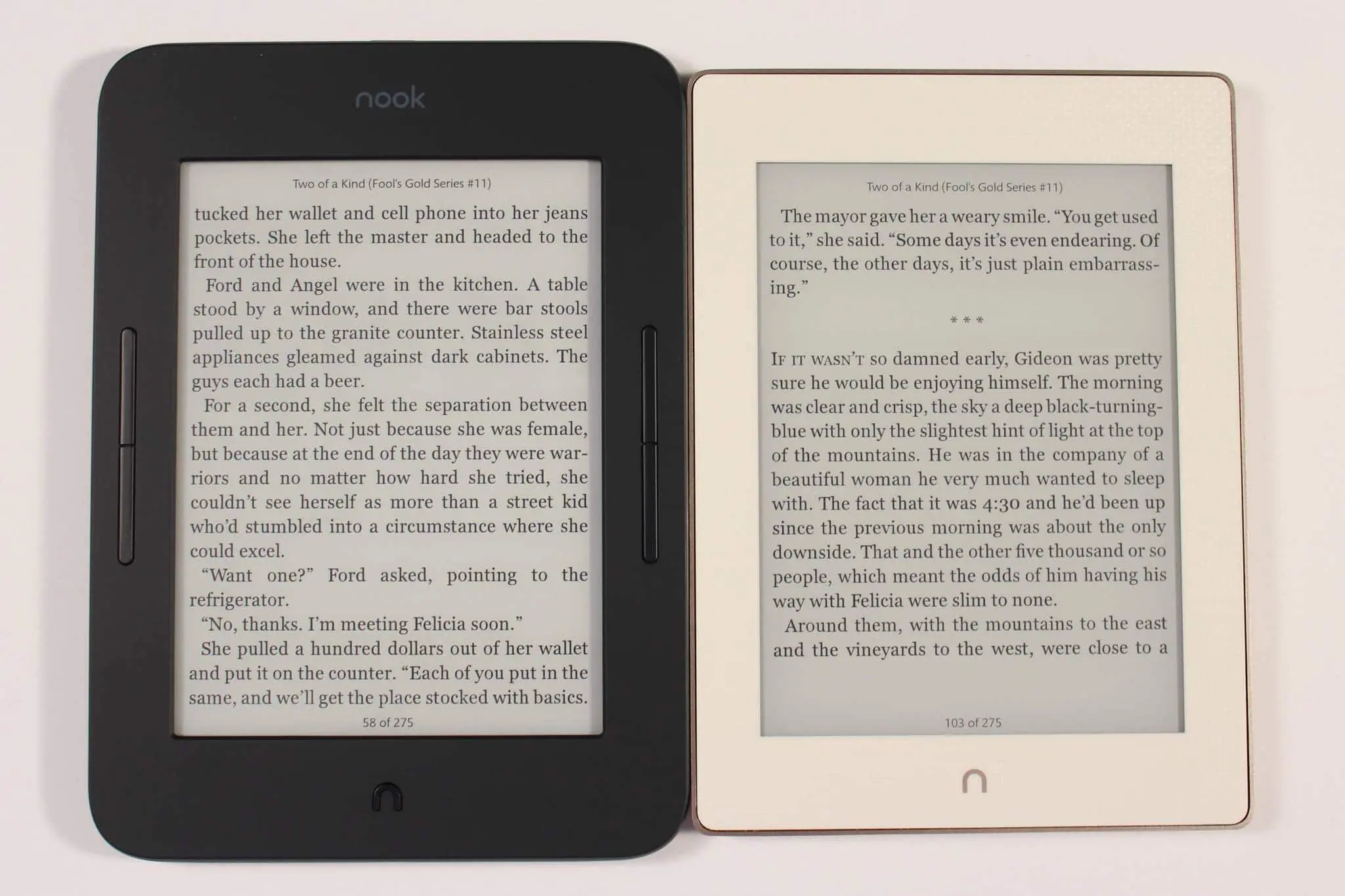 I was all ready to lambast and skewer the Nook for having poor hardware specs and a huge bezel. A sunken e-reader display in 201? It's not waterproof? No audiobook functionality? Surprisingly Barnes and Noble released a fairly good e-reader in 2017. The physical page turn keys that do different things, depending on what type of digital content you are reading is a boon. I also dig the raised Nook home button. The comfortlight is the biggest selling point, it really mutes the bright white display and helps make it more muted/orange when reading late at night.
There might not be a great need to upgrade to this model if you have the Nook Glowlight Plus that was released a few years ago, unless you really need page turn buttons and a the new lighting system. If you have an older model, such as the Simple Touch with Glowlight or the Simple Touch, you should upgrade.  It only costs $119 and it will likely go onsale consistently in 2018.
One of the biggest draws of the Nook brand is that there are Barnes and Noble bookstores all over the United States. There are close to 600 of them and you can try before you buy. If anything goes wrong with the device, you can simply visit the store and have them take a look at it. Normally they will swap it out to a new unit right away.
PROS
Physical page turn system is unique
New Glowlight is really good
Copy/Paste text into the note app is innovative
Bold fonts
Library e-book support
CONS
Readouts is prone to endlessly loop when used for the first time
Cold reboots take minutes for the OS to load
1GB restriction on sideloaded content
PDF experience is lackluster
Rating: 8/10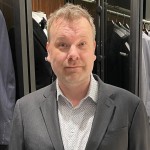 Michael Kozlowski has written about audiobooks and e-readers for the past twelve years. Newspapers and websites such as the CBC, CNET, Engadget, Huffington Post and the New York Times have picked up his articles. He Lives in Vancouver, British Columbia, Canada.