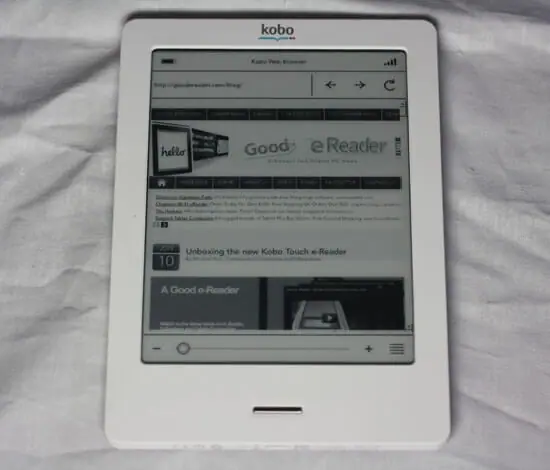 The Kobo Touch e-reader just came out today and we have been fiendishly playing around with the first touchscreen device from Kobo. How does it stack up against the previous iterations of the Kobo e-Reader family?
Hardware

The Kobo Touch has a full touchscreen e-ink Pearl display that has a full six inches of screen real estate. It features an Infrared Touch or IR touch that drastically enhances the touchscreen sensitivity and makes interacting with the screen a pure delight. Part of the reason why the unit is so responsive is due to the Freescale 508 Processor.
You have by default 2 GB of internal storage, which should be enough for around 1000 ebooks. If this is not enough for you, it can be enhanced via the MicroSD card up to 32 GB. Keep in mind the SD card slot does not have a flap or any kind of protection, so you might want to make sure water does not get into the device.
Unlike the Kindle e-reader there is no QWERTY keyboard on the device, instead everything is touchscreen. I was pleasantly surprised with the virtual keyboard the Kobo Touch employs. There is little to no screen lag when you type in characters. My first experience with the keyboard was to setup the WIFI. The alpha-numeric keys went very fast and I was happy with a show-password option to make sure you did not make any mistakes.
The Kobo Touch was designed very minimalistic in comparison to previous models. There is a single home button and a power button, and that's it. Previous models had a DPAD to navigate the menus and page turn buttons. It also had buttons for shopping, menus, and various other functions. This new model is VERY intuitive and makes navigating a breeze. There is a single port for a Micro USB connection which allows you to connect it up to your computer. This is how you charge your e-reader and facilitate a data connection to transfer ebooks.
One of the drawbacks with the Kobo hardware is that there are no speakers, headphone jacks, or audio functions.  I would have liked the ability to listen to audio books. Battery life is solid thus far and is said to last around 2 full weeks.
The Kobo Touch is designed very well and really brings the company into 2011 with a solid product.
Software
The Kobo Touch runs on a Linux based operating system which makes the unit very snappy. When I plugged the Kobo into the computer for the first time it kept prompting me to install the Kobo Desktop software, which I already had on my system. It seems that Kobo issued a new version of the Desktop manager that you will need to install in order to work your device.
The Kobo Desktop Manager is completely necessary in order to use your device at all. You cannot setup your WIFI, Web browser, or anything else until you do this. The new Kobo Desktop Manager actually updates your Touch with new firmware which solves many problems before the unit was officially released.
There are 3 main components to the Kobo Touch that really make this e-reader shine. The first is Reading Life (a social media add-on), the Kobo Store, and your Book Library.
The Kobo Library is the source from which you can intuitively access your ebooks and other content. It is divided into various sub-menus such as Books, Newspapers and Magazines, Previews, and Shortlist. The Library is your main bookshelf where all of your ebooks are located. It lists everything in alphabetical order and has arrows to go forward and backward. You can also access all of the newspapers and magazines you purchase via the Kobo store. Since I purchased my device from Canada, most of my newspaper options are all of the major newspapers, and same with magazines. The previews menu gives you a short introduction to various bestselling books. Finally, the Shortlist function allows you to basically create your own shelf. This is a handy function to make your short term reading list a little bit more manageable.
One of the most important aspects that differentiates Kobo from its competition is the store. They currently have over 2.3 million titles, so everyone should find something they want to read. The store allows you to browse by bestsellers, categories, recommended reading, and free books. The free books section mainly contains public domain books, but there are some short stories as well.
The last major component of the Kobo Touch is "Reading Life." This is an application that got its start with the Apple iPad, where it became the best of the reading applications on the Apple Appstore. Reading life allows you to Tweet and Facebook passages from books and has advanced functionality for special books. These books allow you to tweet from the perspective of the hero or villain, which is very unique. It also gives you statistics of your reading patterns, how much you read, how often, and how many books you have read. Finally it gives you awards based on certain criteria; think of it as Xbox achievements for books.
Reading on the Kobo Touch is a great experience and compared to past models the page turn rate is very fast. To move forward and back a page you simply tap on the right or left hand side of the screen. You can also highlight words or look them up in the built-in dictionary. You do this by long-pressing on a word or randomly on the page and it will bring up a prompt for you to expand a dialog box to either look up or highlight a single word or a complete sentence.
Kobo makes editing your fonts on the fly easy. You have to tap in the center of the screen while reading a book and it will give you a menu prompt. In this menu you have the option to switch between two different fonts, Georgia or Avenir. You can also increase the font size, giving you 16 different levels of making the text larger or smaller.
Finally, the one standout feature on the Kobo Touch e-reader is the built-in web browser. Web pages load very fast and are very responsive when on a WIFI network. There are no FLASH or crazy internet experiences with it, but the web browser is faster and more robust than the Amazon Kindle and Barnes and Noble Nook 2 – A Simple Touch Reader.
Our Thoughts on the Kobo Touch
Kobo hit a home-run with the Kobo Touch due to the quality build design and the robust functionality! I had the original Kobo e-Reader and the Kobo Wireless. This model seriously puts those two to shame! The touchscreen display should be easier for your average user to wrap their heads around, since almost all hand held mobile devices are touch screen. I found the older Kobo models to have flimsy design and the DPAD was awful, not to mention you would hit a key and 12 seconds later the command would go through. I hardly experienced ANY LAG at all when using this e-reader extensively.
This new Kobo Touch gets everything right and is an upgrade in every way from previous models. The two great functions are the inclusion of a web browser to surf the internet, check your email, and even buy books from other stores directly. Also Reading Life is a very unique program that currently no other e-reader company has sought to implement. Sure some companies, like Amazon, have Facebook and Twitter integration, but they do not give you statistics, graphics, bars, achievements, or other cool things.
Another great thing about the Kobo Touch is the slim design; it weighs less and is slimmer than previous models. It maintains the matted back design so it will not slip out of your hands and provides a good grip.
If you are a fan of loading in your own ebooks you are in luck! The Kobo Touch displays EPUB and PDF books. It also has support for Adobe Digital Editions. So if you have purchased books from other bookstores such as Barnes and Noble, Borders, Smashwords, or others, you can easily transport the books via Adobe Digital Editions.
One of the downsides is that there is not more Font flexibility. There are only two built in fonts with no instructions on how to add additional ones. Kobo has told us that via a firmware update new fonts will be added in the future. Many of the advanced options require you to tap the screen in weird areas to call up different functions. Quick taps, long taps, and other actions make all of the difference in the world. Another downside is the mandatory usage of the Kobo Desktop manager, there is simply NO way to get around registering your Kobo by yourself on the device. You have to use your PC or MAC to register. Finally, one of the largest flaws with this e-reader is the fact that you cannot highlight or look words up in the dictionary with books you manually load on your Kobo Touch. The long-tap function does not work with side-loaded content.
We have just completed a new video review of the Kobo Touch so make sure to check it out.
Rating 8.5/10
Update: June 28th 2011
Today Kobo updated their firmware allowing for users to have the ability to change line spacing and margins. You also now have 7 different fonts to choose from and now can even load in your own fonts! Check out the full list of changes HERE.


[cincopa AsOAFqK6IgbB]

Michael Kozlowski has been writing about audiobooks and e-readers for the past twelve years. His articles have been picked up by major and local news sources and websites such as the CBC, CNET, Engadget, Huffington Post and the New York Times. He Lives in Vancouver, British Columbia, Canada.