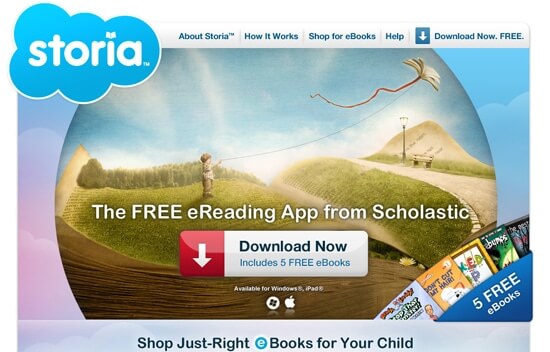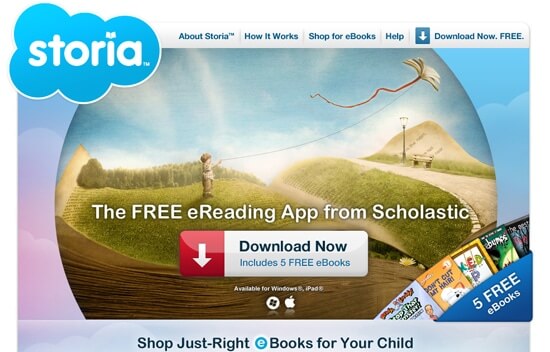 Scholastic, the largest publisher of children's content in the world, unveiled its answer to e-reading with the educator-recommended Storia app. The concept behind the free app is that it grows with readers, from toddlerhood to young adult, tracking student reading progress and offering recommendations of fully-vetted content titles.
While Storia and Scholastic continue to play host to the publisher's annual summer reading challenge, two new awards have been added to Storia's accolades: the Cynopsis Kids !magination Award for best Educational Tablet-Based App, and the Creative Child magazine 2013 Preferred Choice Award for Interactive Children's Book Apps.
"We are so pleased that Storia has been recognized by Cynopsis Kids. They truly have their finger on the pulse of what's trending in children's entertainment, and to be included on their list of winners is an honor," said Deborah Forte, Executive Vice President and President, Scholastic Media, in a press release today. "Teachers and parents tell us that Storia is motivating their children to read more books thanks to the unique features of the app, and getting more kids reading is always our top priority."
Storia allows parents and readers to establish virtual bookshelves with high-interest, self-selected titles, but also rewards readers with ebook content. Storia users benefited from one from ebook to jump start this year's summer reading challenge, and first time users still have access to five free titles within the app, just for signing up. Parents can take advantage of the ability to purchase curated Scholastic titles within the Storia app, adding to the content on their children's e-bookshelves.
Scholastic also rewards readers' accomplishments with fun interactive features on select titles, like comprehension quizzes, vocabulary games, and video content, while helping to ensure that quality instructional goals were also met with the time tracking feature and list of new vocabulary words that were presented within the texts.
Mercy Pilkington is a Senior Editor for Good e-Reader. She is also the CEO and founder of a hybrid publishing and consulting company.