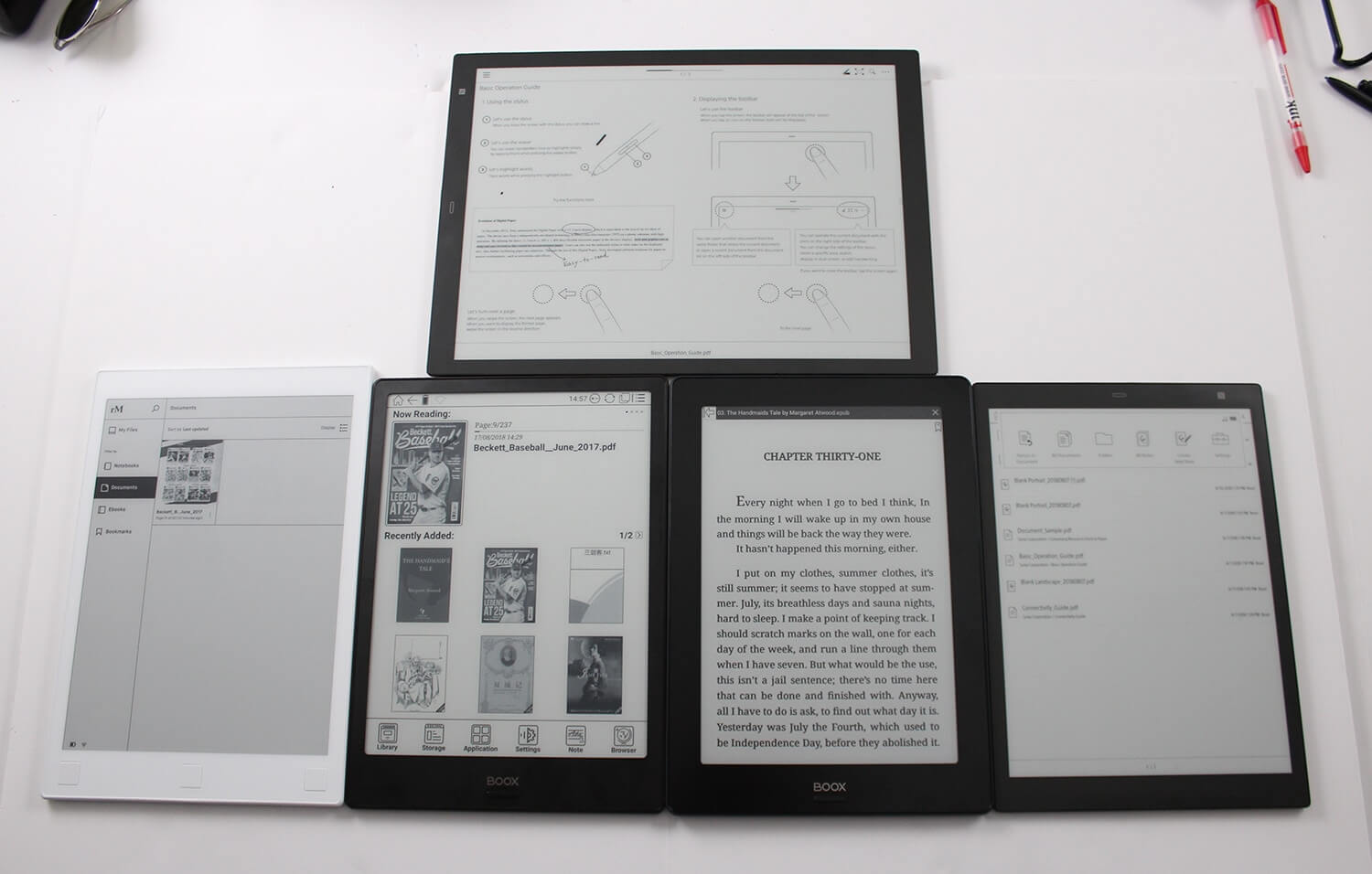 There are two different kinds of e-readers that are currently available to purchase. The Amazon Kindle, Barnes and Noble Nook and Kobo are classified as a consumer device. They all have built in bookstores and their primary function is to read ebooks. The second product category is for professionals who need a Prosumer grade device that has a larger screen and a digitizer, so you can take notes, make highlights or draw using a stylus. Should you spend the extra money on a larger screen E-Note?
There are only a handful of prosumer e-readers currently available. The Onyx Max MAX, Onyx Boox Note, Onyx Boox Note S, Sony Digital Paper DPT-CP1, Sony Digital Paper DPT-RP1, Remarkable, GVIDO, Good e-Reader 6.8 and Good e-Reader 13.3. You will be spending anywhere between $350 and $1400 for these devices.
The big advantage about any of these products and an iPad PRO with Apple Pencil or the Samsung Galaxy Note are the E-paper displays. While color touch screens on tablets and smartphones tend to wash out with their glossy displays that show distracting reflection. E-paper displays do not receive any glare from the sunlight and their batteries last for weeks, or sometimes months.
The vast majority of digital note taking devices on the market are running Android. This gives users a tremendous amount of freedom to install their favorite apps. These can be professional apps such as Onenote, Evernote or various PDF editors. Sometimes you need to take a break and there are thousands of e-reading apps that can be installed such as Kindle, Nook, Kobo, Moon+ Reader, Goodreads and others.
One of the pitfalls of professional devices is that they suffer from their e-paper display when it comes to popular Android apps. Anything that requires complex animations or a constant state change is not indicative to e-readers. This would include Google Maps or Youtube. Lately, mainy big time app developers have been crafting LITE apps, that are designed for 2G networks and really crappy phones with bad hardware. Lite apps are primarily aimed at the developing world and places like India. They are lightweight, often 2MB or so lack many features. They are perfect for e-readers. The main Instagram app doesn't even work on e-readers, because it requires a modern version and all Android e-readers are using outdated versions, the lite version works though. Google GO is a new search engine, that provides a super robust experience on professional grade e-readers.
Most professional e-readers have a stylus that recognizes over 2,000 degrees of pressure sensitivity. They also all have palm rejection technology for long drawing sessions. The Remarkable and Onyx provide you with a Photoshop experience while drawing, the UI is the same and so are many of the most popular features. I have seen some amazing art that game designers have made.
In the past two years digital notebooks have really grown up. It is now completely viable to buy a device that is optimized for drawing, taking notes or editing PDF files. It is a replacement for paper and many offices and corporations are starting to roll the out. Law firms are using them during court cases, contractors are bringing one their customers to sign a bunch of documents and the educational sector are also getting involved.
This video showcases all of the different pro e-readers on the market. We have five them in the the studio and some footage of all of the rest. Michael and Peter conducts a comprehensive pros and cons segment. If you are on the fence about what one of these are best for your needs, look no further!
Michael Kozlowski is the Editor in Chief of Good e-Reader. He has been writing about audiobooks and e-readers for the past ten years. His articles have been picked up by major and local news sources and websites such as the CBC, CNET, Engadget, Huffington Post and the New York Times.