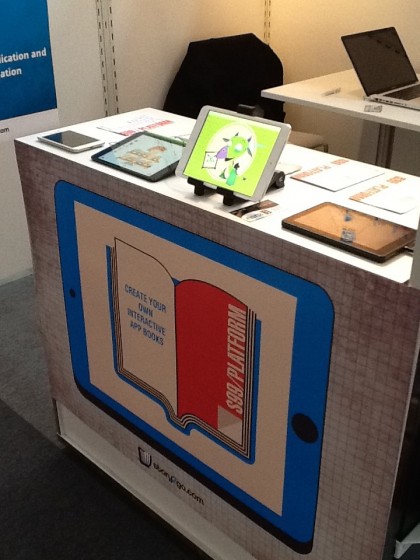 Even as self-publishing continues to open doors for authors without the permission of a gatekeeper, there are still some realms of publishing that are not as easy for authors as uploading a Word document to Kobo Writing Life or Kindle Direct Publishing. Creators of children's books, photography and art books, and even some forms of poetry that require a unique level of formatting often find it difficult to locate inexpensive yet professional options for publishing their graphics-intensive work for tablets.
Story2Go, an exhibitor at this year's Frankfurt Book Fair, offers a fairly user-friendly interface for content developers who need stand-alone app products across a variety of tablets, but who also want a level of full-color and enhancements like audio and graphics.
"Story2Go is an interactive content builder which is designed for providing a bit more than ebooks or standard form of content," explained Tomas Bonis, CTO of Story2Go, in an interview with Good e-Reader. "The editor itself is designed for the iPad, and you can create your content there. Insert your image, add your text, background, basic interactivity and audio, and once you put it together, you can see it on the editor on the iPad before you launch. Once you have everything together, you send the data to us and we create the stand alone application."
The content is created via an iPad app that can be downloaded upon full launch on November 1st. Authors of children's books, graphic novels, educational content, magazines, and more can develop their content through the app, or rely on Story2Go's team to create the content for them. The base price for the launch of the app is $99 for one platform, or $149 for all supported platforms.
Mercy Pilkington is a Senior Editor for Good e-Reader. She is also the CEO and founder of a hybrid publishing and consulting company.