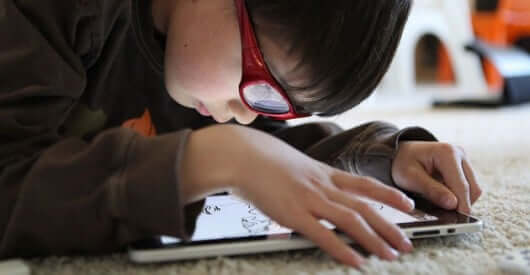 Enhanced ebooks appeared in digital platforms shortly after the floodgates opened for electronic reading, many of which were app books created by self-published digital authors with the technological know-how to develop and market their own works. Some of the features that qualify ebooks as enhanced include audio voiceover, embedded graphics, and a massive complement of full-color graphics that would be cost prohibitive in a print book.
As 2011 came to close and predictions were made for the future of the publishing industry, several sources within the industry supported the idea that transmedia reading was going to see huge gains in popularity this year as readers come to expect more from the technology behind e-reading and as authors and publishers clamor to stand out in the vast crowd of ebooks.
So far, one of the largest audiences for transmedia content has been children's book buyers. Several companies have grown exponentially due to the readily available consumer base who want their children to read engaging content, yet also love the convenience and educational opportunities that digital reading affords them. Companies like iStoryTime have been developing bestselling and award-winning content for children which includes optional read-to-me narration and bonus content like touch-screen coloring books and scene creators within the enhanced ebook. Still other companies like Oceanhouse Media have built their success on reviving favorite titles such as those by Dr. Seuss in electronic, bells-and-whistles formats; last year, Oceanhouse even released never-before-in-print titles from Dr. Seuss, a series of seven books that had only ever appeared in serial form in Redbook magazine.
One thing that has contributed to the rise in popularity of enhanced ebook reading, especially for children, is the quick turnaround time to get a brand-new title to market while still incorporating the transmedia experience. Oceanhouse released another Dr. Seuss title yesterday, the popular If I Ran the Zoo. Another factor, of course, has been the price point; If I Ran the Zoo is a full-color enhanced ebook, yet still only costs $2.99, a staggering price difference in a market where a hardcover print edition of a children's book can easily cost $15 or more.
While industry watchers made the predictions for a surge in enhanced ebooks as more and more publishers seek to draw reading customers with bonus features and interactive content, there were just as many professionals who argued the point. Some critics of the recent growth of transmedia reading have argued that the costs are going to prove to be too high to make the profit margin worth it, causing some publishers to abandon the technology not long after experimenting with it. However, it will remain to be seen whether simply putting words are on a screen is enough for readers anymore.
Mercy Pilkington is a Senior Editor for Good e-Reader. She is also the CEO and founder of a hybrid publishing and consulting company.