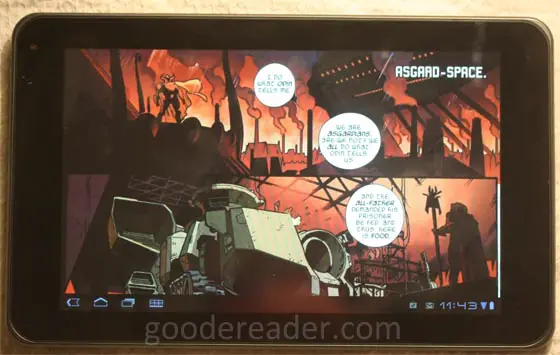 Google Android Tablets are certainly becoming more popular and many new devices are issued each and every month. Many people more and more are purchasing these new devices and wanting to take advantage of the full color touchscreen to read comic books.
Good e-Reader has assembled the best list to read comic books on your Android powered tablet computer to get the most out of your device! I really think comics look way better on tablets, and all of the frames normally come out really well, not to mention you can store thousands on your device. If e-readers are changing the landscape for digital reading, I think tablets are going to play a huge part in the comic revolution.
Droid Comic Viewer

The Droid Comic Viewer by Robot Comics is hands-down the best comic-viewing app for any Android user. The app is quite powerful and is compatible with CBZ/ZIP, ACV, CBR/RAR (beta), JPEG, PNG, BMP & image folders. The Droid Comic Viewer has a number of options to properly tailor your comic experience and supports a wide array of multi-touch options. You can use gestures to zoom in on specific panels and jump from page to page. One of the things I liked was the auto bookmark feature that brings you back to the page you left off on when you exit the application and then open it again at a later date. Over 250,000 users have downloaded this application and it is the reader of choice when it comes to reading comics and manga on your tablet.
Comic Reader MOBI is one of our favorite applications to read scanned comic books. The program is compatible with most major formats such as ZIP, RAR, CBR, and CBZ files. The application is very easy to navigate and is very intuitive for casual browsing and finding different comics to load.  It touts a  number of features that are sure to impress the type of person that downloads more content from the internet. It has adjustable zoom levels for the lens that allows you to zoom in on text bubbles. This is handy on smaller screen devices for reading text heavy comics. You can also pinch and zoom the area you want to expand. You can currently purchase this application for around $14.43 from various Android Markets. Part of the cost is being able access comics on special web servers, and you can also store them there as well.
This is another one of the top Android comic reading applications and has a simple interface to browse your SD card or internals of your tablet. You can create your own bookshelves and create bookmarks to pick up where you left off. It reads many formats that are quite common in comics downloaded from various websites. It currently reads BZ/ZIP,CBR/RAR,7Z/CB7(No solid mode),LZH and JPEG,PNG,GIF,BMP. What probably sets this app apart from other Android comic viewers, like the Droid Comic Viewer, is the sheer amount of options that would make many comic viewers happy. It has over 5 view modes, various smooth filters, full choice of page start positions, a bookshelf feature, bookmarking, favorites, and a "set as" wallpaper option. The option I liked the most was the ability to switch between landscape and portrait mode within the program. You then have a dedicated series of new options for each orientation.
This application is one of the big ones and has over 250,000 downloads, which certainly speaks volumes in its favor. JJComics Viewer is the new version of jjComics. jjComics was the first comics viewer application for Android platform and is a free download. This new comic application has a fair number of main options, but none are very useful. When you are reading a comic it does not have an automatic function to change to the next page. Instead you need to configure one of the 9 areas you can tap on the screen to do different functions. You can make the Right Tap change to the next page and the left tap for the backwards function. It is a shame this program does not do it automatically.  It misses the functionality that the top ones on our list have, but it looks solid on 7 and 9 inch tablets.
Komik Reader is THE best application that is specifically designed for Google Android Honeycomb Tablets! This means if you have a Motorola Xoom, LG G-Slate, or many others you can get the best comic experience bar none. It is a new application and support for it is quickly growing. It currently reads CBR, CBZ, and image directory comic support. Rumor has it that PDF viewing is soon going to be on the way as well. Komik Reader is bundled with a wellspring of fun options to give you one of the best experiences. It will allow you to quickly bookmark your comics so you can close the program and come back to it in no time.  I really liked the pinching and zooming features to get close into text and  pictures. There is an extensive advanced menu feature that has a number of options you will find useful. Everything from page turning options and tolerance is very useful to larger screen tablets. Most of this app's position is in portrait mode and there is no way to flip the prospective to landscape mode, but many scanned comics will be mostly in portrait mode with the odd page switching to landscape.
Michael Kozlowski has been writing about audiobooks and e-readers for the past twelve years. His articles have been picked up by major and local news sources and websites such as the CBC, CNET, Engadget, Huffington Post and the New York Times. He Lives in Vancouver, British Columbia, Canada.