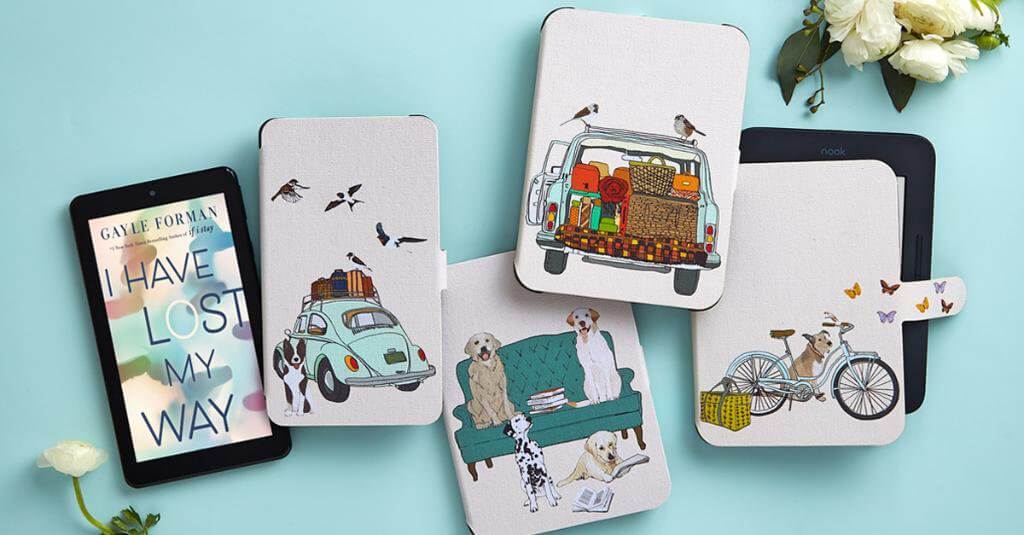 E-Readers do not have the same upgrade cycle that smartphones and tablets enjoy. Every year Qualcomm releases a series of new Snapdragon processors that flagship phones employ and Apple continues to develop their own for iPads and iPhones. RAM and internal storage continues to increase and battery life continues to improve. The vast majority of e-readers are using the i.MX6 SoloLite 1GHZ processor that came out in 2011 and the only model using the IMX7 dual core is the second generation Amazon Kindle Oasis. Freescale has great compatibility with E-Ink devices that use Regal Waveform for faster page turns, some other brands like Onyx use no-name quad-core processors, but they have to develop custom software in order to increase performance.
The standard e-reader has a 1GHZ processor, 512MB of RAM and 4GB of internal storage. Most models have done away with the SD card, so you have to make smart decisions to go with a lesser known brand with an SD card or pay more money and get more storage. E-Reader batteries have also been consistent and haven't really changed because E Ink screens only draw power when the state of the screen changes. So so they don't need a 5200 maH, most make due with half of that.
Over the course of the past four years e-readers with a front-lit display and color temperature systems are the norm. It makes it easier to read in the dark and control the bright white screen and add various degrees of orange. Screen sizes have also been increasing with major brands like Kobo giving options such as a 6.8 and 7.8. Onyx Boox, Sony, Remarkable and Good e-Reader have pioneered 10.3 and 13.3 inch that specialize in digital note taking and drawing. Onyx and Good have Android and Google Play, so you can actually install your own apps. Waterproof e-readers used to be really fringe, but almost every single company has one in their portfolio.
There are innovations right around the corner, but most won't be available until 2020 or later. Clearink has developed new color e-paper that is capable of playing videos and complex animations. E-Ink has developed next generation color paper, but it was primarily designed for digital signage and it will likely come to e-readers sometime in the next two or three years. E-Ink had color e-paper in the past, technology called Triton, but it was ridiculously expensive and colors looked washed out.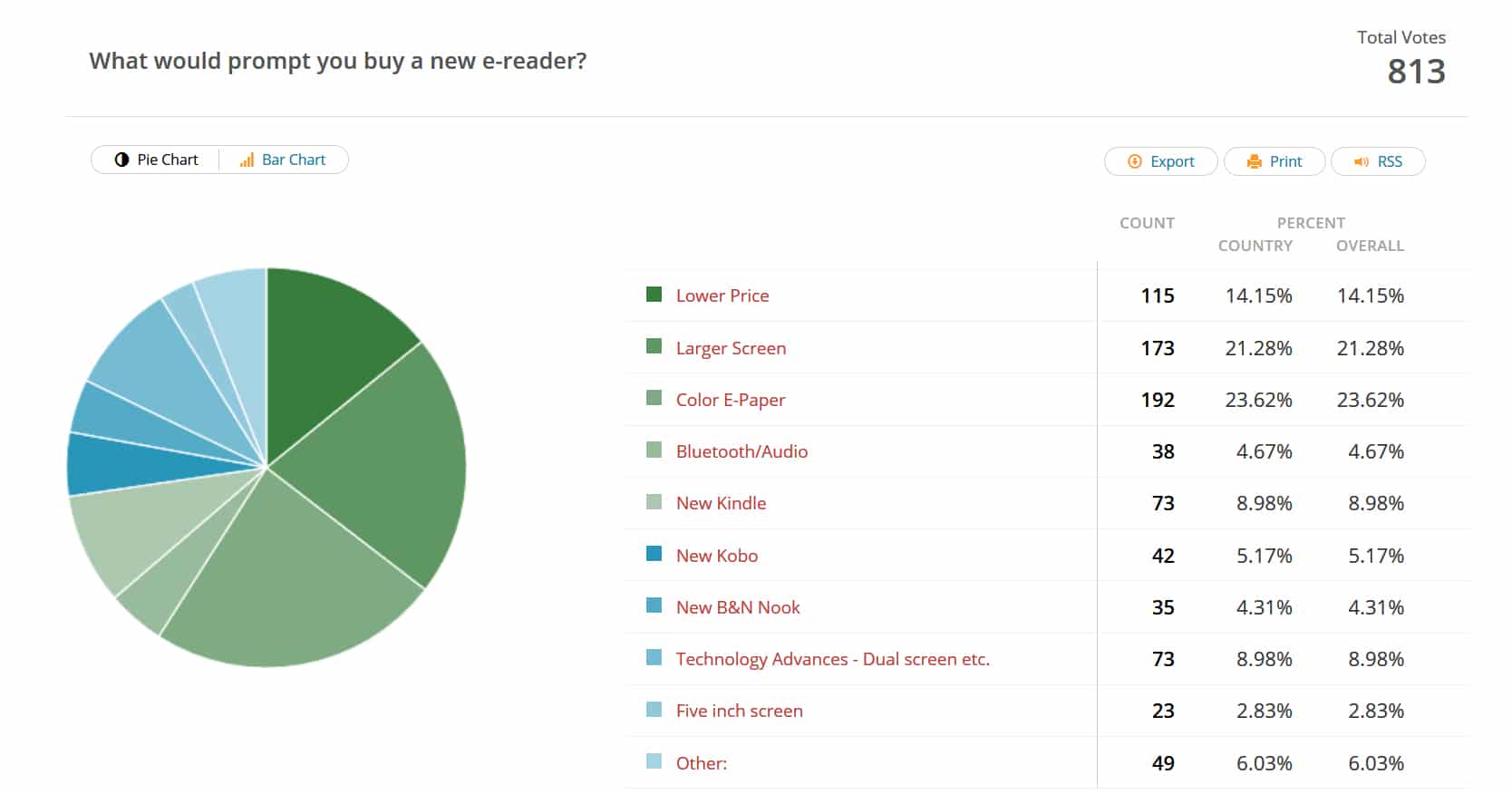 What would encourage you to upgrade your e-reader? Good e-Reader research interviewed 800 people from all over the world. 23% of the overall vote wants color e-paper and 21% want an even larger screen. I think the iPad 12 PRO proved there is a big demand for a large screen and many smartphones are trying to eliminate the bezel. It would be interesting if more e-reader companies removed the bezel and it would increase the size of the screen in subtle ways, without really increasing the cost.
14% of the overall voting population would upgrade their e-reader if a good one came out that was even more affordable and 9% want a faster processor and more RAM for increased performance. A further 9% are holding off upgrading their e-reader because they want a new Kindle, which Amazon will release sometime this year. The company is going to be releasing a new entry level Kindle Basic and the Kindle
Paperwhite 4.
E-Reader innovation has stagnated over the years because people hang on to their devices longer than they do smartphones and tablets. E INK is the only major player in the game that makes e-paper and they haven't released anything since CARTA HD in 2014. Freescale is the most popular processor, but the only one most use is very old and not relevant anymore.
Good e-Reader has learned a lot about the supply chain in the past three years since we started to design and manufacture our own hardware. E-Ink paper is the most expensive element, representing 65% of the total cost. There are a few players in the e-Reader game that design e-readers, some do whitelabel for a small MOQ and custom designs for the big players.
If you have been using an e-reader for a number of years you will likely notice that all Kindle e-readers have the same OS and ditto with Kobo. There is no need to totally revise an operating system, because it requires a bunch of developers and capital. It is cheaper just to use the same one in every single device they make. Smaller e-reader companies just go with whatever OS is bundled by a white label manufacturer. These OEMS never release their source code, so it is impossible to use custom roms or implement alternative operating systems such as Sailfish, Windows or even Unix. The same goes with using a custom processor or using IMX7 dual core.
What would encourage you to upgrade your e-reader? Drop a comment below and let us know.

Michael Kozlowski is the Editor in Chief of Good e-Reader. He has been writing about audiobooks and e-readers for the past ten years. His articles have been picked up by major and local news sources and websites such as the CBC, CNET, Engadget, Huffington Post and the New York Times.