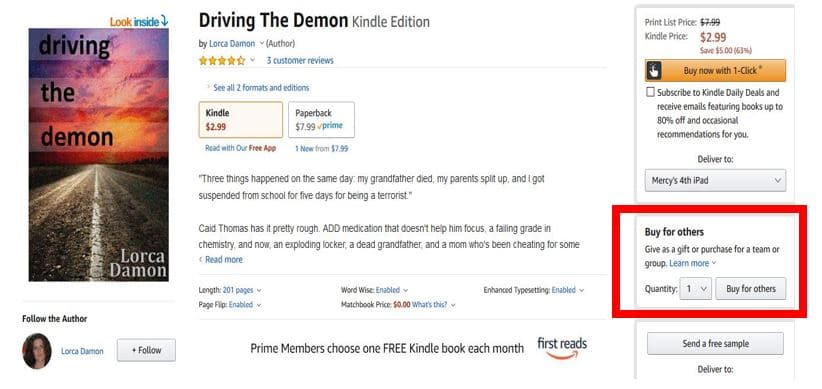 When it comes to getting the word out about their books, indie authors need all the tools they can get their hands on. It might be in the form of blog tours, book swaps, ARC giveaways, or other types of meaningful promotion, but any mechanism for putting a book in front of readers is welcomed.
Amazon has now quietly launched a new feature that will give authors another opportunity to promote their work in a meaningful way: book giveaways.
"Wait, giveaways are nothing new, authors have been doing it for a long time," you might say, but this is a little different.
Authors whose titles are published via KDP (note: just KDP for publishing, no requirement to be in Select) can "gift" their book to someone right from their sales page on Amazon. You can even gift multiple quantities. Since you're going to pay full price for this title, you might be wondering why on earth you would do such a thing.
First, you still earn your typical royalty on your title, just as you would with any other kind of sale. This sale also translates into a bump in your title's rankings. Also, if you were gifting several copies to a classroom or library book club, they may have a stored card on file with Amazon, permission to use Amazon as their book source, or even a gift card or points; giving the books that way helps them take advantage and helps the books end up seamlessly in someone's device or app instead of trying to explain how you sideload the content from another site.
However, authors beware: Amazon has notoriously been on a review-deleting spree, and has even punished reviewers and authors alike for the perception that good friends are leaving bogus reviews. If you're distributing your book via gifting in order to garner a few reviews, this might come back to haunt you.
One of the more genuine uses for this feature is the organic opportunity to provide a copy of your work to a new potential fan. You bump into someone in the airport, they comment that they forgot to buy a book for the flight, and you gift them one of yours. They enjoy it so much that they go on to purchase the rest of your backlist and you now have a new follower. Remember, the purpose of promotion is to seek out readers and engage with them, which this feature lets you do at the touch of a button.
Mercy Pilkington is a Senior Editor for Good e-Reader. She is also the CEO and founder of a hybrid publishing and consulting company.