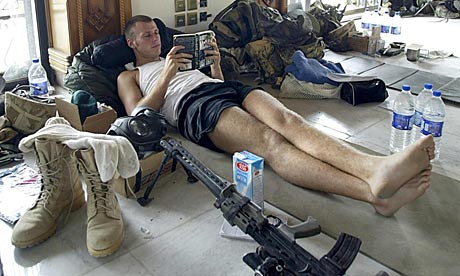 Ask any soldier who is stationed in a forward war zone what the real danger is, and he will likely tell you it's boredom. Nothing happens for long periods of time, but a soldier must always be ready for something horrible to happen, at any time.
U.S. soliders stationed in the Middle East have found creative ways to fill the hours, and in a locale where English-language books are hard to come by, e-reader devices are a godsend. Only if they're filled with books, that is.
The Indie Book Collective, co-founded by Rachel Thompson (@RachelintheOC) along with fellow authors Carolyn McCray (@craftycmc) and Amber Scott (@amberscottbooks), is hosting the Blog Tour de Troops between May 27th and May 30th, a four-day blog journey with thirty-five authors to provide e-books to troops and to fans here at home.
"It took about a month to put this blog tour together," says Thompson, whose book A Walk in the Snark is one of the titles featured in the tour. "We wrangled some of our fellow digitally published authors in a full gamut of genres from historical fiction to erotica, asked them for a $15 donation to cover the cost of the Kindles we're giving away to our readers in this contest, then asked that they give away copies of their e-books."
Here's how it works: during the four-day Tour, reading public can go to indiebookcollective.wordpress.com to see the complete roster of authors who are giving away copies of their e-books. After reading the blog post and leaving a comment with a valid email address, a coupon code for a free copy of the book will be sent to the commenter. An additional copy of the book will be sent to a soldier, and even better, readers can designate a specific soldier by name to receive the e-book.
"We had themed blog tours before, such as the Bestseller for a Day, the Menage a Blog coming up in July, but when one of our volunteer staffers mentioned that her husband was stationed in the Middle East and that he had begged for books, we knew we could do something really big while helping indie authors widen their reader base," adds Thompson.
The freedom to do something profound with their work is in direct proportion to the control they have as indie authors. For a traditionally published author to give away numerous copies of his book—and as of Day Two of the Tour, over 700 comments have been posted to the various blogs involved, meaning 700 copies to readers and an additional number to soldiers—would be impossible on this scale. But as indie authors, who are giving up nothing more than formatted digital content, an undertaking like this becomes not only possible, it comes to fruition.
"We connected with Operation E-book Drop through indie author Edward C. Patterson and Smashwords to provide these books to troops abroad, and readers here can download the e-books to any platform that the author has already established, no matter what device they choose to use."
In addition to the complete roster of authors and their books that can be found here, the IBC is also accepting donations through its site to help provide Kindles to troops stationed overseas. IBC is planning a second Blog Tour de Troops in November to coincide with Veteran's Day, and there may be no better way for a reading audience to honor those who have served by providing a book for those who are currently serving.

Mercy Pilkington is a Senior Editor for Good e-Reader. She is also the CEO and founder of a hybrid publishing and consulting company.