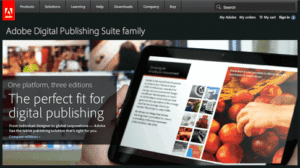 GoodeReader recently spoke with representatives from Adobe about the features of the industry popular Digital Publishing Suite, specifically as it relates to giving publishers control over digital editions of magazines, optimized for both the growing tablet market and the emerging smartphone reading market. Lynly Schambers-Lenox, Adobe's Group Publishing Marketing Manager for Digital Publishing, and Colin Fleming, a Worldwide Digital Publishing Evangelist, gave a comprehensive overview of how DPS works with the publishers.
"It's an end to end platform that allows publishers of magazines and newspapers to design, publish, and optimize content for leading tablets and smartphones," explained Schambers-Lenox. "It's tightly integrated with InDesign, so many publishers have standardized on InDesign as their page layout tool, which lets them leverage all of that to create content for the tablets and smartphones. Optimizing means measuring content engagement through the core set of analytics that are part of the platform."
DPS tells publishers not only how many people have downloaded an app, but how long those readers spent interacting with an article, a photo, or an ad within that magazine app. While publishers can access the information from these metrics, it is ultimately up to the publishers whether or not to release the metrics to their advertisers and make sure that the information is accurate.
"I don't think we've seen all of the publishers really disclosing lots of metrics publically, but with DPS they do have a lot of metrics to draw on that they can use internally to really access how their publication is doing, what's driving engagement, what's driving subscriptions, but it's up to the publishers to decide if they want to disclose those analytics publically.
Publishers are feeling the pressure to disclose the information publically from advertisers who may have concerns over how easy it is to navigate past the ads in digital media. The metrics in DPS allow agencies to feel confident that the advertising metrics are accurate and they have a genuine view of how readers are interacting with the ads, which is important to keeping the costs of magazines and publications down for consumers.
"For a specific title, the publishers can look at when a reader launched it for the first time," added Fleming, "how often the application is launched, all of the integrated downloads, break it down by individual downloads over time, then break it down by content (the non-ad portion versus the ad portion), and break it down further by activity, which is the use of the videos or links. It gives publishers a very clear picture of how the readers and subscribers are using the magazine."
Adobe introduced a variety of workflows a few months ago that have streamlined the process of developing digital content for publishers. One of the big announcements is aimed at focusing on the iPhone, and there are a lot of publishers that are very excited about this. For the last two years, Adobe has focused on tablets because they are quickly growing into a device that people are going to read on. But what publishers and Adobe really recognize is, while tablets are gaining momentum, smartphones are extremely prevalent both within and outside of North America. Publishers want to work with Adobe to get their content on the iPhone because of the reach that it offers and people have shown they are very willing to use content on those devices.
"Granted, screen sizes are different, so there is going to be some redesign to adapt the content to the smaller screen," continued Fleming. "But I start with the vertical iPad layout, and I can very quickly work that into a horizontal iPad layout and Kindle layout. When I go to build the iPhone version of this piece of content, I want about five minutes of undisturbed InDesign time and then I have the version."
Adobe's recent announcements included news that the platform now allows publishers to create these different layouts for different screens sizes, all within the same workflow model. Prior to this availability, publishers were working with a different InDesign file for every device they reached, so a change to an article had to be corrected in every file version. This streamlining has made that laborious task unnecessary. Also, Adobe now allows publishers to create an application that can be socially shared, helping publishers reach readers by driving subscriptions and supporting their brands through the popularity of social reading.

Mercy Pilkington is a Senior Editor for Good e-Reader. She is also the CEO and founder of a hybrid publishing and consulting company.