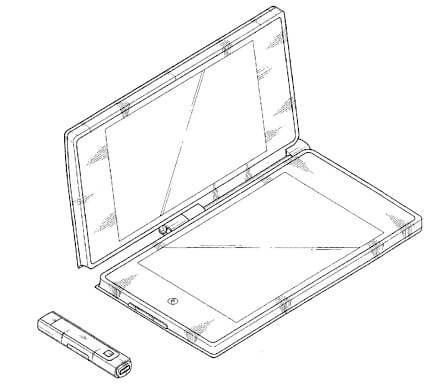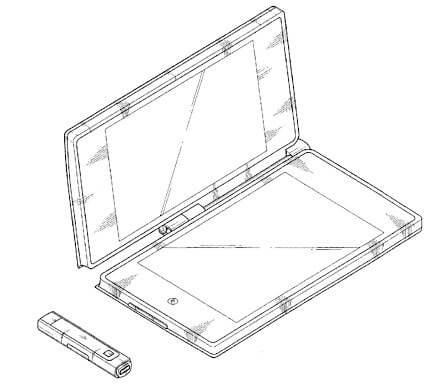 Tablet devices we have come to see of in a lot of shapes and sizes. However, that does not mean creativity is waning and we will see a whole lot of court cases where everyone is suing everyone else for having copied their tablet's look and feel. Of course there are limitations (since how can each new tablet be different from the other each time), and it's good to see Samsung trying something new.
This is still very much in beginning stages, though a recent Samsung patent does point to a dual screened tablet device. Sony already has a product of the same type, though what the Samsung patent reveals is a tablet concept with a flat back. It resembles a closed book and is very much unlike the Sony Tablet P, which looks like a glass holder with its curved exterior. The tablet will carry two 7 inch screens so that both, when laid flat will resemble one big 14 inch display. The bezel will interrupt any continuous display in the middle and the thinner it is the better in this respect.
Another area of concern for Samsung is the performance of the battery, since two displays will consume twice as much power. The choice of operating system is also something that we are keen to know, though Google's Android does seem to be the obvious choice. Obviously, we can't rule out Windows 8 as a possibility. However, irrespective of the choice of OS, the challenge for Samsung will be to ensure the OS is well tuned for it to optimally use both the displays simultaneously. Cost is another factor for Samsung to keep in mind if it wishes to transform the concept into a market reality.
Microsoft is also teasing the tablet loving crowd with a dual screened device named Courier, which it brought to an abrupt halt when consumer expectations surrounding it were at an all time high. Acer has also introduced a tablet device with twin displays, though it is priced prohibitively high and has a pretty dismal battery life.
via alltouchtablet

Sovan Mandal is the senior tablet and tech corespondent for goodereader.com. He brings a international approach to news that is not just applicable to the North American market, but also Asia, India, Europe and others. Sovy brings his own writing flavor to the website and is interested in Science Fiction, Technology and Writing. Any questions, send an email