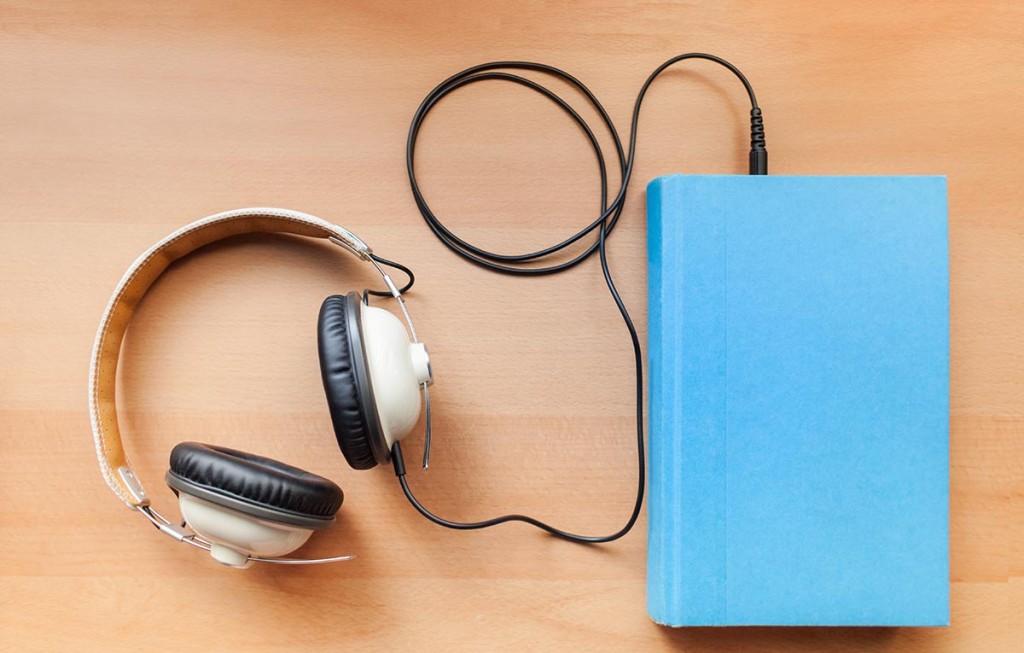 In 2007 a paltry 3,073 audiobook titles were produced and this figure rose exponentially to over 12,000 published in 2011. In 2013 many industry experts proclaimed that over 20,000 audiobooks were now available and in 2014 over 35,000 were released by major publishers and companies like Audible.
The global audiobook industry is currently worth 2.6 billion dollars and part of the reason why we have seen a dramatic increase in profitability is due to digital. In a recent  New York Times piece, they said "In the first eight months of 2014, sales were up 28% over the same period last year, far outstripping the growth of e-books, which rose 6%"
One of the biggest markets for audiobooks in the world, is not the US or UK but Germany. In a recent annual survey conducted by the Allensbach Institute said that Germans consume more audiobooks than e-books. In the last twelve months, close to five million Germans have purchased an audiobook, which accounts for 7% of the overall population. This is one of the hottest segments currently operating and ironically gets the least amount of attention.
Digital audiobooks are finally starting to find their stride thanks to libraries embracing them in a big way. There are a number of major players providing audio services to libraries, 3M Cloud Library, Baker & Taylor, Hoopla and Overdrive. For the most part, these are the exact same companies that provide the libraries e-Book portfolio. In the US, 95% of all libraries have a digital collection and audio content is starting to play a more central role.
Audiobooks actually works fairly differently than e-Books do, on a business level. Many of the top distributors lean on 3rd parties for a full catalog of content. 3M and Baker and Taylor both get their audio editions from Findaway World, which is current market leader in production. Findaway has a catalog of over 50,000 titles and maintains production studios, narrators and crew in New York. Overdrive has their own internal solution, where they approach publishers directly and don't do business with companies such as Audible or Findaway World.
Tom Mercer, Marketing Manager of 3M Cloud Library said "we see a tremendous opportunity to grow in the Audio space in 2015. Right now we're two weeks into the "real world" of Audio, but customers really seem to like our solution. Our initial Beta feedback from very positive."
Hoopla is an audiobook solution for libraries that floats under the radar, but are quickly making a name for themselves. The company has a catalog of 13,000 titles with 1,000 added each month. Hoopla deals with over 100 libraries in the US and charges no licensing fees with setting up the system, which is quite appealing to the average library. How does Hoopla make money? The company has employed the Pay Per Use model, which only charges the library when a specific title is checked out by a patron. The San Francisco Public Library said they are are predicting that in 2015 more companies will embrace the Hoopla model, which will lower costs for libraries and get more content in-front of the patrons.
How well are the publishers doing in the audiobook sector? Cheryl Herman, marketing director for Penguin Random House's Books on Tape & Listening Library said. "Our library sales for digital audio are up nearly 35% over 2014, we're offering more and more titles on audio, and we're not alone in that. There are also more players entering the market, and more titles overall being published than ever before."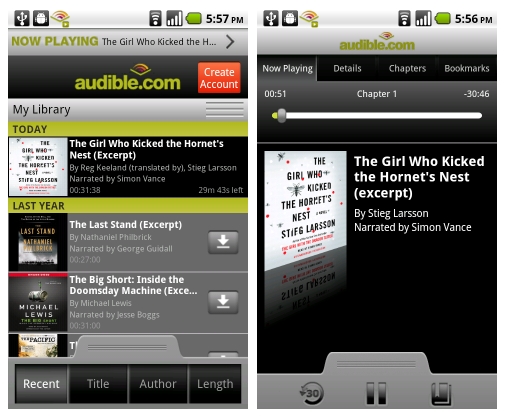 Audible is the undisputed market leader in audiobook production and distribution. Matthew Thornton the Director of Communications at Audible said "Audible content includes over 180,000 audiobooks and other spoken-word programming from leading audiobook publishers, broadcasters, entertainers, magazine and newspaper publishers, and business information providers. Non-audiobook content includes lectures, meditations, language lessons, comedy and periodicals." Audible has added 40,000 titles their store in 2014, a very slight increase versus 2013. In both 2013 and 2014, Audible Studios and ACX productions account for just about half of all titles added to the Audible storefront.
Audible has seen a massive amount of success by branching out in international markets, where their is more synergy between Kindle e-readers and tablets. Matthew proudly exclaimed "Audible now operates thirteen global outlets including Audible.co.uk in London, Audible.de in Berlin, Audible.fr in Paris and Audible.com.au in Sydney."
One of the big reasons why Audible adds so much content to their portfolio on a yearly basis is due to the Audiobook Creation Exchange. Publishers and authors who own unused audiobook rights can post them on ACX, along with narration preferences (e.g., narrator's gender, accents, voice types). Audio publishers and audio studios—as well as individual narrators with home studios—can search for titles that interest them and then audition to turn those rights into audiobooks. Rights holders can hire a narrator or producer, or create entrepreneurial partnerships with shared royalty structures that allow audiobooks to be produced without upfront costs. Alternatively, existing audio publishers can simply use ACX to discover audio rights to produce on their own.
Production Costs and Star Power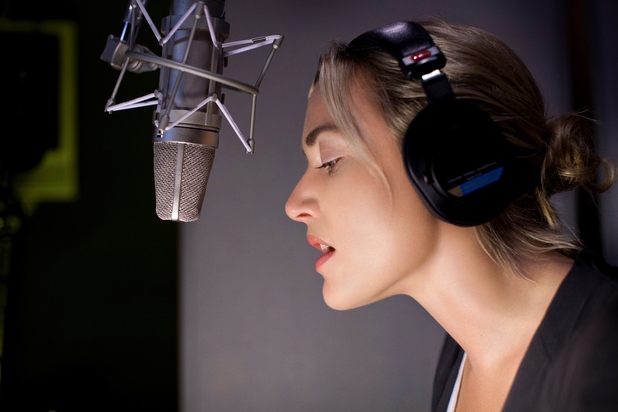 Audiobook prices are often drastically inflated and is a financial barrier for mainstream adoption. The Fault in Our Stars by John Green costs $4.99 for the Kindle edition, but the audiobook costs $17.99. Max Brooks seminal World War Z – The Oral History of the Zombie Wars costs $9.99 for the Kindle edition, but the audiobook will set you back $28.00.
Why are audiobooks so overpriced compared to e-Books and print? It comes down to billable hours. It comes down to the studio costs, which the publishers call cost per finished hour. Each audiobook is on average around 12 hours, which costs on average $300 and $400 an hour. They also have to account for multiple takes and editing. The finished product after its all said and done is normally $5,000 to $6,000 to make the audiobbook.
Some companies ride on the back of star power to draw attention to the digital edition and use them for marketing purposes. The aforementioned World War Z hired 21 different voice actors, such as Simon Pegg, Common and Martin Scorsese. Even hiring just one famous person to narrate the book, drives the production costs up exponentially. The average cost is now $1000 to $1500 per book hour and the final product would cost over $17,000.
Matthew Thornton explained a bit on how Audible embraces star power. "One of the ways we've worked to improve the overall customer experience of listening to audiobooks is in elevating the quality of audiobook performance—embracing A-List celebrities (among those who've recorded for Audible are Colin Firth, Dustin Hoffman, Jake Gyllenhaal, Kate Winslet and Susan Sarandon) as well as up-and-coming young actors at Juilliard, Yale, Stella Adler and other acting schools where Audible offers narration workshops. We've had great success with celebrity-narrated projects like the Gyllenhaal-narrated The Great Gatsby, Ben Stiller performing The Secret Life of Walter Mitty.  As importantly, high-profile narrators raise the visibility of these terrific listening experiences—something we liken to "theater in your ear"—and raise the visibility of this burgeoning art form."
Major Publishes and companies that are heavily invested in audiobooks really have to look at what titles are best suited to make the transition. Any of the perennial bestsellers and books slatted to be made into a major motion picture are often the first ones slatted for production.  They basically have to insure with the other titles can be money earners and not loss leaders.
Newspapers Embrace Audio
Audio these days is not only reserved for fiction and non-fiction books, but newspaper companies have been embracing this model as well.
The Guardian newspaper forged a relationship with Audible. Every week the Guardian Audio Edition will hit Audible, and give you a feel for the UK's book scene and new book releases. Audible has also sponsored the Guardian Books homepage, its weekly books podcast, and its books review pages, with co-branded advertising across the newspaper's website and print edition.
One of the big trends in journalism in 2014 has been producing audio editions of top stories. The Guardian started do this early last year and regularly garners 17 to 30 thousand listens for each audio edition they post. The New York Times, NPR , New Yorker and hundreds of other publications do this as well.  This is actually a huge trend in the news industry, and likely you will hear more about it, as established journalists try and compete against dedicated podcasters.
Good e-Reader recently has been adding audio functionality to our top stories. We have noticed that more people are listening to the audio edition then reading some of the stories. This is primarily due to the audio just not appearing on our site, but also getting distributed to the podcasting system on iTunes.  The first story we did in this fashion got over 5,000 listens in two days.
Vancouver based PressReader is also heavily involved with the audio capabilities of newspapers. Every single one of their 3,000 newspapers have text to speech functionality, they will read any story you want aloud. This makes sense for people who can no longer read the tangible paper, without a magnifying glass or have other vision problems.
Whats Next?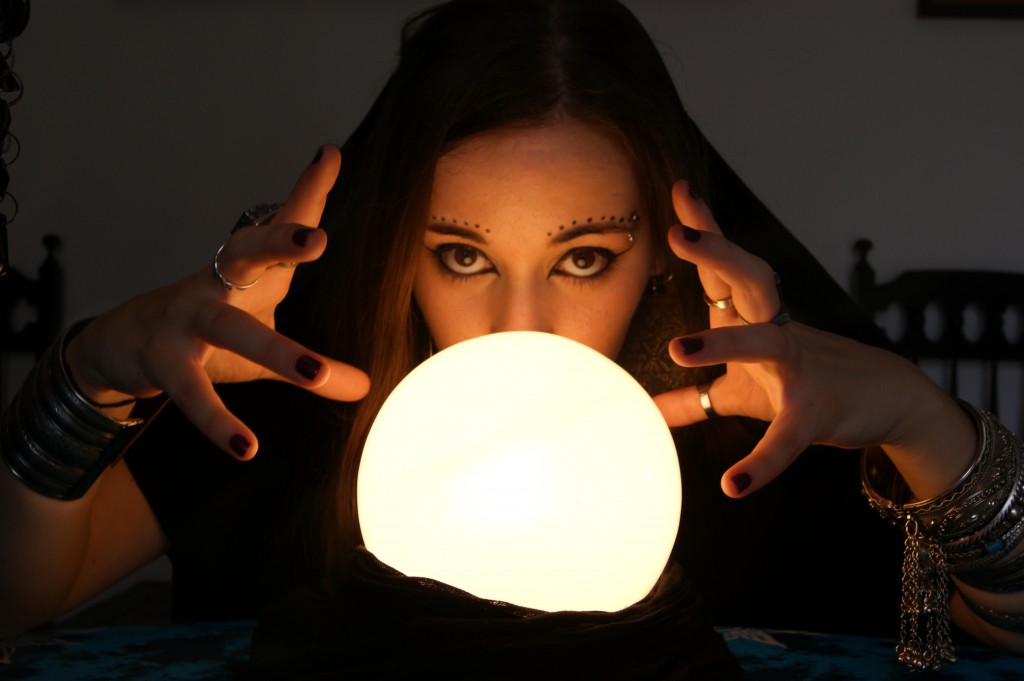 Listening to audiobooks has never been easier. Libraries all over the world now offer the service and Audible distributes their entire catalog of titles not only through their own app and Kindle devices, but also sources everything to iTunes. How can the industry get customers to listen to more digital editions?
The largest bookseller in the US, Barnes and Noble got into audiobooks in late November 2014 is  hoping to capitalize on the trend and advertise them in their entire chain of retail stores. Kashif Zafar, Vice President of US Digital Content at NOOK Media told Good e-Reader exclusively that his company is putting a company wide focus on audio titles and this is a huge priority for them.
In order to get customers invested in the Nook ecosystem they are promoting the fact they have 50,000 audiobooks from major publishers and every week there will be listing five free audiobooks that new users can browse and download two for free. There is no signup required or credit card needed for the account in order to take advantage of this promotion. The titles were exclusively vetted to span multiple genres and picked especially for the overall quality of the narration. During the first week the following titles will be available; Charlotte's Web by E.B. White, Ender's Game (Ender Quintet #1) by Orson Scott Card, Gone Girl by Gillian Flynn, The Heist (Fox and O'Hare Series #1) by Janet Evanovich and Seabiscuit by Lauren Hillenbrand.
Will the serious e-Book reader embrace audiobooks the same way they switched from print to digital? It doesn't look too likely, recently we ran a poll that asked 384 people if they listed to them. 33% have never listened to an audiobook before and 23% said they at least tried, but gave up. A paltry 14% said they listen to audiobooks all the time, which is the main challenge the publishing industry is facing.
Listen to this story in Audio, for free!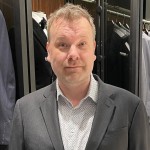 Michael Kozlowski has written about audiobooks and e-readers for the past twelve years. Newspapers and websites such as the CBC, CNET, Engadget, Huffington Post and the New York Times have picked up his articles. He Lives in Vancouver, British Columbia, Canada.