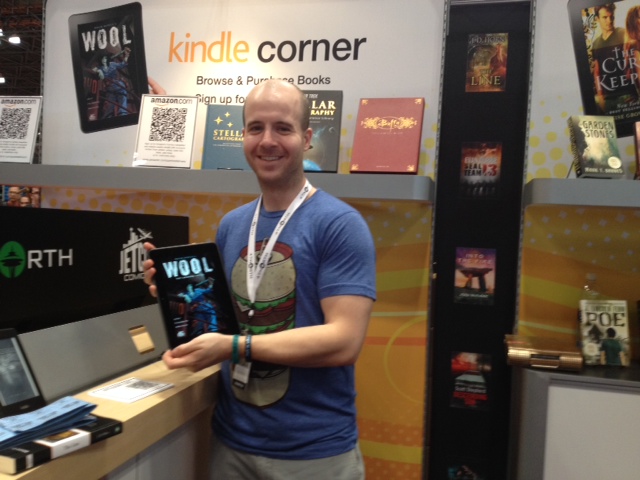 Among the many, many booths at New York Comic Con was one for Jet City Comics, Amazon's comics imprint, which launched last summer; the booth was also promoting their science fiction/fantasy imprint 47North.
Jet City's Justin Gollenbeck took a few minutes to talk to me about the new comics, which have already been showing up on our digital comics best-seller lists, on the strength of pre-orders alone.
Three graphic novels were being promoted at the con; the first, Meathouse Man, will be released on Tuesday. Based on a short story by Game of Thrones creator George R.R. Martin and illustrated by his niece, Raya Golden, it is a "darkly subversive modern tale" set on a planet where "corpse handlers" somehow animate brainless bodies to do their will. This 36-page comic is a Kindle-only book and is currently priced at $2.99.
The second title, also by Martin, is The Hedge Knight, a prequel to Game of Thrones, adapted by Ben Avery and illustrated by Mike S. Miller. In this graphic novel Dunk, a former squire, sets out to reinvent himself as a knight by winning a tournament, and along the way he picks up a squire of his own, Egg. The Dunk and Egg stories have been published as short stories and as graphic novels in the past, but the graphic novels are long out of print.
Finally, Wool, due out later this winter, is a based on Hugh Howey's prose novel, adapted by the veteran comics team of Jimmy Palmiotti and Justin Gray and illustrated by Jimmy Broxton; Palmiotti and Gray were at the con signing posters at the Jet City booth on Saturday. While the first two comics mentioned here are done-in-one graphic novels Wool will be published as a Kindle Serial: Buy the first issue at $4.99, and the five subsequent issues are automatically delivered to your Kindle for free. If you happen to come in in the middle, all the previous issues will be automatically added for free as well. The first issue is due out in February, but you can download a preview for your Kindle now.
A former book editor and newspaper reporter, Brigid Alverson started MangaBlog to keep track of her daughters¹ reading habits and now covers comics and graphic novels for Comic Book Resources , School Library Journal, Publishers Weekly Comics World, Robot 6, and MTV Geek. She also edits the Good Comics for Kids blog at School Library Journal. Brigid was a judge for the 2012 Eisner Awards. Send her an email to wordballoons@gmail.com