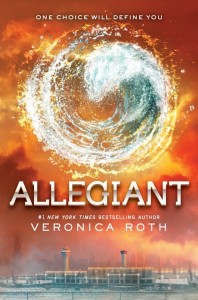 Verdict: 2 Stars
Just when you think you've endured as many pages of suffering and hurting as is possible to squeeze between the covers of a book, it gets worse.
Allegiant is the long-awaited final book in the Divergent trilogy, a young adult series by author Veronica Roth. Without having to write the dreaded words "spoiler alert," let's just say that Roth spent a great deal of time torturing many of the characters that readers already suffered alongside in the first two books.
Interestingly, part of the problem with this final installment was the amount of time it took to come to readers' bookshelves, a by-product of the spoiling nature of digital- and self-publishing. Where readers are growing more and more accustomed to the rapid release dates afforded by ebooks, having to wait for a traditionally published sequel–especially one whose title wasn't even released by the publisher until this fall, as if titles are now top secret–was not exactly agonizing, but more like irritating. In the time I've waited since first falling in love with Tris and Four and rooting for the factions and factionless alike, I've found twenty other authors that I like better, and just as many story lines and compelling characters to keep me entertained.
Okay, fine…spoiler alert: I feel ripped off by the publishing industry over this book. I became a fan and a believer, only to spend two years of my life waiting for THIS ending to the series. Read at your own risk.
Allegiant is available now from ebook and print distributors everywhere.
Mercy Pilkington is a Senior Editor for Good e-Reader. She is also the CEO and founder of a hybrid publishing and consulting company.