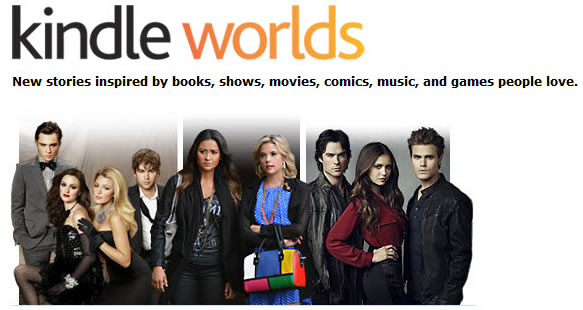 Amazon launched its Kindle Worlds fan fiction platform just over a year ago, and the concept has been a great success for both the rights holders who license content to the site and the fans who adore the concepts and story lines of their favorite authors. These reader fans have often taken to writing their own continuation of the stories once the book ends, largely due to the profound way that the story spoke to the readers.
While fan fiction has its critics, the concept has been around for some time. Thanks to Kindle Worlds, fanfic writers can legally publish and monetize their creativity to a growing audience of readers who are interested in more content based on their favorite books. Through existing licensing agreements with specific "worlds," fanfic writers can sell their creations with the rights holders' support and encouragement.
Kindle Worlds has now announced the launch of four new "worlds," this time in the romance genre. Bella Andre, Lucy Kevin, Barbara Freethy, and HM Ward have signed on to allow their popular titles to be included in the platform, meaning the fans of those authors' works can now publish and sell their own adaptations of the characters and story lines that spoke to them.
"Romance is one of the most popular genres on Kindle, so we're particularly thrilled to welcome these Worlds from four of the most successful authors in the genre," said Nick Loeffler, General Manager of Kindle Worlds, in a press release. "It's a great opportunity for writers everywhere to work with beloved characters and storylines that have millions of fans."
Writers who are interested in submitting their content on the story lines that these authors have offered for license should visit KindleWorlds.com for more information and to see which specific series from these authors are available for fan fiction writers to use.