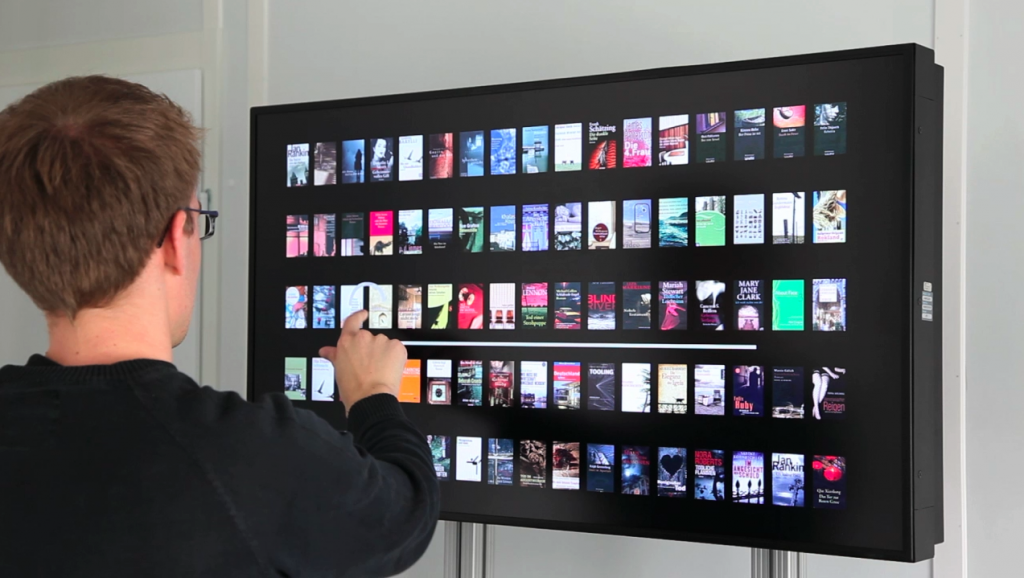 Libraries in all over the world are undergoing a digital renaissance as major publishers have firmly committed themselves to the concept of making e-Books available. Today, we look at some of the biggest trends facing libraries in Canada, US and United Kingdom.
A recent report by the Library Journal has stated that 95% of all US libraries have an e-book collection. That's up from 89% in both 2013 and 2012, when researchers thought that adoption had plateaued for good. The average number of e-books carried was 20,244 by each library, but that of course was skewed toward large libraries. Medium sized libraries statistically had around 10,434 titles.
Over 10 different libraries in the US and Canada had over one million digital loans in 2014, with two libraries lending out two million e-Books. This number will likely double in 2015, as companies like 3M Cloud Library and Baker and Taylor begin to gain further traction.
e-Books are doing quite well in the US, but over in the UK a sustainable model is still trying to be established by the government, libraries and major publishers.   In May 2013 the UK government funded a review looking into the viability of allowing customers to borrow eBook, without all of the drama. The Sieghart Review said publishers should not limit the supply of e-books in the same way that physical book loans are controlled, including the lending of each digital copy to one reader at a time, securely removing eBooks after lending and having digital books "deteriorate after a number of loans".
A pilot project was initiated in four UK libraries in March 2014 that augmented the digital loaning period for up to 21 days and included a number of front-list titles, including bestsellers that just came out. The essence of the pilot is to carry out real-time, real-world research into the impact of eBook lending in public libraries on authors, publishers and on the library service so that a suitable and sustainable model.
Its been around six months since the pilot was first initiated and there has been some interesting findings. All four participating authorities have seen a significant increase in e-lending,  with longer loan periods leading to more titles being borrowed. The project has also found the increase in e-lending is not decreasing physical lending or footfall to libraries. They also found customers were not using the "Buy it Now" button to purchase an e-book.
Audiobooks to be the next big thing

In 2007 a paltry 3,073 audiobook titles were produced and this figure rose exponentially to over 12,000 published in 2011. In 2013 many industry experts proclaimed that over 20,000 audiobooks were now available and in 2014 over 35,000 were released by major publishers and companies like Audible.
The global audiobook industry is currently worth 2.6 billion dollars and part of the reason why we have seen a dramatic increase in profitability is due to digital. In a recent  New York Times piece, they said "In the first eight months of 2014, sales were up 28% over the same period last year, far outstripping the growth of e-books, which rose 6%"
Digital audiobooks are finally starting to find their stride thanks to libraries embracing them in a big way. There are a number of major players providing audio services to libraries, 3M Cloud Library, Baker & Taylor, Hoopla and Overdrive. For the most part, these are the exact same companies that provide the libraries e-Book portfolio.
Many of the top audiobook distributors lean on 3rd parties for a full catalog of content. 3M and Baker and Taylor both get their audio editions from Findaway World, which is current market leader in production. Findaway has a catalog of over 50,000 titles and maintains production studios, narrators and crew in New York. Overdrive has their own internal solution, where they approach publishers directly and don't do business with companies such as Audible or Findaway World.
Tom Mercer, Marketing Manager of 3M Cloud Library said "we see a tremendous opportunity to grow in the Audio space in 2015. Right now we're two weeks into the "real world" of Audio, but customers really seem to like our solution. Our initial Beta feedback from very positive."
Hoopla is an audiobook solution for libraries that floats under the radar, but are quickly making a name for themselves. The company has a catalog of 13,000 titles with 1,000 added each month. Hoopla deals with over 100 libraries in the US and charges no licensing fees with setting up the system, which is quite appealing to the average library. How does Hoopla make money? The company has employed the Pay Per Use model, which only charges the library when a specific title is checked out by a patron. The San Francisco Public Library said they are are predicting that in 2015 more companies will embrace the Hoopla model, which will lower costs for libraries and get more content in-front of the patrons.
How well are the publishers doing in the audiobook sector? Cheryl Herman, marketing director for Penguin Random House's Books on Tape & Listening Library said. "Our library sales for digital audio are up nearly 35% over 2014, we're offering more and more titles on audio, and we're not alone in that. There are also more players entering the market, and more titles overall being published than ever before."
In 2015 digital audiobooks will gain further traction in libraries due to tapes and CD's no longer being economically viable. Overdrive, the current leader in audiobook sales for libraries are developing a HTML5 based streaming solution that will allow patrons to listen to audiobooks without the need of the Overdrive Media Console.  This will be tremendously beneficial to users who employ alternative operating systems on their mobile devices, such as Firefox OS, Blackberry or Tizen.
Digital Newspapers and Magazines to gain more traction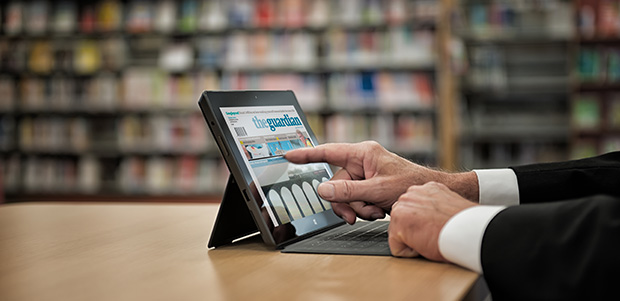 Thousands of libraries are starting to embrace digital newspapers and magazine content. They are doing this because not only are the latest issues available but also back issues.
One of the ways this type of content is really shining is attributed to libraries installing tablets and e-readers in their different branches.  One example of this is the San Francisco Public Library system unveiling their new e-news center at their main branch and has since expanded it to Chinatown and North Beach. The premise is to draw attention to the virtues of reading digital magazines and newspapers on a bunch of Apple iPads. The actual content is provided by Vancouver based PressReader, who is quickly becoming a force to be reckoned with in the library sector.
Pressreader might very well be the largest company involved in distributing newspaper and magazine titles to libraries, but the limited competition is prompting new entrants to enter the market. EBSCO Information Services introduced Flipster in October. It  allows library patrons to browse the latest issues of high quality digital versions of popular magazines on iOS.
Senior Vice President for Product Management, Michael Laddin says that Flipster is a new way for EBSCO customers to provide content to their end users. "By providing a high quality digital reading experience for library patrons, whether they are at the library or accessing the digital magazines remotely, Flipster offers a unique approach for experiencing content in popular magazines as well as extending library services in an exciting new way. It has been designed especially for library patrons who want to browse the latest issues of popular magazines. Flipster complements EBSCO's full-text databases (e.g., MasterFILE, MAS, Business Source, etc.) which enable patrons to research topics of interest to them."
Not only are libraries leaning on 3rd parties to provide their digital newspapers and magazines, but some are actually digitizing it themselves. The Brooklyn Public Library system recently announced a new initiative to digitize backlist newspaper archives in order to make them available to the public via their online portal. This initiative, which will make all copies of the original Brooklyn newspaper,The Brooklyn Daily Eagle, available digitally. The original content was stored on microfilm from the Library of Congress.
I scan Google News for library news every single day and I have noticed a huge uptick in libraries announcing new partnerships for digital magazines and newspapers. Every week between 5 and 25 locations are buying into this concept and there is obvious value to their patrons. By going digital, they last forever and unlike e-Books there is not a one book, one lend policy. Magazines can be loaned out in abundance, which makes them a stellar value proposition. Likely in 2015, we will start to see even more companies entering this space to compete against PressReader and Zinio.
Here and There
The Queens Library system in New York has developed their own proprietary app for Android and iOS. It offers library patrons seamless search and access to audiobooks from Acoustik, magazines from Zinio, and eBooks from OverDrive and Baker & Taylor's Axis 360 platform. Other features include location, mapping, and contact information for each branch, a catalog search, an ISBN barcode scanning function that enables users to scan books in retail environments to see if titles are available at their library, an events schedule that enables registration, an "ask a librarian" live chat service, a contact information form, and even a text-to-donate option.
Since the apps launch in July they had 5,400 installations on iOS and more than 3,300 on Android. This has prompted Queens to start marketing the app creation service to smaller branches with little to no IT investment. One app to rule them all, this will be big in 2015.
One of the big trends in 2014 was new libraries forgoing books altogether and embracing digital 100%. The first library to do this was the Bibliotech in Austin and Omaha announced plans to construct one in 2015.
In 2015 more libraries will begin to offer their e-Book collections to residents living outside that particular county or city. Charging non-residents $50 to $75 a year will help offset that libraries digital investment and provide an alternative revenue stream to invest in better catalog.
In early 2014 Overdrive and Smashwords signed a new agreement to get 200,000 indie titles available to the library. Right now on the backend collection managers are finding it hard to select and purchase quality content. Look for this to change in 2015, I heard its going to be more refined. I have also heard rumors that other self-publishing companies such as LULU and maybe even Kindle Direct Publishing to get involved in this space.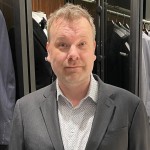 Michael Kozlowski has written about audiobooks and e-readers for the past twelve years. Newspapers and websites such as the CBC, CNET, Engadget, Huffington Post and the New York Times have picked up his articles. He Lives in Vancouver, British Columbia, Canada.