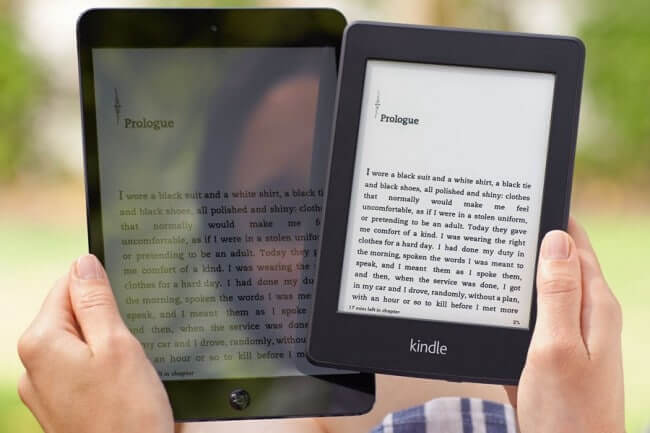 The e-reader industry has lost most of its innovative spirit, the vast majority of companies that were around from 2007 to 2011 are all out of business. There was some truly interesting e-paper technology that could have changed the game, such as Bridgestone e-paper, Liquavista, LG, Mirasol, Pixel QI, and Plastic Logic. The reason why most of these companies abandoned the e-reader space, was because all of the notable players were risk adverse. Amazon, Barnes & Noble and Kobo are currently maintaining a holding pattern and not investing in new technology. This is bad for consumers because E-Ink, the only e-paper player left standing, cannot develop new technology if nobody wants to buy it.
E Ink has not made a higher resolution display since 2014's Carta HD. But at CES on Wednesday morning, the company disclosed that it is fully capable of delivering higher-resolution displays than what is currently on the market, but that it's up to its customers to figure out what, exactly, they want a next-generation e-reader to do.
"Our position on [higher-resolution displays] is that we can give it to you if you want, but it's a question if the average human being appreciate a display that's higher resolution than 300 PPI," said Giovanni Mancini, E Ink's Head of Global Marketing. "Some of our customers believe that 300 PPI is fine, but some believe that 265 PPI is fine. It's something we're leaving up to our customers."
The only way that e-reader companies will make higher resolution displays or bigger screens is enough customers bug them about it. This is easier said than done because most companies are tremendously inaccessible for the average e-book lover to contact.
Amazon has maintained a public email address for a number of years where die hard customers can suggest new software and hardware features. They do not promote it, but if you want to bug Amazon you can send them an email directly to kindle-feedback@amazon.com.
Kobo does not maintain a public email address to contact them on things you would like to see on future e-readers. They do maintain a program called Kobo Insiders where they solicit feedback from the online community. Insiders is normally invite only, but if you feel compelled to report a bug or suggest new features you can manually register by clicking HERE.
I recommend everyone register to Kobo Insiders and send Amazon an email. Tell them exactly what you want in a next generation e-reader. If enough people bug them about it they have to do something.

Michael Kozlowski has been writing about audiobooks and e-readers for the past twelve years. His articles have been picked up by major and local news sources and websites such as the CBC, CNET, Engadget, Huffington Post and the New York Times. He Lives in Vancouver, British Columbia, Canada.