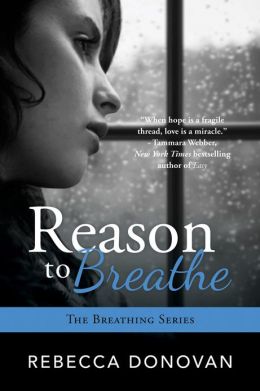 Verdict: 4 Stars
It's really hard to rate this book. On the one hand, I can appreciate its story merits and its journey from self-published title to its release from Skyscape, Amazon Publishing's children's book imprint. But as a new adult title, I also want to slam the covers shut and say, "This is completely implausible, this never happens."
But I can't. While I'm a decidedly more mature reader than Rebecca Donovan's intended audience, I am also a veteran teacher with sixteen years' experience in ignorantly turning the other way while students in my classroom suffered in silence the way Donovan's heroine Emma does.
On the unbelievable front, it's tempting to dismiss this series (of which books one and two are available, with a third book on the way). Too often, writers incorporate a tragic character who lives in unspeakable abuse without ever speaking up. In Donovan's case, the scenario is even more appalling, as Emma's best friend is the daughter of a prominent judge. If anyone on the planet was suited to help Emma, it's Sara. But she, too, does nothing, despite being aware of the abuse Emma suffers from her custodial aunt and uncle.
But as a discerning reader, I have to come back to this question: if these themes are so common as to be almost eye-rollingly overdone, doesn't that speak to the fact that young adult readers are desperate for characters and story lines like this, books with which they can identify? What if this book isn't a tired-out plot about a silent Cinderella who cannot let anyone find out her secret? What if it's actually so shockingly common that teens snap up these titles, looking for hope? It is us "mature" and "discerning" readers who might actually be the villains for not seeing these readers for ourselves.
While the writing and language weren't necessarily the most stellar that I've read, again, Donovan wasn't picturing me and my literary tastes when she puts word to paper. This book, like those of authors such as Ellen Hopkins, Cheryl Rainfield, Dave Peltzer, and Cyndy Drew Etler, stands to be so much more than just a story to some young reader who knows Emma's situation all too well. What it might lack in writing compared to some great books today it more than makes up for in importance. Its existence on school library shelves is vital.
Reason to Breathe (Book One in the Breathing Series) is available from Amazon, Barnes and Noble, Apple, and more. Barely Breathing is also available.

Mercy Pilkington is a Senior Editor for Good e-Reader. She is also the CEO and founder of a hybrid publishing and consulting company.