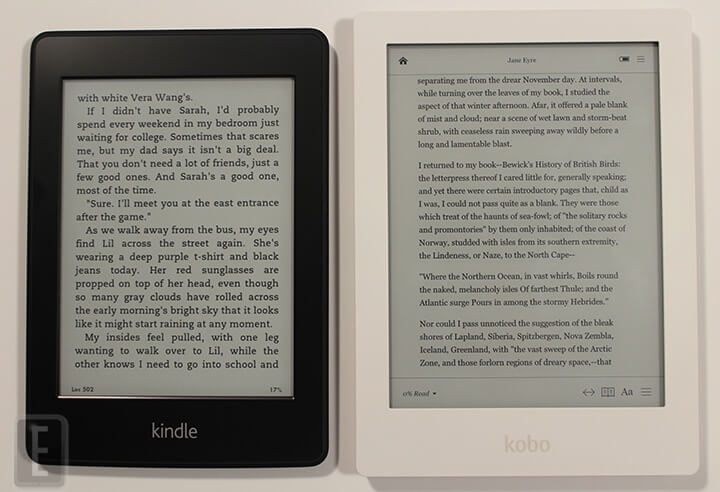 Amazon and Kobo both have a number of electronic readers in their portfolio. Each of these devices are bundled with a digital bookstore that customers can easily purchase e-books, comics and manga. Amazon was first to market and Kobo a few years later. Over the course of the past four years Kobo has managed to out-innovate Amazon with a number of features never seen on e-readers before. The scrappy Toronto startup is starting to win over customers as people flee from Barnes and Noble or when other bookstores go out of business.
Amazon has been obsessed with six inch e-readers and the only innovation they made in the past five years was the capacitive page turn buttons on the Kindle Voyage and the Kindle Oasis which has a built in battery on the cover. On a software level they implemented the fast page turn engine on most Kindle e-readers and leveraged their Comixology and GoodReads acquisitions for a book-centric social network and Guided View technology for digital comics. When you borrow an ebook from the public libraries website there is a "Send to Kindle" option to deliver content to the cloud and then to your Kindle. Amazon was also the first out of these two companies to start an Unlimited Reading program, where you pay a small monthly fee to read a certain number of titles. Kobo also a program, but is only operational in the Netherlands.
Kobo has released a series of waterproof e-readers that customers have gravitated towards, it allows you to read in the bathtub or the beach. Kobo has also bucked the standard six inch trend and released the Mini which was five inches and the brand new Kobo Aura One that is 7.8 inches. If you love to borrow ebooks from the library, the Kobo Aura One has has built in Overdrive functionality so you can browse your local branches collection and borrow them right on the device. Kobo also was a pioneer in regards to their illuminated display. They were the first ones to incorporate an RGB color system, this allows you to read easier at night and mutes the bright white screen.
Kobo has managed to outscale Amazon in key international markets. They enter a market by establishing partnerships with agents and former publishing executives who know the local market. They get thousands of local titles and sell their e-readers in bookstores, where their average customer is more willing to purchase one. Something has to be said about holding an e-reader in your hands and trying it out before you buy it. Amazon on the other hand tends to only sell their devices online or in their own bookstores.
Over the past few years e-book sales have plummeted and many companies have gone out of business. Sony suspended making consumer e-readers and closed down their bookstore. Blinkbox Books and Barnes and Noble closed down their UK operations and transferred all of their user accounts over to Kobo. This has resulted in over 500,000 new people that have joined the Kobo ecosystem and have purchased digital content.
Kobo CEO Michael Tamblyn explained the process "Most companies that started out between 2009-2014 have run into one of a number of walls related to scaling – they couldn't capture enough share to make publishers interested, couldn't get big enough to keep investors interested, tried out a business model that didn't work, couldn't raise cash after VCs moved on from ebooks to the next shiny thing, or their parent company didn't see a path to profitability and decided to wind down. Whatever the reason, Kobo's focus is making sure that people who bought ebooks can keep their libraries intact and continue on with us as happy customers. It's so gratifying to get messages from these newly-migrated customers who are so relieved that their books aren't going away, who get to upgrade to newer, better ereaders, who were stuck on apps that hadn't been updated in years and now get to see how mobile reading has jumped forward. And the companies who are working with us are happy too. Instead of angry customers wondering where their books went, readers and their libraries are taken care of. It isn't always easy, but we do our very best to make it a soft landing for everyone."
Wrap Up
Amazon is really spread out and it is hard for them to innovate anymore. The executives and business management is based out of Seattle and their Research and Development branch, LAB126, is in California. Amazon sells the most e-books and the Kindle is the most popular e-reader in the United States and the United Kingdom. Almost the entire Kobo organization is based out of Toronto and new e-readers are designed and software is developed at the same location. It is easier to innovate when everyone is at the same place. Amazon is not exclusively focused on e-readers, they have the Echo, Fire Tables, Alexa and Fire TV. They have their own clothing line and deliver groceries right to your house. Kobo, is exclusively focused on developing e-readers and selling e-books. This is why Kobo has managed to out innovate Amazon and why they will continue to erode their market share in the coming years.

Michael Kozlowski is the Editor in Chief of Good e-Reader. He has been writing about audiobooks and e-readers for the past ten years. His articles have been picked up by major and local news sources and websites such as the CBC, CNET, Engadget, Huffington Post and the New York Times.