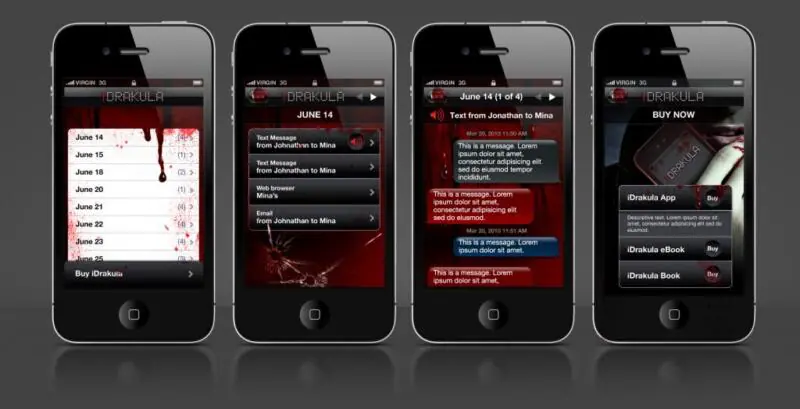 Move over, tired old ebooks. Make way for a whole new format for digital reading. As if the advent of dedicated e-readers and PC or tablet-based reading apps wasn't innovative enough, a new design for electronic reading has gained widespread popularity: digital books via text messaging.
Popular in Japan, entire ebooks are being sent to subscribers' cell phones in bite-sized text messages, keeping the reader on his toes and up-to-date with new content that arrives in the same instant access nutshell as other user-friendly forms of e-communication.
While the idea of reading an entire novel in 160-character chunks may not appeal to all readers, there is already a market for reading a novel in multi-media formats. Bekka Black, author of the enhanced app book iDrakula, has demonstrated that many readers enjoy reading a novel in the same way that they are accustomed to getting other information.
"I was on a book tour for my Rebecca Cantrell murder mystery series and while I was at a restaurant, I saw kids at the same table texting to each other," explains Black about what prompted this concept. "Kids today are living on their phones. I interacted with words in books as a kid, but kids today interact with words on a screen. If texting is where kids are, then it's logical that that's where books should go. I wrote this book as if all the characters in the book had their cell phones. The original book is actually written in sort of multi-media format; there are diary entries, ship's manifests, and type-written letters."
And iDrakula captures that variety with text messages and emails between characters, web pages with information that the characters would have Googled, recipe pages from cooking sites from Romania, even travel sites with the itineraries for various characters to arrange passage. But while that makes for a fun read, it can prove very difficult for the author.
"It's hard, because as a writer you take all of your best tools and you throw them out when you're writing in text. The tools are very different and you have to accommodate that."
After completing iDrakula and the accompanying teacher's guide, Black has continued in the same vein with iFrankenstein. As she did with iDrakula, the author has taken a few liberties with the characters and plot line in order to present an updated format to a current audience.
"Instead of being an actual flesh-and-blood monster, this creature is an online virtual chatbot. The story centers around the teenager who created it before it goes out of control. The timeline for this book is putting it hopefully coming out for next Halloween. Unlike iDrakula, this one is heavily visual but less audio. We get to watch the evolving sentience of this online monster. This storyline is more for boys, where iDrakula was geared a little more for girls."
These apps from Black are just some of the exciting enhanced digital publishing content that Sourcebooks CEO Dominique Raccah spoke about in an interview with GoodEReader at Digital Book World. At the time, Raccah was excited about the near-future of enhanced ebooks for middle grade and young adult readers, promising that big things were on the horizon for an age group that has been largely forgotten by so many of the enhanced ebook publishers.
Mercy Pilkington is a Senior Editor for Good e-Reader. She is also the CEO and founder of a hybrid publishing and consulting company.