Consumer e-readers such as the Amazon Kindle Paperwhite, Barnes and Noble Nook or various Kobo models are exclusively designed to read ebooks and buy them from integrated bookstores. Digital note taking devices or e-notes are traditionally much more expensive and they are designed to freehand draw, take notes, edit PDF files and annointate ebooks. These models range in sizes, but the best screen size is 13.3, since it can read A4 documents. These are traditionally PDF files, and you can view them as they were intended to be read, so customers do not need to pinch and zoom to read small text. There are only a handful of 13.3-inch devices on the market, that appeal to an English speaking audience.
A4 size paper is defined by the ISO 216 standard and is the most widely used paper size in Europe and Asia. The dimensions of A4 paper are expressed in centimetres (cm) in most European countries and in inches in many English-speaking countries. Printing in A4 is incredibly simple and it can be utilised in many different ways, such as for brochures, leaflets, magazines and flyers. The international letterhead A4 paper size is 21 x 29.7 cm, as defined by the ISO 216 standard. The A4 size paper measures 8.27 x 11.69 inches, only slightly larger than the close equivalent to U.S letter size 8.5 x 11 inches. Basically, A4 is a standard piece of paper that your printer uses.
Methodology
The purpose of this buyers guide is to give you an indication on what is available to buy right now and is the latest generation. This because previous generation models are discontinued, so they do not get regular firmware updates to keep things secure and address bug fixes. It is also hard to buy them new anymore, although you still can. The models on this list comprise of the best ones you can buy and support the English language. This disqualifies products such as the iFlytek Max, which only supports Chinese.
The vast majority of the e-notes on this list are exclusively available to buy online. They don't have any retail presence in North America or Europe. This makes it tremendously difficult to try, before you buy. You have to read reviews or watch review videos on YouTube to get a sense on what they are all about.
When it comes to 13.3 screens, they are mostly from companies that not have have a brand name that people recognize. Most people have heard of Amazon, B&N, Kobo in North America or Tolino in Germany or Bookeen in France. I suppose Fujitsu is the most well-known name on this list. However, don't let that discourage you from taking a leap of faith. 13.3 is far superior to 10.3 inch screens that can only read A5 documents. A5 has far more choice available, such as the Remarkable 2, Kobo Elipsa, Amazon Kindle Scribe, and many more.
The Fujitsu Quaderno A4 second generation is using a brand new E INK Carta 1250 e-paper display. It is the first product in the world to utilize this new screen technology.  It was originally developed both black and white displays, but also color e-notes. This version has a thinner film and faster ink, enabling faster page turns. This is really evident on large PDF files, whether they are textbooks, RPG manuals, graphic novels or manga, they are all lighting quick, faster than any e-note we have ever reviewed. When employing the stylus, 1250 also has less latency, you can expect less than 30 milliseconds.
The A4 features a 13.3 inch E INK display with a resolution of 1650 x 2200 with 207 PPI. You will be able to interact with various UI elements with just your finger, thanks to the capacitive touchscreen display. Fujitsu is utilizing a WACOM display for the first time. It comes with a free stock stylus, but you can basically use any stylus you want, including Remarkable 2 pen, Lamy Al-Star or iReader X Pen. You do not want to use the Supernote pens on this device, because their nibs are made of ceramic and will damage the screen.
Fujitsu is the only company this year to go with an exposed e-paper display, instead of employing a flush screen and bezel, with a layer of of glass. This provides a myriad of positive benefits, such as natural or artificial light being absorbed, while glass reflects it. There is more torque on the stylus and friction when drawing on e-paper, this provides a better drawing experience and feels more organic. The only other e-note that has been released in the past 3-4 years with an exposed display was the Sony DPT-CP1 and RP1, the previous generation Fujitsu A4 and the Remarkable 1. Here at Good e-Reader we have reviewed every single e-note in the world, and have found that drawing on glass is not the same experience as drawing on e-paper directly.
The Fujitsu A4 is powered by a Cortex A53 Quad-core 1.8 GHZ processor, 4GB of RAM and 32GB of internal storage, which is good for storing around 10,000 PDF files. It has a USB-C port, which is great for people who want one cable for all of their devices. It has WIFI, Bluetooth 5.0 and NFC support for FeliCa (screen unlock) and NFC Forum Type 4 Tag (easy connection with QUADERNO Mobile App). This is great to basically lock your device and make it inaccessible from people who pick up when you are not around or if it gets stolen. You will easily get up to 4 weeks of usage before you have to recharge it. The dimensions are 222.8mm x 301.1mm x 5.7mm and weighs 368g.
I believe that the Quaderno with the exposed e-paper screen and Carta 1250 display is the best e-note currently available. It is not designed to read books, but to exclusively read and edit PDF files. Writing on the Quaderno is the best on this list, latency is next to nothing when drawing. It came out in 2021 and is due for a refresh soon, it retails for $769.99 and is available from the Good e-Reader Store. It also has a Google Play variant and this costs $1,000, including software and hardware.
Onyx is marketing the Tab X is a Tablet PC, and they aren't joking. This is the most responsive tablet on the market, everything is super fast. There are 4 different speed modes (HD, Performance, Fast and Ultra Fast) to increase the overall performance. HD will give you unparalleled image quality and is the default setting. Ultra Fast, will allow you to play Android Games, use apps and watch YouTube videos with little to no framerate issues, the first tablet I have ever used with an E INK screen. Used in conjunction with the Onyx Boox Keyboard, you can turn the X into a productivity powerhouse.
The Onyx Boox Tab X features an E INK Carta 1250 display panel with a Mobius flexible e-paper display. Carta 1250 brings all of the benefits of the Carta 1200 technology, such as the 30% increase in overall performance, along with with the new enhancement of less latency when using the new Boox Pen 2 Pro stylus. The Tab X has a resolution of 2200×1650 with 207 PPI. Users will be able to use this in the dark or low light conditions, thanks to the front-lit display and color temperature system, which provides both cool and warm light.
Underneath the hood is a Qualcomm Snapdragon processor, 6GB of RAM and 128GB of internal storage. It has twin speakers to listen to audiobooks, podcasts or music. Bluetooth 5.0 is also onboard if you prefer to pair wireless headphones or an external speaker. You can connect up to the internet via WIFI to use the browser or install apps from Google Play, it is also using Android 11. There is a USB-C port to transfer data, and also charge the device. It is powered by a gauruntune 6300 mAh battery, which is the largest battery ever found on an E INK product. The dimensions are 310x228x6.8mm and weighs. 560g.
The Tab X ships with Google Android 11, which seems like the most modern version of Android that e-readers or e-notes are capable of handling. Google Play is preinstalled out of the box, as well as Google Play Services. This means all of the core Google apps like Books, Maps, or Gmail will just work. It also provides a great avenue to download millions of of free and paid apps.
The Tab X departs ever so slightly from the Max and Max Lumi line of devices It seems more professional and adult and more focused on workplace solutions rather than simple e-reading or note-taking It comes with a heavy price tag, but with that you get the best 13.3 inch available right now
You also get an extremely high quality Pen 2 Pro with purchase. It's packed with specs, stereo speakers, and two colors of glow light. Google play out of the box is a major selling point. There's four different speed modes along with four split screen modes including an instant translate supported by both Bing and Google. This is likely the best 13.3 on the market, in terms of form and function. It can take notes, read books and install apps. It retails for $879.99 from the Good e-Reader Store.
The Hanvon N10 Max featuring a 13.3-inch E Ink display. Hanvon said the N10 Max comes with a flexible screen micro-suspension design which makes the surface have a soft and elastic feel to it. This, the company said, will add to the writing pleasure as it mimics the feel you have when writing on a thick sheet of paper. Hanvon said this makes for a more natural writing experience compared to what you have while writing on a plastic or glass surface that can be slippery at times.
Hanvon further stated the 13.3-inch display of the N10 Max does not emit harmful blue light. The A4-sized display area is also 40 percent more than N10 which comes with a 10.3-inch E Ink display. The display is also backed by the company's proprietary 16-level grayscale algorithm which simulates a 256-level grayscale display. Accompanying the N10 Max is the company's very own wireless passive electromagnetic pen that does not need to be charged separately. The pen which sports a nice shade of darkish purple offers support for 4096 levels of pressure sensitivity and comes with two integrated replacement refills.
The N10 Max otherwise features a 1.8 GHz quad-core RK3566 processor coupled to a massive 8 gigs of LPDDR4X memory and 128 GB of storage, which puts it in the notebook category. There is support for adding external storage as well if the need arises. The e-note device runs Android 11 and comes with a massive 4000 mAh battery. Connectivity options it supports include Bluetooth 5.0 and Wi-Fi while there also is a USB Type-C port as well. There are dual speakers and a mic onboard too. In spite of its size, the e-note is quite slim at just 6.6mm while weighing just 480 grams.
Apart from the impressive hardware specs, the Hanvon N10 Max also comes with some nice software features as well. Those include a voice transcription feature in real-time which supports handwriting, transcription, and recording. Equipped with the company's latest generation analysis core, the e-note offers an optimum reading experience covering more than ten of the most common document formats. Those include the likes of PDF, ePUB, TXT, PDF, EPUB, MOBI, and so on. The company also added even more complex PDF files that will open and turn faster. It retails for $1360 and is available from the Good e-Reader Store, suffice to say, it is the most expensive model on this list.
Bigme is a company based in China and this is a market they have exclusively been focusing on for the past few years. Their devices were not very compelling because they only supported Chinese. This all changed in 2022, when the company has pivoted and now supports English, they also have been developing business relationships with resellers and distribution partners to market their products in Western Europe and North America. The Bigme X6 is their first large screen e-reader and e-note, it has a massive 13.3-inch display, which will read A4 documents.
The big selling points of the X6 is the 13.3-inch display and some of the best hardware in the business. It has an octa-core processor, 6GB of RAM and 128GB of internal storage. It will easily handle thousands of books and large PDF documents. It is running Android 11, and has Google Play available to install millions of apps.The Bigme X6 features a 13.3-inch E INK Carta HD e-paper display with a resolution of 2220×1650 with 207 PPI. The screen is flush with the bezel and protected by a layer of glass. The color scheme is a light grey, which blends very nicely with the grey screen. It has 36 white and amber LED lights, which is rare on a 13.3, so there is a front light and color temperature system.
Underneath the hood is an octa core 2.3GHZ processor, 6GB of RAM and 128 GB of internal storage. You will be able to connect to the internet with WIFI, it has Bluetooth 5.1, users can pair wireless headphones or earbuds to listen to audiobooks, podcasts or music. If you don't feel like using headphones, there is a pair of stereo speakers on the back. The dimensions are 306.5x230x7.9mm and weighs 676 g or 1.49 LBS
This e-note has a "dual microphone voice array" and text to speech capability. Bigme claims it'll do real time transcription of 27 different dialects and over 20 different languages with an accuracy rate of 98%. It will automatically translate books from one language to another.
The X6 also supports handwriting in more than a dozen mainstream formats such as PDF, EPUB, TXT, FB2, AZW3, etc. It is easy to take notes and make annotations. For professional-level and complex documents with large layout and complex typesetting, X6 easily supports the presentation of original versions in various formats, enjoying the "authentic" reading pleasure and higher efficiency. It is also equipped with Bigme's exclusive magnetic smart remote-control pen, whether it is handwriting or remote voice control, it can be retracted freely. For example, page turning, sleep wake-up, front light switch and custom button functions can all be easily completed by the smart remote-control pen. At the same time, you can also enter the voice remote control mode with one key, including new meeting minutes, hand notes, opening PDF files screenshots, etc. It is very convenient. The smart remote-control pen can be directly attached to the leather case when it is not in use.
The build quality is tremendous and the writing experience is a paper like feel and included pen is a very versatile piece of technology that allows you to connect via Bluetooth for added features They also include a free case with the purchase of a unit which just adds to the experience and alleviates any concerns over the protection of their device as a consumer. Everything on this unit is so well laid out and easy to understand. It's dual microphone setup allows you to easily dictate and translate your voice with little errors There aren't many modern 13.3 devices in the industry, and BIGME is releasing theirs at a very crucial juncture. It retails for $950 and is available from the Good e-Reader Store.
Dasung is a company that specializes in dedicated E INK monitors and to a lesser degree, their Not an e-Reader series of writing slates. A couple of months ago the company got their hands on a number of Sony Digital Papers, the DPT-RP1 models and rebranded it. They loaded Google Android on it and a small Chinese app store for 5 apps, however you cannot sideload any apps. The writing experience is quite abysmal, there are only a few pen sizes and colors, with no pressure sensitivity on the accompanied stylus. The device can only read PDF files, for the purpose of drawing on, but there is a stock reader app, where at least you can load in your own books.
The Dasung A4 is a hodgepodge of functionality, but doesn't do anything great. There is lots of ghosting whenever a few pages have been turned in a PDF file and you always have to refresh the screen. The only redeeming qualities are the stuff Sony did, when this model first came out 3-4 years ago, such as split screen view, where you can have two different documents open at the same time, or one PDF file and the note taking app on the other. There is no cloud storage for documents, so you have to make sure to back them up accordingly. I think this is literally the worst e-note that has ever been released in the modern era and would avoid it all costs.
When we conducted our review of the Dasung A4, the company reached out to me and stated, if we did not revise our review, they would never send us a review unit or sample again. This was a small price to pay to keep our review honest. Although, this is the only 13.3 the company has ever released, it is not very good. If you have a hankering for pain and love to be a masochist, you can buy it from the Good e-Reader Store for $799.99.
The Mooink Pro 2 features 13.3-inch E INK Carta 1250 display, which gives you 20% better contrast. It has a resolution of 1650 by 2200 with 206 PPI. It has a capacitive electromagnetic and electromagnetic induction support, which ensures that it is compatible with most EMR stylus, including the Lamy Al-Star, iReader X-Pen Gen 3 and the Staedtler Norris. It does not have a front-lit display or a reading light.
Underneath the hood is a quad core 1.8 GHZ processor, 2GB of RAM and 128GB of storage. Users will be able to charge their device and transfer data via the USB-C cable. It has Bluetooth 5.0 and Mooink says that users will be able to connect to Bluetooth keyboard, Bluetooth headset, Bluetooth page turners. One of the great things about this device is that it has NFC Support, for the MIFARE (Taiwan Travel Card), Felica (Hong Kong Octopus, Japan Suica Card) to unlock the screen. You will get around 21 days of battery life, thanks to the 2000 mAh battery.
The Readmoo bookstore is included on the Pro 2, and there are around 170,000 Chinese books that are available to purchase and download for free. This will also play audiobooks, but you need a pair of Bluetooth wireless headphones. You can draw inside of books with the accompanied stylus and any notes that are made are automatically synced with the cloud. There is also a dedicated note taking app, that has many different pens, pencils, highlighters and colors that are available. The pens have 4096 different levels of pressure sensitivity, so it is easy to draw thick and thin lines, based on how hard you press down. There is also a handwriting to text engine that is compatible with Cangjie, Express, Zhuyin, Pinyin, and English. It retails for $949 and is available from the Good e-Reader Store.
Kaite Silicone 
Kaite is a Japanese brand that does not use an E INK screen. It is battery free, so easy to import with no dangerous goods. The 13.3-inch screen is really nice to draw on with the Pen and comes with a dedicated eraser. This has limited functionality, it is just used to draw, make to-do-lists or doodle. It can't read any book formats or install apps.
The screen is using a microcapsule technology that is called 'clean paper technology.' The screen is full of microcapsules that are filled with iron partials. When you draw on the screen with the pen, the black partials are raised to the surface. The nib of the pen is made of a magnet, this is how they are able to have such a vibrant and responsive drawing experience. When you use the eraser on the top of the stylus, it sets the capsules back to their defaults. Best of all, these do not have an internal battery, so it can be shipped anywhere in the world, since it is not labeled as a dangerous good.
There is an app that you can download for Android and iOS that will take a picture of your screen, no matter the viewing angle and convert it all to data. You can then make edits, crop or rotate it, within the app. So you have some light editing functionality.  It can be saved as a PDF or PNG and exported to cloud storage, email account or to local storage.
I really like what Kaite is doing. Their products are similar to the Boogie Board, however the advantage Kaite has, is the screen looks like paper, so it has a very soft grey background and the text is really sharp black. Kaite devices have a good build quality and don't like cartoony, like their competitors. You can buy this from the Good e-Reader Store for $89.99.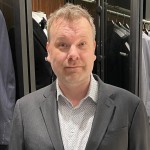 Michael Kozlowski has written about audiobooks and e-readers for the past twelve years. Newspapers and websites such as the CBC, CNET, Engadget, Huffington Post and the New York Times have picked up his articles. He Lives in Vancouver, British Columbia, Canada.