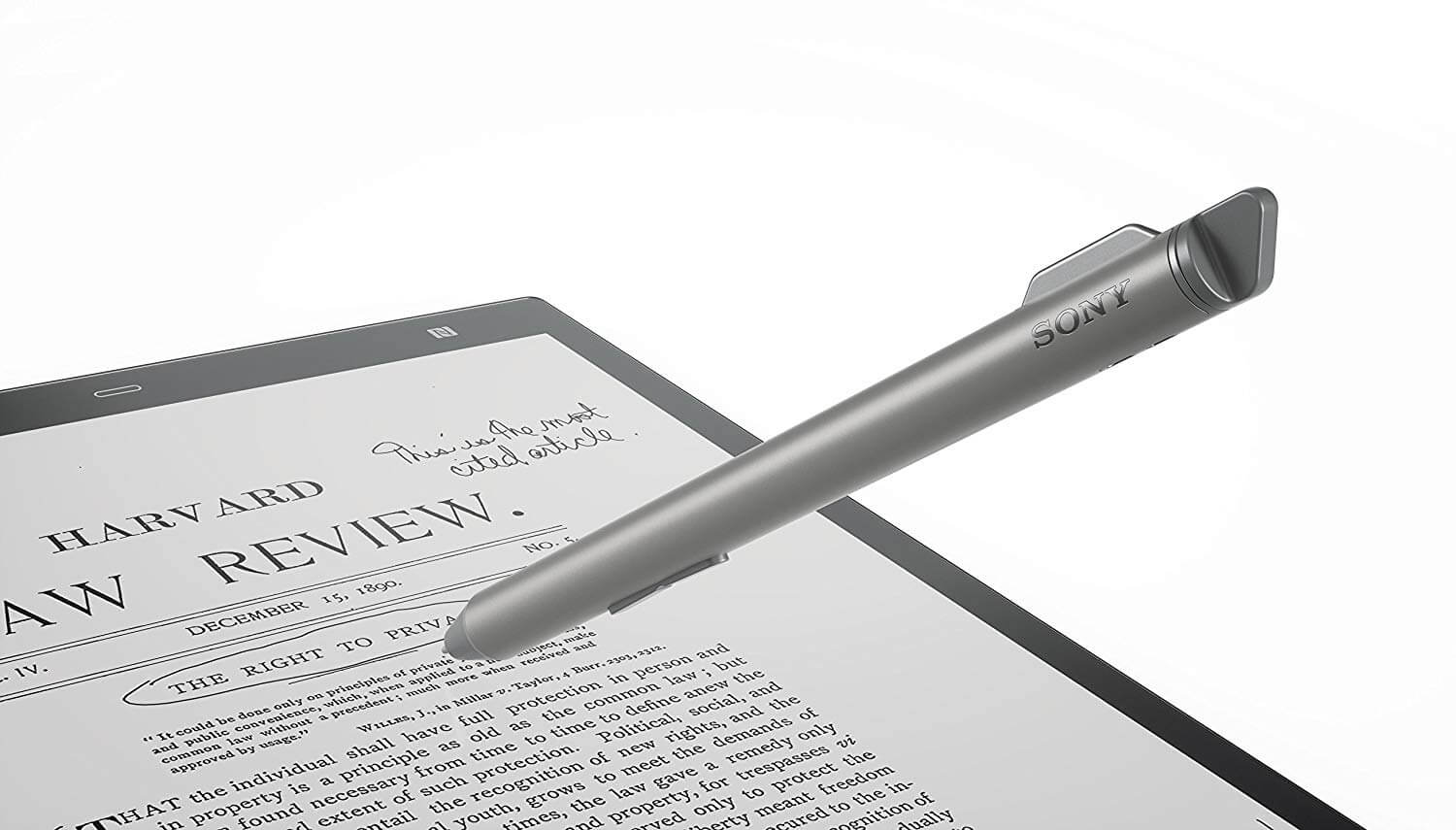 The e-reader industry used to target people who want to read ebooks on a small screen and was very portable. Over the course of the past few years there is a new crop of devices with E INK screens that target professionals, students and artists. These readers traditionally not only have really big screens, but have a WACOM layer that is compatible with a stylus to jot down notes, draw, make highlights or annotations. Some companies like Sony market their products as being a replacement for Paper, while Onyx hypes up the Android aspect and the compatibility with Google Play.
The vast majority of professional e-readers on the market feature a stylus that has over 2,000 degrees of pressure sensitivity. The Sony Digital Paper is the odd man out in this regard, their stylus does not have pressure sensitivity, only a few different preset options. All of the current gen devices do have palm rejection technology, which helps during long drawing sessions.
In the past two years digital taking devices have really grown up. It is now completely viable to buy a device that is optimized for drawing, taking notes or editing PDF files. It is a replacement for paper and many offices and corporations are starting to buy them in droves. Law firms are using them during court cases, contractors are bringing one their customers to sign a bunch of documents and the educational sector are also getting involved.
What are the best e-readers on the market that take notes? Here are the best brands Good e-Reader recommends.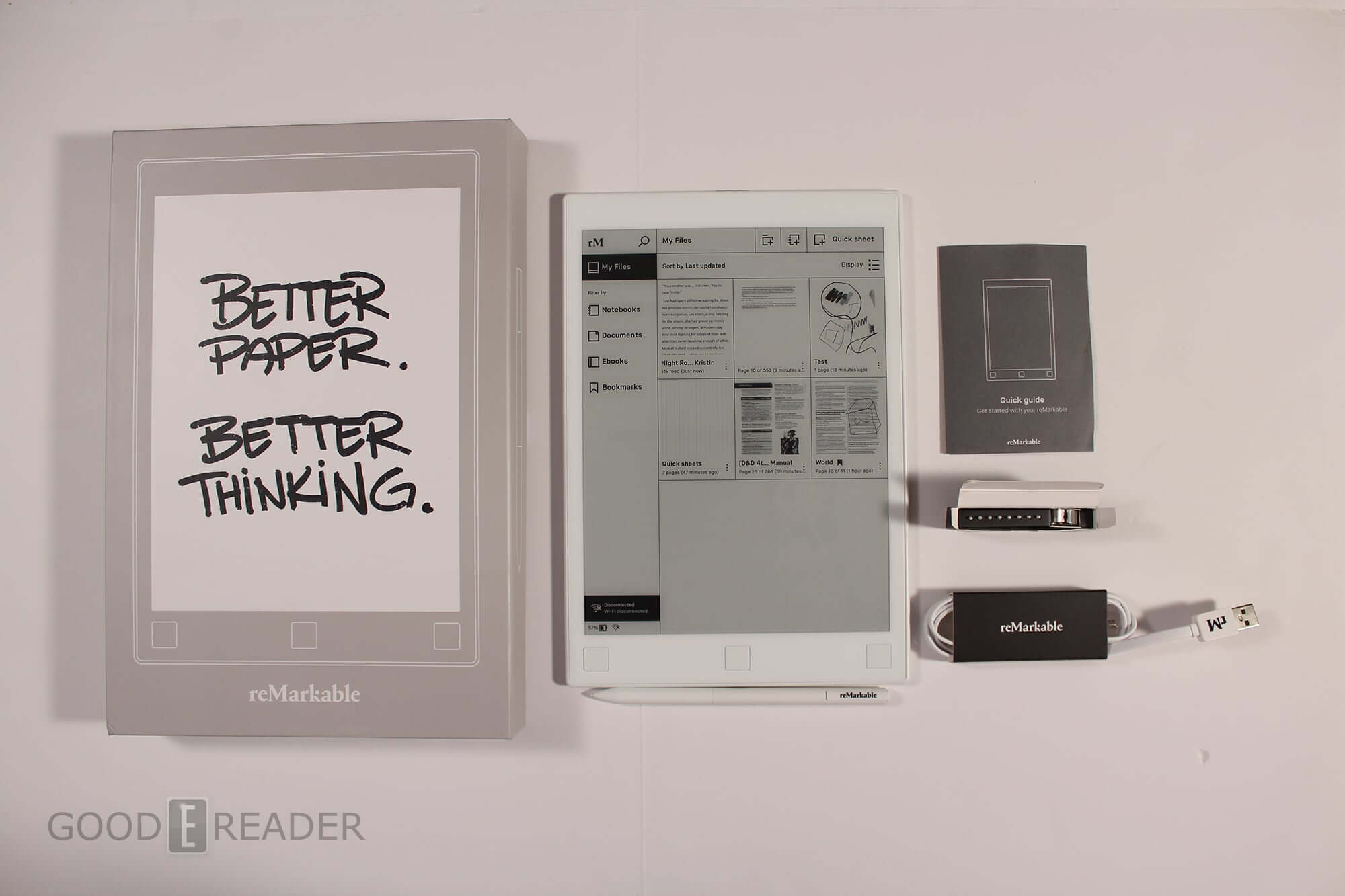 The Remarkable Writing Tablet features a 10.3-inch Canvas display and utilizes E-Ink Carta. The screen has a capacitive touchscreen and you can interact with most elements with your finger or the accompanied stylus. The note taking experience has palm rejection technology, which means you can easily rest your palm on it. The screen is completely flush with the bezel and the resolution is 1872×1404 with 226 PPI.
Underneath the hood is a 1GHZ Arm A8 CPU processor and 512MB of RAM. You have 8GB of internal storage and there is no SD card. The Remarkable has Wi-Fi that is primarily uses to fetch firmware updates and to synchronize your notes on a local network. This device does not have an internet browser or any other way to connect to websites.
The Remarkable can read and edit PDF files and EPUBS and has extensive note taking functionality. I would recommend this product to professionals who need a lightweight digital note taker and want to do some casual reading. Normal consumers should be aware that there is no internet browser, no RSS Reader, no apps or app market. It is a singular purpose product, you use it take notes or edit PDF files or EPUBS. That is it.
You can buy the Remarkable for $599 on Amazon.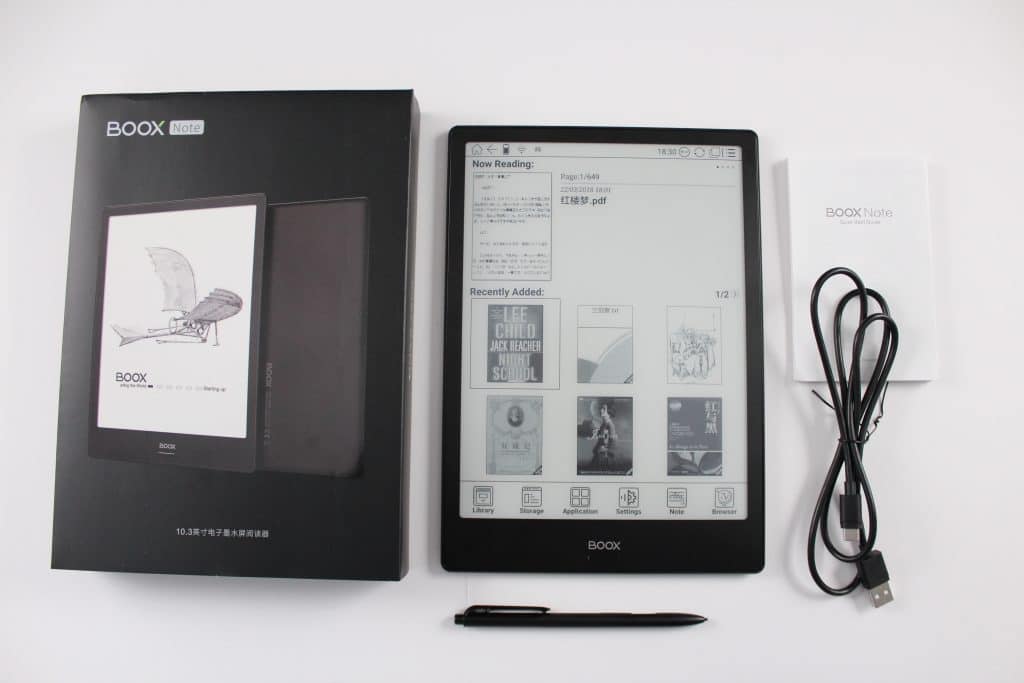 The Onyx Boox Note features a 10.3 e-reader with a flexible E-ink Carta display. It has a resolution of 1872×1404 and 227 PPI. The panel is comprised of Electromagnetic WACOM and a capacitive layer, which means you can use the accompanied stylus or use your fingers to interact with the screen or flip pages of an e-book. There is no stylus holder on the device, so make sure you do not lose it.
Underneath the hood is a 1.6GHZ quad core processor, 2GB of RAM, dual speakers, mic, Bluetooth and USB C. I have never seen an e-reader before with a quad core processor and this is a major selling point. The entire software experience is utterly amazing, apps instantly load and drawing has minimal latency. I was certainly not disappointed with any delays, which was surprising.
This device has modern version of Android and the Google Play Store. Onyx recently overhauled their UI, making it more intuitive to use. They also have dramatically increased the functionality of the note taking experience, making this one of the best and top selling digital note taking devices on the market.
The Note retails for $489 on the Good e-Reader Store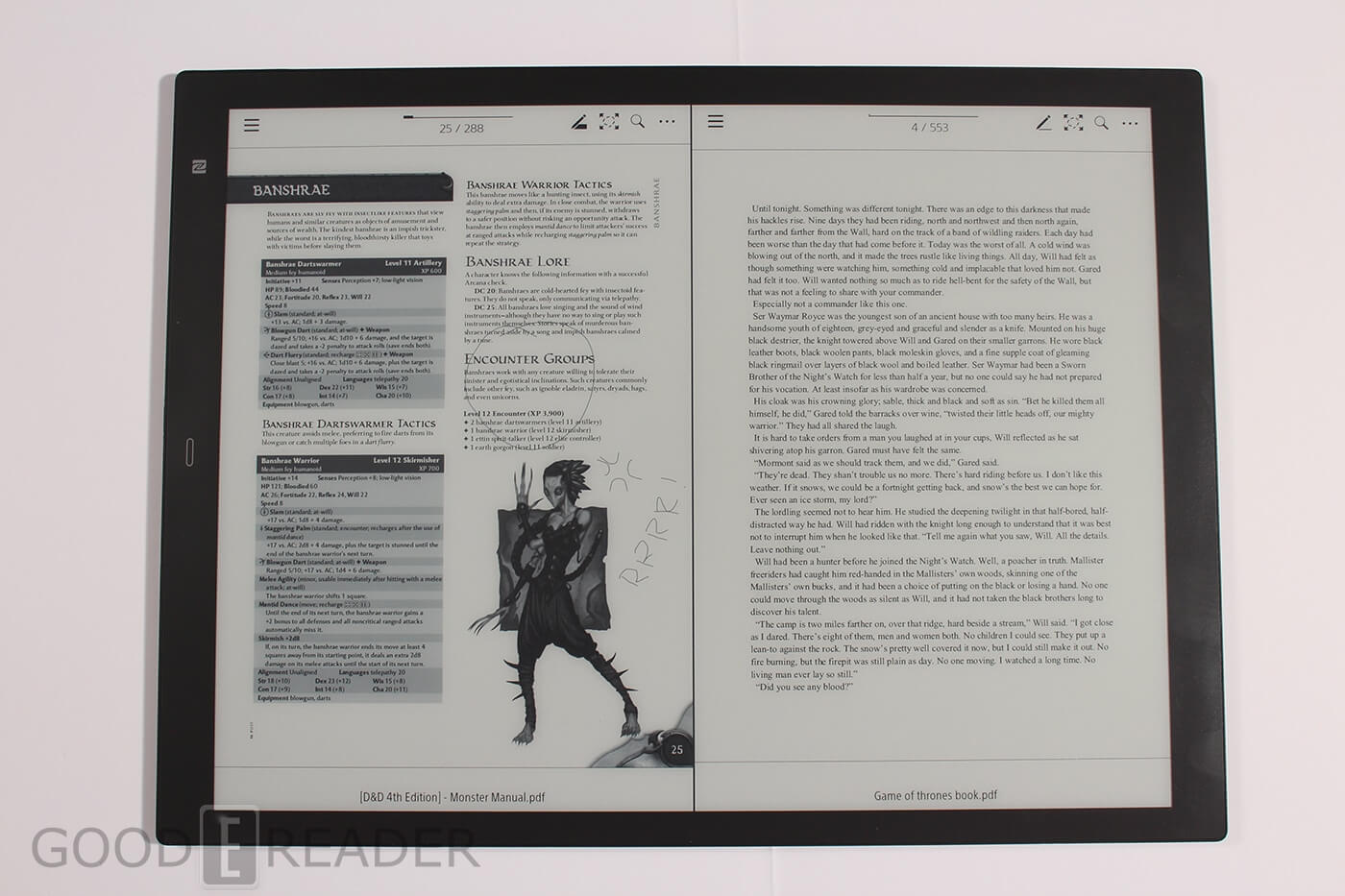 The DPT-RP1 features a 13.3 inch E-Ink Carta screen with a resolution of 2200 x 1650 and 207 PPI. The screen is completely flush with the bezel and not only does this make the device have a premium feel, it also provides a ton of benefits. You can easily employ the stylus to take notes from one edge of the screen to the other, whereas the original Digital Paper had a sunken screen and was more challenging to do this.
Sony has a ton of marketing material that they use the RPT to business users and professionals. They say that it uses a flexible display and it is indeed malleable, to a very small degree. You can lightly bend the bottom and edges of the bezel, but you not want to put a ton of pressure when trying to bend it or it will likely break.
Underneath the hood is a Marvell IAP140 64-bit Quad-core IoT Applications Processor and ARM Cortex-A53 CPU, up to 1.2GHz, and has a separate power low-power Cortex M3. It has 1GB of RAM and 16GB of internal memory, but when you power it on the first time, there is 11 GB. The rest is reserved for the Google Android operating system and some of the stock PDF templates that are available.
The Digital Paper has a singular purpose, to view and edit PDF files. The response time when drawing or taking notes is the best I have ever seen. It has no discernable lag whatsoever. This is partly due to the new stylus, quad core processor and 1GB of RAM.
The stylus does not provide you with different degrees of pressure sensitivity so you will be relying on the five different pen sizes. It goes from very fine lines to extremely bold. It also has two different pen colors, blue and red. These colors do not directly influence what is displayed on the e-ink screen, but when you copy your edited file or take a screenshot, the colors are preserved when viewing it on your MAC or PC.
You can purchase the DPT-RP1 from the Good e-Reader Store for $849 and it ships worldwide.
Michael Kozlowski is the Editor in Chief of Good e-Reader. He has been writing about audiobooks and e-readers for the past ten years. His articles have been picked up by major and local news sources and websites such as the CBC, CNET, Engadget, Huffington Post and the New York Times.