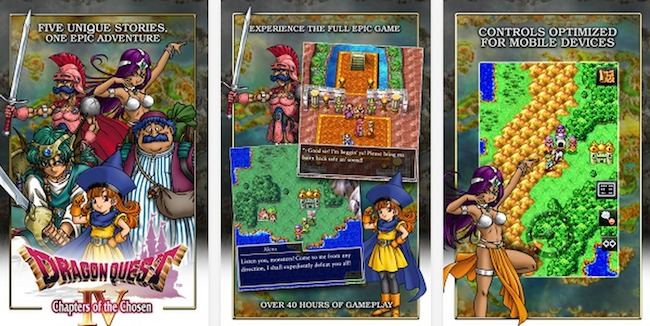 News that Square Enix has launched Dragon Quest IV for Android, an epic RPG from a familiar (and very successful) RPG franchise, is very exciting. Dubbed as the first installment in the Zenithian Trilogy, this adventure spans across 5 chapters with each one giving focus to a different cast of characters.
Avid gamers will tell you that Dragon Quest is an advanced RPG, particularly as it relates to their party systems. Party talk allows you to speak with anybody in your party in real time –though you have no idea what they are going to say (it may be interesting, or they may just tell you to be quiet)!
Other features of the game include the tried and true Casino that lets you try your luck at three fantastic games, battles that can be initiated automatically, and amazing 360-degree views in all of the towns and villages.
It is no shock that this game is a home-run with a development team that includes the master creator Yuji Horii, music by Koichi Sugiyama, and artwork by master manga artist Akira Toriyama (from Dragonball fame).
Don't let the $14.99 price-tag scare you. It's certainly on the pricier side of mobile gaming, but with over 40 hours of gameplay and no nagging in-app purchases required, it's well worth the price of admission. If you are ready to give it a try, download Dragon Quest IV now.
Jillian Koskie is an experienced software developer, content writer, project manager and usability design expert. With over 17 years in these roles, Jillian has enjoyed applying her skill-set to assist clients and users across a wide variety of sectors including: legal, health, and financial services. Combining these professional opportunities with a love of technology, Jillian is pleased to contribute articles, opinions, and advice to numerous news outlets, websites, and publications.