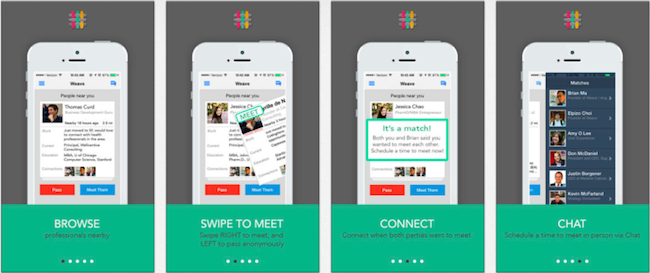 I know everybody out there search for a job is wishing that it was as easy to find that next position as it is to find the next love of your life. Or maybe not, but thanks to a new app (and $630,000 in seed money raised by the developers) called Weave, searching for a job became easier and more fun from your mobile device.
To begin, you use your LinkedIn credentials to login and then let the app pair you with professionals located nearby. If you are interested in chatting with them or meeting up, swipe left to pass or right to initiate contact. While the main focus of the app isn't necessarily applying for jobs, it is about professional networking, which is all about meeting the right people and hoping it is the right time.
While the idea behind Weave Networking is a good one (and pulls at the career-oriented heartstrings), it also seems a little unnecessary –though I suppose it bypasses the need to pay for a full-service LinkedIn profile where you could do proper searching and networking in the originating app itself.
If you are considering a career change, download the Weave Networking app for free now.