Excessive exposure to blue light has always been considered harmful though recent research suggests that it might even trigger early puberty in adolescents, The New York Post reported. In a groundbreaking study conducted in Turkey, male rats exposed to blue light were found to enter puberty earlier than expected, echoing previous findings in female rats.
Lead researcher Dr. Aylin Kılınç Uğurlu, from Bikent City Hospital, noted, "For the first time, we found a direct relationship between blue light exposure and early puberty in male rats. Our findings align with our previous work on female rats, which also showed similar effects, thereby providing a more comprehensive view of how blue light may influence puberty in both male and female rats."
The study involved eighteen male rats, each 21 days old, divided into three groups. Two groups were exposed to blue light for either six or 12 hours, while the third, a control group, maintained a 12-hour light-dark cycle without exposure to blue light from devices. Researchers observed that male rats exposed to blue light exhibited the first signs of puberty "significantly earlier" than the control group.
Dr. Uğurlu emphasized, "I want to emphasize that this is a rat study and direct results cannot be interpreted for humans. However, we provide an experimental foundation to further investigate the health consequences of ever-increasing screen time in modern society."
The research was jointly conducted by teams from Gazi University and Bilkent City Hospital in Ankara, and it was presented at the 61st Annual European Society for Paediatric Endocrinology Meeting in The Hague. The findings were also recently published in the journal Frontiers in Endocrinology. All of this occurs at a time when the use of smartphones and tablets is increasingly prevalent among children, some as young as kids, who are becoming addicted to them. Additionally, it's worth noting that the blue light emitted from TVs can also pose equally harmful effects. Many recommend the use of blue light glasses the actual effects of wearing them remain a subject of debate.
The scientists said they plan to continue their investigation of blue light exposure in rats, aiming to gain a better understanding of its long-term effects on reproductive organ damage and fertility. In the long run, this research holds the potential to prompt proactive interventions and make a meaningful contribution to the ongoing discourse surrounding the influence of contemporary lifestyles on physical development and overall well-being.
It's well-established that blue light disrupts the circadian rhythm by suppressing the production of the sleep hormone melatonin, leading to delayed sleep onset and groggier days. For teenagers, in particular, a lack of sleep can manifest as academic difficulties and emotional challenges.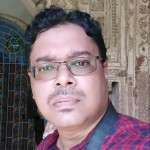 With a keen interest in tech, I make it a point to keep myself updated on the latest developments in technology and gadgets. That includes smartphones or tablet devices but stretches to even AI and self-driven automobiles, the latter being my latest fad.