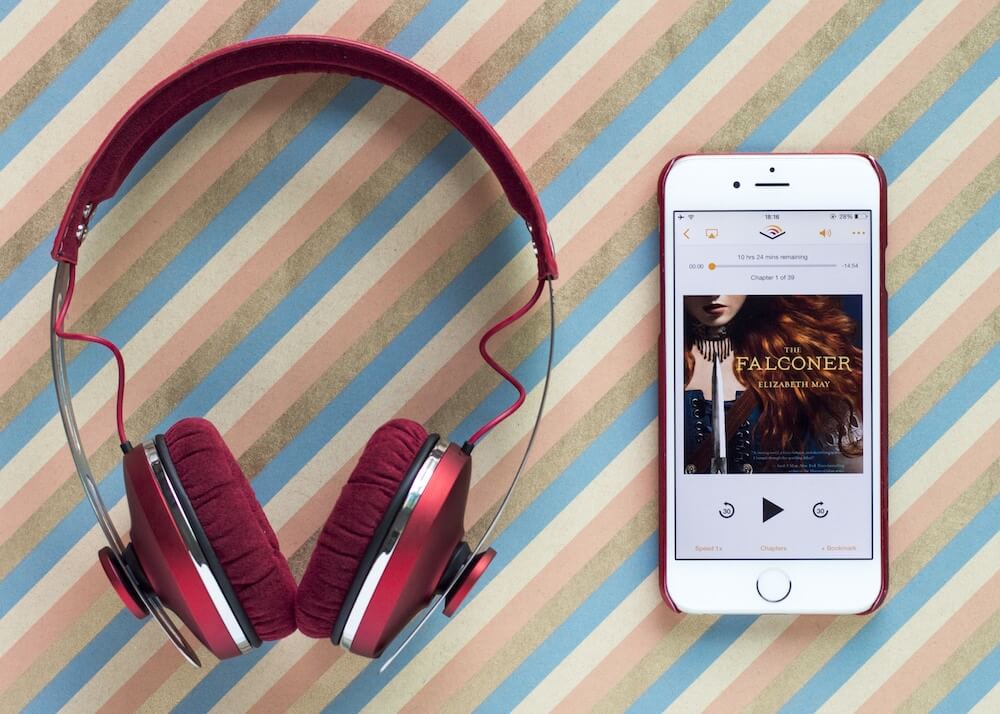 Digital audiobooks continue to be the fastest growing segment in publishing.  Not only is the entire publishing industry making more money, but there is more choice available for customers. Last year audiobook sales increased by 16% in the United States and generated over $1.2 billion dollars in revenue, whereas in 2018 it only made $940 million, an increase of 25% from 2017.  You know what is surprising about that $1.2 billion digital audiobooks made? Ebooks only made $983 million, so for the first time ever, US audiobook sales have eclipsed ebook sales.
Edison Research national survey of American audiobook listeners ages 18 and up found that the average number of audiobooks listened to per year increased to 8.1 in 2020, up from 6.8 in 2019. The most popular audiobook genre continues to be Mysteries/Thrillers/Suspense. 57% of frequent audiobook listeners are under the age of 45; this is up from 51% in 2019.
How are people in the US listening to audiobooks? Smart speakers are becoming increasingly popular from products such as Amazon Echo, Google Home or Apple HomePod. In a recent poll from the American Audiobook Publishers Association found that 60% of respondents own a smart speaker, and 46% of smart speaker owners have used it to listen to an audiobook, which is up 31% from 2018.  Although the automobile is still the number one place where people listen to audiobooks, the home is where audiobooks are played for longer durations.
Meanwhile in Canada, in 2019, 5% of book purchases were audiobooks, which is up from 3.6% in 2018.  Hardcovers accounted for 24% of purchases, which is down from 25.9% in 2018. Meanwhile paperbacks account for 49% of all book purchases and ebooks continue to grow at 17%. Digital audiobook sales are likely higher than they are reported by Booknet Canada, this is because major publishers do not disclose how much revenue they are generating from their content in subscription based sites, such as Scribd or Kindle Unlimited.
In the United Kingdom new Research by Harris Interactive found that in 2019 15% of Brits listened to an audiobook, while print remains the most dominant force with 77% of the population have read one in the past year. In 2019 audiobook sales increased by 43% and generated £69 million.
The average audiobook users are affluent men, aged between 18 and 34 years old, who listen to at least four audiobooks every 12 months. Their main reasons for doing so include entertainment and brain stimulation. Overall, men, far more than women, listen to audiobooks while working, commuting and running outdoors.
Lee Langford, Senior Research Director, technology, media, telecoms & entertainment, at Harris Interactive, said: "The publishing world is enthusiastic about the positive trend of audiobooks in recent years and, with further growth of 25% predicted for 2020, there are key learnings from our research that will help maximise the potential.
Research by Nielsen Book found downloads of audiobooks in the UK were particularly high among urban-dwelling males aged 25 to 44. Laurence Howell, content director at Audible – the Amazon-owned audiobook platform – says they've also seen big growth in the 18-to-24 age group. "This is not an age group that is traditionally a strong book-buying group." A study by The Publisher's Association found 54%  of UK audiobook buyers listen to them for their convenience, while 41% choose the format because it allows them to consume books when reading print isn't possible.
Why are audiobooks becoming big business in the UK? Over half of audiobook listeners, 57%, say that they have no time to sit and read physical books. Other people found that the act of listening to an audiobook more immersive and intimate than reading.
The Publishing Industry 
Major publishers such Audible, Hachette Audio, HarperCollins, Macmillan, Penguin Random House, and Simon & Schuster have said that they have been investing in opening more studios and narrators in order speed up production. This has resulted in an 18% increase in the number of new audiobook titles that have been released and in 2019 over 60,303 new titles were produced, this is a dramatic increase from the 44,685 new titles that were issued in 2018.
"Eight straight years of double-digit revenue growth is simply phenomenal," says Chris Lynch, President & Publisher of Simon & Schuster Audio. "Even more encouraging are the continued upward trends in consumer listening behavior – both in how many titles they listen to per year and in their finding more time in their day to listen."
Simon and Schuster is finally starting to see some strong gains with digital audiobooks. In 2019 audiobook sales increased by 15% over 2018, and e-book sales, which increased for the first time in at least three years, were up 1% over 2018. Overall, digital sales in 2019 increased 7%, which is very solid. The best selling ebooks of the year were Howard Stern Comes Again, Stephen King's The Institute and David McCullough's The Pioneers
Hachette stated that in 2019 the publishing company generated €2.38 billion, which is a 5% increase since 2018. Digital books accounted for 7.7% of the publishers revenue, which means the format made around €83 million for the year. Digital audiobooks represented 3.4% of revenue, up from 2.7% in 2018 and they accounted for €81 million. Hachette CEO Michael Pietsch said the bestsellers for 2019 were "news-driving nonfiction bestsellers," including Malcolm Gladwell's Talking to Strangers, A Warning by Anonymous, and Ronan Farrow's Catch and Kill. Fiction top sellers included James Patterson's 18th Abduction and Criss Cross, three novels from David Baldacci, and the late-year success of Andrzej Sapkowski The Witcher. Backlist sales were also strong, he said. In 2018 the biggest hits were The President Is Missing by President Bill Clinton and James Patterson and Every Breath by Nicholas Sparks.
HarperCollins said that downloadable audiobooks grew by 40% over fiscal 2018, and CEO Brian Murray said HC continues to sign new distribution contracts to expand the reach of its digital audio titles; it is also, he added, looking at mining more backlist titles to put into audio. E-book sales continued to shrink modestly last year and overall, while digital sales rose 7% and accounted for 20% of consumer revenue in the fiscal year.
Amanda D'Acierno, who oversees Audio at Penguin Random House US said in a recent interview "One of the major growth factors in the digital era has been increasing the number of titles we've produced each year – in 2018 we published more than 1,400 titles, up from 650 in 2014, the first year we operated as a combined Penguin Random House Audio team. We've expanded our staff, built additional studios in our offices in New York and Los Angeles, dedicated more resources to promoting the audiobook format and our titles, and created a proprietary archive and distribution system.
When I look forward a few years, I'm very positive about our future growth. More listeners are coming to the audio format every year, helped by major new retail players, including Google Play, Apple Books, BookBub's Chirp and several others. These listeners are young and they are consuming more content than ever before. Many of today's customers are listening from multiple platforms and the crossover between podcast and audiobooks listeners continues to grow in tandem. Consumer data shows that audiobook listeners mostly listen on their smartphones. As we are all attached to our phones every waking moment, and every phone is equipped with multiple audiobook stores and libraries, I feel very bullish on the future of audio."
She went on to say "Production values are higher than ever – while the majority of the audiobooks we produce are voiced by a single narrator, we're always experimenting with new techniques to create an immersive listening experience. We're producing more full-cast recordings like Audiobook of the Year finalist
BEASTIE BOYS BOOK
, narrated by Mike D and Ad-Rock along with 40 of their friends and collaborators, and
DAISY JONES & THE SIX
, which also incorporates original music inspired by song lyrics from the novel. We're leveraging our production expertise to publish more audiobooks from genres that weren't traditionally available on audio, like picture books and graphic novels such as Victoria Jamieson's Newbery Honor-winning
ROLLER GIRL
, which is narrated by a full cast with sound effects and music, including sounds recorded live at a real roller derby match."
Marvel and Dreamscape Media announced a deal last year that would turn many of their most popular graphic novels into audiobooks. Over 35 different titles have been converted over into audio and another 10 are planned for 2020. Titles that are currently available include X-Men: Days of Future Past, narrated by Richard Rohan; the first two volumes of Ms. Marvel, narrated by Shanta Parasuraman; Spider-Man: The Darkest Hours, narrated by Jack Meloche; Daredevil: Guardian Devil, narrated by Jonathan Feuer; and Captain America: Liberty's Torch, narrated by George Newbern. In 2020 there are various new titles that include X-Men: Empire's End, X-Men: Codename Wolverine, and more.
The American Academy of Pediatrics has launched an audiobook program, and Workman Audio, under the leadership of industry veteran Ana Maria Allessi, current president of the APA, is finalizing the bulk of the titles on its debut list set for release later this year.
CVOID
The global pandemic has resulted in bookstores being closed for three months or longer, so more people are switching to digital audiobooks in order to pass the time in isolation. Various countries are starting to reopen businesses in phases, but thousands of bookstores all over the United States and Canada remain closed.  Major retailers are doing their part in giving away free content, to get even more people turned onto digital audiobooks.
One of the most downloaded titles during the pandemic was the first audiobook in the Harry Potter franchise. Pottermore made the ebook and audiobook versions of Harry Potter and the Sorcerer's Stone (U.S.) and Harry Potter and the Philosopher's Stone (U.K.) available to libraries and online retailers for free. Audible is giving away ten of Canada's acclaimed Scotiabank Giller Prize-winning books are now available as free audiobooks for Canadian listeners on Audible.ca, thousands were downloaded in just a couple of weeks.
Apple has long sold audiobooks on their Books service, but during the pandemic, they have done something different. In the past few weeks they are experimenting with something new with spoken-word content. US listeners can stream 13 audiobooks based on books by musicians including Questlove, Rakim, Patti Smith, Pete Townshend, Kim Gordon and Debbie Harrie. They're part of the main Apple Music service, and thus offered within their subscription system.
Reading subscription service Scribd is offering free access to its library of over one million ebooks, audiobooks, magazines and more for the next 30 days (no commitment or credit card information required). Scribd told Good e-Reader that "With the spread of COVID-19 and new regulations put into effect, we know many people are staying close to home, yet still looking for information, distractions and perhaps a mental escape. Scribd wants to support the community by giving people access to the world's largest library during this global health crisis, and do our small part in helping consumers through times of uncertainty."
The company is also exploring new ways to connect readers with one another and to authors, by providing curated reading recommendations to individuals across their social platforms. There is more on from Scribd's CEO, Trip Adler, here.
Audiobook Business News and Libraries
Likely the biggest news of 2019 was that Overdrive was sold by Rakuten on Christmas Eve to KKR, the same company that owns Recorded Books and their various publishing imprints. In an email to all of their library partners, CEO Steve Potash outlined how this deal will affect their audiobook and ebook business and what libraries can expect in 2020. ""It was recently announced that New York-based private equity firm KKR will acquire OverDrive from our current owner Rakuten, Inc. The transaction is scheduled to close in the coming weeks, and it moved forward with the full support of myself and OverDrive's leadership team. I am excited to continue to lead OverDrive for years to come, and KKR fully supports my leadership and OverDrive's commitment to be a reliable, trusted, and value-based partner in service of public libraries, schools, and readers."
He went on to say "For 2020, our product and development teams are preparing updates to improve accessibility for Libby and Sora. Libby will soon be adding world language support and other user-requested features to help reduce reliance on our legacy OverDrive app. We've made it easy for you to promote Libby at your library with logos and graphics you can add to your website or social media, as well as print materials you can customize with your library logo. We will continue to enhance OverDrive APIs that support billions of interactions each year with your catalogs via integrations with your ILS, discovery, OPAC, and third-party apps."
Overdrive is going to be launching a digital Covid response collection available to libraries for free. The first set of titles donated by OverDrive will be a Kids & Teens bundle including hundreds of ebooks, audiobooks, and Read-Alongs from Rosen Publishing, Lerner Publishing Group, Britannica Digital Learning, Triangle Interactive, and other participating publishers. The company is also working with major publishers for a Adult Fiction and Nonfiction collections.
RBMedia announced in March 2020,  that they have purchased GraphicAudio, a leading producer of dramatized audio content featuring a full cast of actors, sound effects, and cinematic music. The demand for spoken audio is growing rapidly, fueled by innovation in areas such as audio originals, podcasts and dramatizations.
GraphicAudio is home to the largest catalog of full cast dramatizations in the industry, with over 1,300 titles across 150 series focused chiefly on action/adventure, comics, science fiction/fantasy, and westerns. The company has produced titles in partnership with brands such as Marvel, DC Comics, Dynamite, Vault Comics and authors such as Brandon Sanderson, Peter V. Brett, Michael J. Sullivan, R. A. Salvatore, William W. Johnstone, and Brent Weeks.
GraphicAudios unique ability to deliver high-quality, fully immersive audio experiences and original scripted works is unparalleled," said Tom MacIsaac, Chief Executive Officer for RBmedia. "Since RBmedia is the largest producer of audiobooks in the world, the combination of the two organizations will enable us to expand the application of this innovative audio storytelling approach and bring it to many partners and consumers globally."
In 2019 Recorded Books added 6,500 new audiobooks and saw an increase of 52% in the number of titles borrowed. Their flagship RBDIGITAL app saw a 28% increase in installs and achieved a review score of 4.7 (out 5) in the Apple App Store. Audiobooks.com users listened to more than 14 million hours of audiobooks in 2019, and the company added over 40,000 new audiobooks to the service. Audiobooks.com had more than two million app downloads in 2019 and expanded its audio-entertainment offering by integrating podcasts into the app—providing members over 896,000 podcasts and over 59 million episodes. Here are some highlights from their sub-brands.
Tantor Media published more than 3,800 new titles in 2019, including the audio edition for Pulitzer Prize winner The New Negro by Jeffrey C. Stewart and SOVAS award winner The Adolescent by Fyodor Dostoevsky. Additional releases included Audie Award finalists The Grass Harp by Truman Capote and We Were Soldiers Once … and Young by Harold G. Moore and Joseph L. Galloway.
HighBridge Audio's significant audiobook releases in 2019 included New York Times bestseller Shortest Way Home: One Mayor's Challenge and a Model for America's Future by Pete Buttigieg and In the Dream House by Carmen Maria Machado, one of the best-reviewed nonfiction titles of 2019. Additional important titles included Patsy by Nicole Dennis-Benn, a Best Book of the Year by Washington Post, O, The Oprah Magazine, Time, NPR, People, and BuzzFeed, and 2019 Audie Award winner Heads of the Colored People by Nafissa Thompson-Spires.
ChristianAudio published more than 215 new titles by top-selling Christian authors in 2019, including The Next Right Thing by Emily P. Freeman, God, Where Are You? by John Bevere, Free to Focus by Michael Hyatt, and Risen Motherhood by Emily Jensen and Laura Wifler. Overall sales growth included increased digital and library sales as well as strength in backlist sales, led by continued performance of The Road Back to You by Ian Morgan Cron and Suzanne Stabile.
Gildan Media published stand-out business book Nine Lies About Work by Marcus Buckingham and Ashley Goodall through RBmedia's exclusive agreement with Harvard Business Review Press. Additional significant audiobook releases include Objections by Jen Blount and The Fearless Organization by Amy C. Edmondson through the company's exclusive partnership with John Wiley & Sons, Inc.
W. F. Howes published more than 980 new titles in 2019, including significant UK audiobook releases Imposter and Hysteria, the first titles in a three-book deal with number-one Amazon bestselling and self-published author LJ Ross, How the Dead Speak by Val McDermid, and Sweet Sorrow by David Nicholls. W. F. Howes's biggest sellers in 2019 were My Sister, the Serial Killer by Oyinkan Braithwaite—also adapted to TV/movie—and worldwide successes The Moon Sister and The Butterfly Room by Lucinda Riley.
Wavesound in Australia increased publishing to over 100 titles per year and established an audio publishing partnership with Allen & Unwin that will initially see the two copublish up to a dozen audio titles a year. The number-one bestseller overall for Wavesound (and W. F. Howes) was The Dry by Jane Harper. Wavesound also released Silver by Chris Hammer, the follow-up to his award-winning bestseller Scrublands; The Wife and the Widow by Christian White; and Troll Hunting by Ginger Gorman.
Libraries in Canada and the United States are experiencing an unprecedented number of audiobook and ebook loans. This is booming business period for all of the digital wholesalers that populate the library with content, such as Hoopla, Overdrive, Midwest Tape and Bibliotheca. Hoopla announced in March that 1,100 "Bonus Borrows" selections would be temporarily free to lend on its pay-per-circ model, and OverDrive has waived fees through June for its Instant Digital Card (IDC) service, enabling libraries to sign up new patrons remotely. Library Ideas began offering no-contract, month-to-month subscriptions for its Freegal music service, as well as temporary, free upgrades to 24-hour per day streaming for existing library customers for the next six months. Publishers including Penguin Random House, HarperCollins, and dozens of others announced temporary discounts, reduced cost-per-circ pricing, and other special offers for ebooks and audiobooks. Meanwhile, Macmillan announced that they have ended their library embargo for new titles and are going back to their old terms.
Hampshire County Council has seen a 770% increase in new digital users, Cornwall Council a 630% increase and Hertfordshire County Council an increase of 332%. Wiltshire Council said ebook/audiobooks are up 43% and Queens Public Library said users checked out 40,633 ebooks — which can be read on Kindles, iPads and other devices — in the second half of March.
10.1 million digital books were borrowed from public libraries worldwide via Libby in the last week of March, according to new statistics from Overdrive, the company behind Libby, which represents a nearly 30% increase from the same week last year. Overdrive saw 25,000 digital library cards created through their Instant Digital Card service between March 1 and 22 — a big increase.
Tom Mercer, SVP of digital products for bibliotheca, on March 19th said his platform 164%  more downloads that week than the prior week, and that 60% more holds were placed on the 18th, compared to the prior Wednesday. It is very likely in April, these numbers will only increase.
Jeff Jankowski, hoopla founder and VP of its parent company Midwest Tape, noted that his company had also been "extraordinarily busy," with staff now working remotely to onboard libraries new to the service. hoopla's Bonus Borrows collection of more than 1,100 free titles was curated with a view toward patrons staying home due to COVID-19, with a mix of top circulating titles, as well as content about stress management and meditation, cooking, home fitness, children's entertainment and education.
Penguin Random House and Macmillan have implemented new terms for audiobooks and ebooks to public libraries. Collection managers who want to purchase more content for their branches will be able to receive new discounts from some of the biggest books. Macmillan has abandoned their embargo on all new titles and also ones from TOR. All of the wholesalers who power the digital side of things are offering the same deals, such as Overdrive.
Wrap up
Every year Good e-Reader chronicles the audiobook industry and gives in-depth statistical analysis, for free. Inevitably, some businesses end up charging for our report, or using all of our research for their own needs. This report really gives you a sense that there are lots of mergers and acquisitions occuring in the digital library space and consolidating everything basically between 3 different companies, Overdrive, Hoopla and RBDigital.
More people are listening to audiobooks than ever before and this bodes well for the future of the industry, as we trudge further into 2021. Next year's report should be interesting due to the global pandemic and once  publishers release their sales figures, expect audiobooks to grow by double digits and ebooks, instead of declining will be up.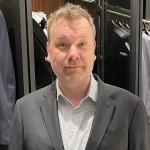 Michael Kozlowski has written about audiobooks and e-readers for the past twelve years. Newspapers and websites such as the CBC, CNET, Engadget, Huffington Post and the New York Times have picked up his articles. He Lives in Vancouver, British Columbia, Canada.