Good e-Reader has given extensive coverage to a situation plaguing the publishing industry, both from a self-publishing standpoint and a traditional one: author bullying. While information has come out that some authors have engaged in less-than-professional tactics, particularly where book reviews are concerned, the situation has escalated to the point that some well-known authors like Anne Rice have lent their support to calling for a change in how online platforms allow anonymous "trolling" of authors and their works.
News has come out this week of at least two authors who have declared that they will no longer write and publish their works due to the behaviors of a handful of people. Authors Sarah Daltry and Nadine Christian, independently of each other, have announced on their blogs and social media that they will be closing their accounts and removing all of their self-published works, although they will be unable to do anything to remove their contracted titles.
Daltry had this to say on a blog dedicated to her decision:
"I want to start positive. For all of you who have supported my work and been there through this process, thank you. I will be eternally grateful. I wish I could have done more, could have been more, because it means so much to me that you've stuck by me. For the characters – especially Jack – thank you for trusting me with your stories. I love you with a part of myself that will always belong to you. I'm so sorry I didn't do you justice and that you trusted me rather than someone who could have truly given you a voice."
In Christian's case, the aggressive behavior was never in the form of book reviews, but rather in personal and anonymous contacts in the form of harassing emails and messages. She spoke with Good e-Reader about the behavior and her decision to discontinue her work as a writer.
"If being in the public eye led to that sort of vicious — and obvious stalking — was it worth continuing? I love to write, but would putting my work out there be worth the heart ache? The reaction I feel deep down every time I open an email from someone I'm not sure of was starting to give me stomach pains."
In this age of online anonymity that allows small people to behave this way towards authors, why couldn't Christian simply change her online name and start over, building a new brand and readership?
"It had run through my mind. Starting over, becoming Joe Bloggs, Jane Doe. But what if it's me? What if I've done something to someone and not realised it? What if it's my location, personality, even writing style that's insulted so many? I love to write, even if it's not published."
What makes the bullying so disturbing in Christian's case is that the author herself admits that she's far from being a bestseller, and simply enjoyed writing and publishing her work and making her fan base happy; she has also stated that she did not engage in any of the behaviors which the so-called Goodreads bullies say justified their relentless attacks against authors, such as responding to negative reviews or blogging about the issue. The targeted behavior, which has lead to multiple harassing and threatening emails sometimes daily, isn't aimed at someone who is serious competition or even on an international stage. The author herself remains unaware of what brought on this rabid attack.
"Some [of the messages] are about me and where I live, which makes me wonder if that's the fun for these people. Hassle me about who and where I am, what I do. Most though–eighty-five percent–are about my writing."
Both Daltry and Christian are in the process of removing their works and closing their blogs and social media accounts.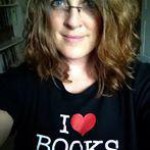 Mercy Pilkington is a Senior Editor for Good e-Reader. She is also the CEO and founder of a hybrid publishing and consulting company.