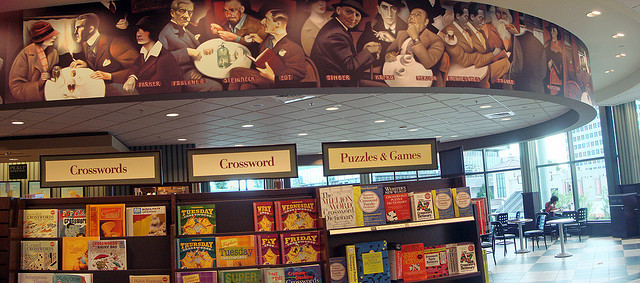 Barnes and Noble remains steadfast in their commitment to selling e-readers and digital content. The company has publicly decreed that they have no intention of selling the brand and want to continue to capitalize on the bookstore chain to promote the hardware.
The entire Nook enterprise has been a loss leader for Barnes and Noble and the company has lost over one billion dollars since 2011. During the last quarterly results released two weeks ago, device sales were down 60% year on year.
Barnes and Noble has been cleaning house in the Nook Media division over the course of the last fourteen months.  Some of the most notable departures included Jim Hilt, head of global eBook sales, and before him digital products director Jamie Iannone, VP of digital products Bill Saperstein and Theresa Horner the VP, of Digital Content.
The one aspect these executives all shared was a tremendous lack of technical expertise and fundamental understanding of the e-reader industry. After all, they were with Barnes and Noble before there was even a Nook brand to begin with. They built up an ecosystem from scratch and ran it into the ground because they failed to innovate. I can't even crucify them for that, because lets face it, what bookstore chain in the last 30 years has really focused on  innovation anyways?
Barnes and Noble is now focusing on hiring core executives to chart the future direction of Nook from startup and heavy digital backgrounds. The most prominent hire was Doug Carlson, who was the Executive chairman for five years at Zinio. He now has the title of Executive Vice President and CMO of Nook Media. Jeanniey Mullen also came from Zinio where for five years she was the Global Executive Vice President and Chief Marketing Officer and now is VP of Sales of Nook. Kashif Zafar got promoted within the company, he was the Head of Sales for three years and now is the VP of e-books. Prior to that, he actually worked on the ill-fated Skiff e-reader.
The first major project from the new executive team had been the launch of the Nook Audiobook service. There are over 50,000 audiobooks from major publishers available to purchase and the vast majority of them have free samples that range between two and four minutes in length to preview. It is available on Android right now, with an iOS version planned for the springtime. The big plan right now is to get the audiobook app loaded on all of the Samsung 4 Nook tablets and then launch a big marketing campaign in their bookstores.
Speaking of audiobooks, this isn't Barnes and Nobles first foray in selling them. They used to have a small section on their website that sold digital content from Overdrive.  Customers needed to install the Overdrive Media Console app to listen to them, which wasn't ideal. The two sides decided to part ways in this regard, but formed a new business relationship. In early 2015 Barnes and Noble officially started distributing hundreds of digital newspapers and magazines through Overdrive to thousands of libraries all over the US.
There are no new tablets planned for 2015, so hopefully the primary focus can be on a new Nook e-reader. Likely B&N now realizes that they have to compete with the Voyage and the Kobo H2O in terms of build quality and hardware specs. Anything less will mean a continued loss of sales in the critical US and UK markets.
Barnes and Noble has always run Android on their entire line of Nook e-readers and tablets. They have always heavily skinned it though, so it doesn't resemble the same type of experience you would have on a Google Nexus or Samsung Galaxy Tab. I would hope that the Nook 2015 edition will have audio capability via a 3.5mm headphone jack in order to leverage their new audiobooks business. They would also be better served on running a more open version of Android, since the big trend of 2014 were companies such as Onyx, Boyue, Icarus and Energy Sistem all releasing e-readers that allowed people to install their own apps. If B&N can re-purpose their existing Android App Store and offer customers an avenue to download content that would be compatible with an e Ink device. It would make their app store relevant again. A fully featured app store on a new Nook e-Reader could be a very compelling value proposition. It could very well be the first mainstream e-reader that allows people to craft their own e-reading experience, with apps that are curated by B&N.
Good e-Reader has proven that it is possible to take an App store that has been designed for fully featured tablets and redesign it exclusively for e-readers. The Good e-Reader App Store for e-ink has been downloaded over 1,000 times in the first week and is a freely available. The app store is also available on all 2014 Icarus e-readers as an option for users to install apps right out of the box. Hopefully Barnes and Noble could follow our lead by taking their own great app store, that took a long time to build up and use it as a marketing gimmick to really sell their next e-reader in vast quantities. Audio and apps would really encourage former Nook users to come back to the brand and give people who have older devices a reason to upgrade.