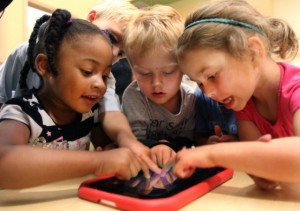 When ebooks and dedicated e-reading devices first grew in popularity, a sizeable section of the digital reading public felt that children's books didn't lend themselves well to ebooks. Aside from the concerns over handing a young reader an expensive device, some likened the reading experience as being too close to other forms of electronic entertainment for children. Others held onto the nostalgia associated with sharing a hardbound children's book with their kids, contending that ebooks were digitized for portability and convenience, not for the experience of reading or learning to read, as the case may be.
But new studies have shown that children's ebook sales are on the rise, partially due to the crossover popularity of the young adult genre, but also due in large part to the increasing numbers of digital publishers that are producing high-quality but inexpensive children's books. Rather than detracting from the experience of reading, these tablet-based full color books are offering an even more interactive experience for young readers.
Several companies are placing an even greater emphasis on their children's titles, with Ruckus Media expanding its already award-winning line of interactive books and Scholastic's Storia releasing new data on its impact on students. Books-A-Million, while still operating in retail sales of print editions, is also placing a greater emphasis on children's reading with the expansion of a number of its stores to include a dedicated Kids-A-Million department. Even the publishing events are in tune with this growth in the reading market, as the upcoming Digital Book World will feature an entire day of the event focused on young readers with the Publishers Launch Children's Conference. Even digital textbook companies, originally focused primarily on higher education, are spreading their reach to include the public school sector of K through twelve students.
What will be interesting to see will be the innovations that develop for digital children's books, as publishers like Sourcebooks and iStoryTime continue the trend in creating new interactive features and make announcements about new projects. How the concept of a book will change for young readers remains to be seen.
Mercy Pilkington is a Senior Editor for Good e-Reader. She is also the CEO and founder of a hybrid publishing and consulting company.