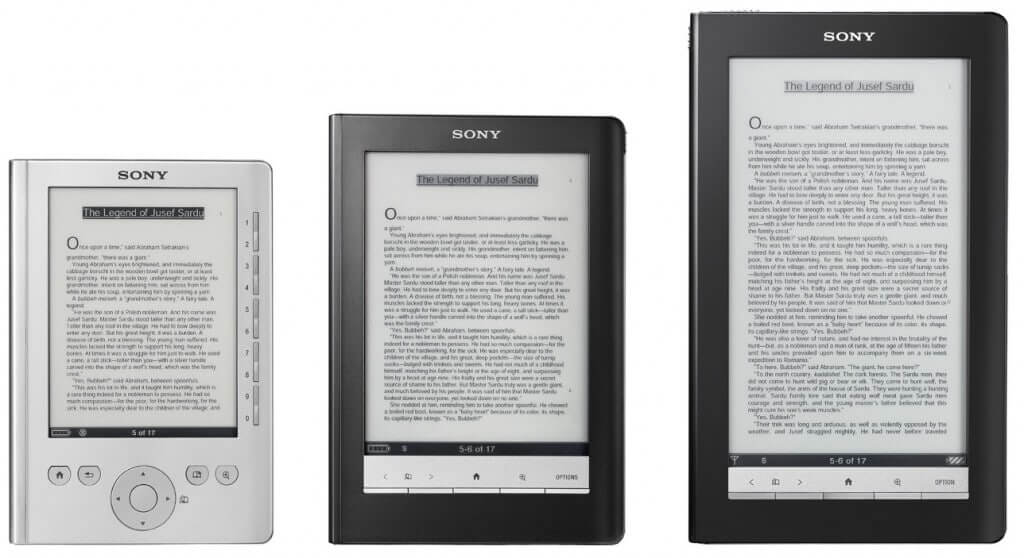 Sony was one of the first companies involved in the e-reader space. The Sony Librie came out in 2004 and used E Ink technology. Since then, the company released over ten different models in the ensuing years and bowed out of the commercial space in 2014 and migrated all of their customers to Kobo. Sony then started to exclusively target the business market with large screen Digital Paper e-readers that initially cost over $1,200. The e-reader landscape has dramatically changed since Sony quit making them, there are fewer companies operating in the space, most of them are from Europe or Asia. Should Sony restart their consumer division once again?
One of the big things that helped drive early success to the Sony brand was that they were using aluminium, instead of cheap hardened plastic. Their products really stood out in the crowd due to a great build quality and different sized screens. Sony was the first company that adopted a front-lit display and was the first one to offer 3G internet access to buy books directly on the Daily Edition. Sony was a driving force of innovation and could be again.
The big failure of Sony is that were making e-readers when the landscape was hypercompetitive and there were so many companies involved in selling books and making e-readers. This is widely considered the zenith years, when brands like Encourage, Cool-er, Astak, Elonex, Jetbook, Pocketbook and others were selling many units to customers all over the world. Barnes and Noble was at the height of Nook Glory and generating billions per year on hardware and ebook sales.
A few years later, most of these companies were out of business and many of the emerging e-paper tech such as Pixel QI, Mirasol, Bridgestone faded away. Barnes and Noble was a shadow of their former selves and the e-reader arena only has two major players; Amazon and Kobo.
If Sony managed to hang-on and not sell their customers to Kobo and shutter their Reader Store, they could have been the number two brand, next to Amazon. They had a tremendous name recognition and had great retail distribution, almost every big box store that sold Sony products, would also sell their e-readers.
I believe that Sony could make a return to e-readers that are marketed to consumers. They have their own Digital Rights Management (DRM) software they can use, which would save money for a new bookstore. Setting up a bookstore these days is very easy, gone are the days when you had to source them all individually from publishers and have different arrangements. Now you can simply deal with Ingram or Overdrive or a number of others. Sony could simply return to making great great hardware, at a good price and generate meaningful digital revenue.
Sony would be wise to sell their ebooks on iOS, where competition is thin. Amazon, B&N and Kobo do not directly sell ebooks or audiobooks on that platform, because they feel Apples cut of in-app transactions is too high, but Google Play is not much better. Relaunching the reader store to include ebooks and audiobooks and selling on both platforms would be a total gamechanger.
It remains to be seen if Sony would ever experiment again with e-Readers, but the timing is right. There is hardly any competition in the space with great retail visibility on a worldwide scale. Amazon primarily sells their Kindles on their own website, and in a handful of their own bookstores. They do have some big box partners in the US, but not many. Kobo is entrenched in bookstores all over the world, and Nook continues to wallow. Onyx, Boyue, Pocketbook, Icarus mange to eek out a respectable living in their specific regions, but they do not have a strong brand and retail visibility is poor.
Michael Kozlowski is the Editor in Chief of Good e-Reader. He has been writing about audiobooks and e-readers for the past ten years. His articles have been picked up by major and local news sources and websites such as the CBC, CNET, Engadget, Huffington Post and the New York Times.