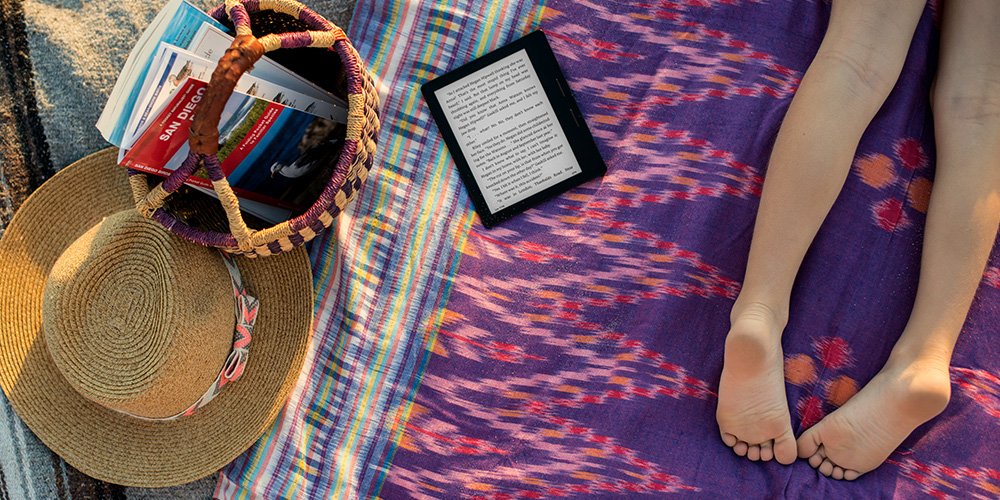 Like movies, music and gaming, the simple activity of reading a book has been overhauled by digital technologies. And each year there's been an impressive range of e-Readers released that look to supercharge our reading habits, and here are the best five e-Readers for the summer.
Amazon Kindle Oasis
Amazon's Kindles have become pretty much the flagship for all e-Readers, and if you're looking for a top of the line model that shows how far e-Readers have come, then the Kindle Oasis is a great option. Although it's not exactly cheap, its deluxe tactile cover, improved battery life and lightweight design show that Amazon are continuing to find evermore glamorous ways to dominate the e-Reader market.
Barnes & Noble Nook Glowlight Plus
If you're looking for an alternative option to Amazon's Kindle range, then the Nook Glowlight could be an excellent idea. For a relatively cheap price, you can get a lightweight e-Reader with a decent backlight. And their recently released Glowlight Plus even has a waterproof feature – ideal for those luxurious bathroom reading activities!
Kobo Aura H20
Kobo is the second largest e-Reader company in the world and they sell e-books in almost every single major market. The H2O provides enough screen real estate that makes reading e-books a breeze It also has an internet browser that you can use to keep up to date on your favorite blogs or trying out some top class sports coverage at the FootieLive blog.
Amazon Kindle Paperwhite
Amazon has just announced that their popular Kindle Paperwhite e-Reader will have a new color option, white. This is the first time the company has offered a different color option on this particular model.
Bookeen Cybook Ocean
And finally it's also important to mention that Bookeen have been making real inroads into the increasingly competitive e-Reader market with their Cybook Ocean that's claimed to be the thinnest e-Reader in existence.
Furthermore the e-Reader has a large 8-inch screen to make reading that little bit easier, and the display manages to make the text look impressively sharp. And although a few reviews have pointed to some worrying bugs that make the Cybook Ocean slow and laggy, it's a promising start that shows that whether it's reading great works of literature, or even just playing casino games, the battle is still yet to be won for e-Reader supremacy!

Markus lives in San Francisco, California and is the video game and audio expert on Good e-Reader! He has a huge interest in new e-readers and tablets, and gaming.