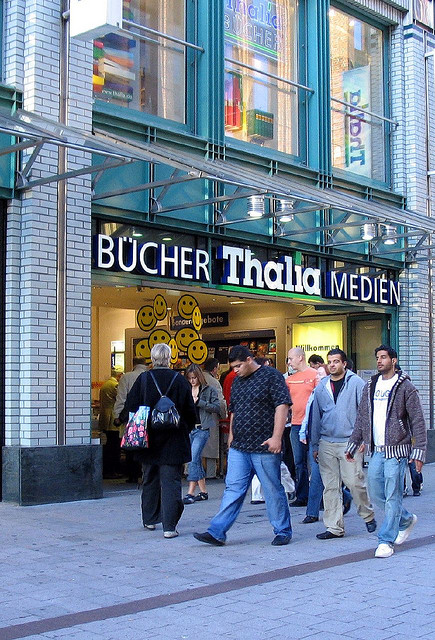 The digital adoption rate in Germany two years ago was a paltry 4%. Today, close to 11% of consumers are satiating their literary thirst with ebooks, e-textbooks, and digital magazines. The iPad and Amazon Kindle e-Reader have been facilitating this growth due to their expansive ecosystems, and by stimulating publishers to jump into the fray. The German publishing sector was woefully unprepared for the jump to digital and the entire industry is transforming itself to deal with the new paradigm.
In the last few hundred year, publishers like Suhrkamp, Hanser, Ullstein, Fischer and Rowohlt led the charge in producing some of the most compelling books. The bookstores are losing ground, and some of these publishers are feeling the pinch, as more customers gravitate towards the digital platform. "The golden era of publishing, that is, of reading, contemplation and literary education, has somehow come to an end," says Michael Krüger, the outgoing head of the Munich-based Hanser publishing house, who has the reputation of being one of Germany's last great publishing figures.
He is not alone, the book pundits in Germany have also mentioned "For decades, the publishing business was pretty much the same. It is now entering a crisis for the first time, and everything will look different after that."
The bookselling industry in Germany is much akin to the same sort of experience customers see at Indigo or Barnes and Noble. Book sales are drying up and instead of exclusively selling literature, these companies are all starting to sell stuffed animals, candy, candles, and seasonal accessories. The German bookstores, like Thalia, are all trying new models to sustain the lower cost of books and compete with the digital space.
How can Germany compete against Apple and Amazon, two worldwide juggernauts? Weltbild, Hugendubel, Bertelsmann Club, and Deutsche Telekom have banded together to offer a compelling reason with the advent of the Tolino Shine e-Reader and accompanied ebookstore. This is really the first time all of these companies have ever banded together to offer an alternative to Amazon and sell the hardware throughout their vast network of shops. Over 300,000 ebooks will be available to purchase, with a heavy emphasis on domestic bestsellers and local authors.
These companies did not just band together to launch a new e-reader that limits the distractions of email and social media and puts the priority on reading a book. They did it to get access to customers' data, something Amazon and Apple do not share with publishers. In order to understand and do well in the digital space, you have to know who your customers are, what they are doing, and what they are buying. This was the real reason why this new ebook store formed and why the major bookstores are all involved in the logistics.
When it comes to the tangible and intangible, there is a huge shift going on in Germany. There are established prices of books across the board, which helps small shops compete with the big chains, but also allows overseas competitors to flood the market with cheap digital alternatives to the higher priced printed variants. A new campaign right now launched in conjunction with the Leipzig Book Fair to put the emphasis back on the printed edition. They are producing a very slick series of commercials and newspaper articles to put the sexy back in reading. This may be too little, too late, and might not even work as damage control.
Publishing companies and bookstores were unprepared for the elevated growth of digital books in the last few years. There are hardly any avenues to self-publish exclusively in Germany, and aspiring authors instead have to deal with overseas companies. Textbook companies have not made the move to digital and magazine companies are equally not up to the task. Things need to change in a big way, or you will start to see the traditional bookstore start to collapse by 2015.

Michael Kozlowski is the Editor in Chief of Good e-Reader. He has been writing about audiobooks and e-readers for the past ten years. His articles have been picked up by major and local news sources and websites such as the CNET, Engadget, Huffington Post and Verge.