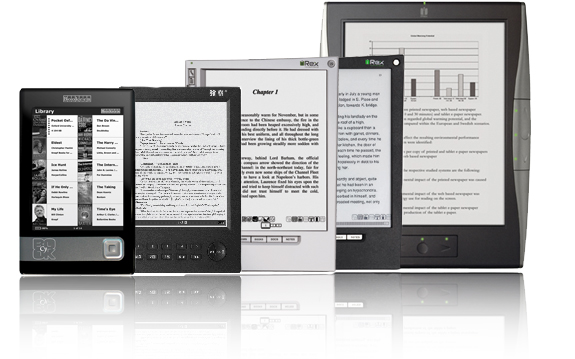 Mainstream e-reader companies often do their product announcements in September and October. This year we are expecting new products from Amazon, Barnes and Noble, Icarus, Kobo, Pocketbook and Sony. What can we expect from these companies in terms of tech improvement and user experience?
Amazon
Amazon intends on releasing the 3rd generation Kindle Paperwhite and we can expect a ton of improvements. Techcrunch reported late last year that a prototype from Lab126 was floating around that had a 300 PPI screen, which should give us tremendous resolution. Amazon is also revising their default fonts, which should provide crystal clear clarity.
The new Kindle is borrowing a page out of Kobos playbook with the screen being entirely flush with the bezel. This not only makes it easier to read with, but insures pinpoint accuracy with interacting with the touchscreen.
The rear casing of the new Paperwhite will follow on with the industrial design of the current Kindle Fire HDX tablets, with a more angular shape and chamfer to the edges. Similar in look to the images of the HDX above. It will also feature a rear power button that looks similar to the new Kindle Fire tablets.
I have heard credible rumors that the new Kindle will have an ambient light sensor. It will automatically adjust the frontlite, which allows you to read in the dark. The sensor will automatically adjust the screen brightness, similar to how Android performs these tasks on smartphones and tablets.
Of course, Amazon intends on also announcing three new tablets, a low end Kindle Fire and more higher end 7 and 8.9 inch models.
Sony

Sony announced earlier today that they have officially discontinued the PRS-T3 e-reader, which is their latest version. It came out late last year and was notable for the higher resolution screen.
Sony has abandoned their Reader Store, which has been around for over five years. Instead of dealing with publishers and selling books directly to customers they instead are using the Kobo ecosystem. Kobo is paying Sony a royalty for every book purchased on their e-readers, smartphones and tablets.
Likely, Sony is working on a next generation e-reader that will not have Kobo branding on the box. Rumors circulated earlier in the year that Kobo and Sony were working on a co-branded e-reader, but now this is not the case. Instead, Sony will be releasing two versions of the PRS-T4. One for Canada, England, Europe and Australia, the second specifically for Japan. Japan is notable because the Reader Store is still alive and Sony wants to double down on that market. The other e-reader will have the Kobo app bundled on it and customers will be able to purchase eBooks that way.
Sony tends to do very incremental updates to their e-readers and they have been steadfastly resistant to including any type of frontlight. Market research has led them to believe that this feature is not important to the average user and instead they can market their line of lighted cases or reading lights.
I have heard reports that we will see Sony gravitate away from Neonode IR technology and will instead embrace capacitive touchscreen. Neonode will be having a conference call on August 5th 2014, where I will find out if Sony is still a customer.
Barnes and Noble
Barnes and Noble has confirmed that they have teamed up with Samsung for two new Nook Tablets. Samsung Galaxy for Nook will be a customized solution with Samsung providing the hardware and Barnes and Noble developing the custom software. I have seen some preview images of the new devices from a source and it looks really great. It is a stark departure from previous versions of the heavily skinned Android OS. Fresh, Modern and compelling are three terms heavily batted internally.
They intend on having some sort of formal announcement in the first few weeks of August with a US and UK launch in September. There is currently no word on what they are doing with the Nook Glowlight, or if they are developing a next generation model. Likely, they will still market the Nook for another year and issue two new tablets, which is a gateway to their videos, magazines, newspapers and enhanced kids books. A dedicated e-ink reader does not really make a whole lot of revenue.
Kobo
Nothing I can disclose right now, but look for more information out at the end of next month.
Icarus
Icarus is refreshing their 6 inch Illumina and 9.7 inch Excel with more or less the same hardware, but instead are embracing the Open Android ecosystem. Instead of having a locked down version like Sony or Nook they are allowing customers to load in their own apps on pure e-Ink device. This will open up a wide realm of possible installs. One of the benefits Icarus has in this regard is a more modern version of Android OS, with version 4.2.2.
Pocketbook
Pocketbook has quietly pushed back the launch of their large screen CAD e-reader that is geared towards business. They are revising the screen technology and going with the more lightweight Mobius, as found on the Sony Digital Paper.
There are two e-readers that are on the cusp of being available. The Pocketbook Aqua, which is the first certified waterproof e-reader. It will last under six feet of water more or less indefinitely. They also have the ULTRA coming out soon, which has a camera built into it, and was designed with scanlation in mind.
All the Others
Wexler had a great deal of success with their FLEX One e-reader that featured a flexible LG e-paper screen. The company has confirmed they are developing a next gen model, but few details are available.
IMCOSYS has announced they have a next generation imcoV6L in the works, it failed to get FCC certification and was never available in North America. Details are scant on exactly what will go into this new model, but more should surface in the next month.
ONYX Boox has failed hard in 2014 with its INKPHONE, which doesn't make phone calls because they failed to reserve IMEI numbers. Their Onyx LYNX and 9.7 inch model but have open Android 2.3, which makes it incompatible with the vast majority of e-reading apps. This company has continued to make super shabby products and I would not be surprised if they want bankrupt.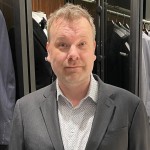 Michael Kozlowski has written about audiobooks and e-readers for the past twelve years. Newspapers and websites such as the CBC, CNET, Engadget, Huffington Post and the New York Times have picked up his articles. He Lives in Vancouver, British Columbia, Canada.