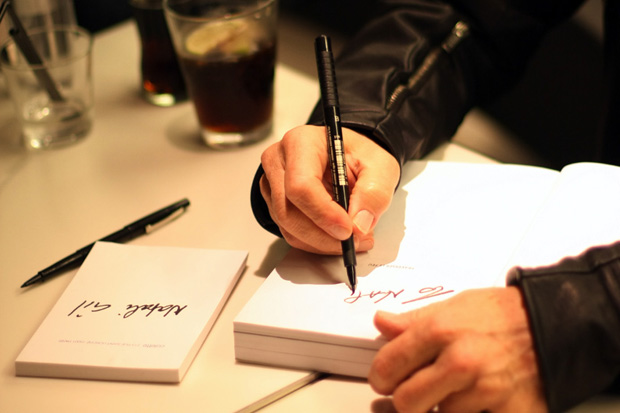 Indie authors need to be able to have their own point of sale systems in order to sell their books. Major conventions like the Romance Writers of America and other tradeshows don't provide any avenues for authors to sell their print or digital books. Instead, authors are now employing mobile payment systems in order to gain a higher share of the revenue and have more versatility than simply using Paypal.
Self-published authors are a savvy bunch and the most successful ones are not sitting at home, hoping to sell their books online on Amazon or Kobo. Instead they are pounding the pavement, participating in book tours and doing autograph sessions. Some, are bypassing the traditional retail channel altogether and starting their own online storefront on Shopify.
There are a ton of different point of sale terminals out there, everyone is promoting their own systems. When it comes to selling print and digital books, which are the best? Today, we take a look at the top platforms out there that make selling books directly to your readers simple and easy.
Square
Since its initial launch, Square has become one of the most widely used mobile credit card services worldwide. You will be able to recognize it instantly from its small construct in the shape of a white square that can be easily attached to a smartphone or tablet for credit card payment processing.
PRO: Square is very easy to use. This is perfect for the small business owner because you won't need to invest time into training staff like you would when it comes to a POS system. The iPad and tablet version of Square even allows users to include photos of their products at the checkout screen for customers. Furthermore, users will be able to track inventory on a daily, weekly or monthly basis through an online dashboard at any time they please. All of this is working towards reducing the hassle of cash registers that are connected to large computers with POS systems.
CON: Because Square aims to be efficient, there lacks a human element when it comes to user support for new users. In order to gain access to their customer support, you have be a registered user.
PayAnywhere
PayAnywhere has been in business for longer than any of the other mobile credit card payment service providers. For those that find trust in companies that have proved their long-term track record, PayAnywhere may be the choice for you.
PRO: Unlike Square, PayAnywhere offers users one-on-one telephone support with separate customer service and technical support departments. If you rather chat online, there is also a online help centre option on their website you can easily access. Furthermore, PayAnywhere supplies users with comprehensive tutorials on their website to demonstrate the proper usage of their service. Interestingly enough, PayAnywhere is also one of the only remaining mobile payment services that actually support the use of Blackberry devices.
CON: While PayAnywhere can be connected to receipt printers or cash registers, it will only allow this for Apple devices. This means for your business to use PayAnywhere, you will have no choice but to connect it to an iPhone or iPad for use.
PayPal Here
PayPal Here is an extension of the current PayPal services that allows users to connect transactions to their PayPal accounts. It allows users to track sales and records both online and off and is most fit for those that already use PayPal services.
PRO: Compared to the rest of the mobile credit card payment services, PayPal Here is able to accept the widest range of payment options including online invoices and payment through the PayPal app. This means your business will never pass up on a customer because you lack the payment options to facilitate the purchasing transaction. What is more is that PayPal Here does not require any detachable credit card reader in order to process transactions. All you will need is your smartphone or tablet camera to be able to accept credit and debit cards.
CON: Unfortunately the PRO can sound too good to be true. As of now PayPal Here is not yet available on tablets and iPads so if you were planning on processing information on those devices, you will not be able to use PayPal Here. In time, this transition will occur and businesses will be able to facilitate face to face as well as online transactions through PayPal here. But until that occurs, PayPal service users might also have to opt for another alternative when it comes to mobile credit card payment services.